By David Russell
ACE Ltd. (NYSE:ACE) has fallen amid concern about exposure to the Japanese earthquake, but yesterday the activity was bullish.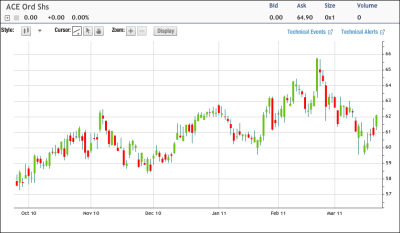 The insurance conglomerate, which provides coverage for a wide range of business activities such as aviation, machinery and farming, rose 2.07 percent to $62.09 yesterday. Our Heat Seeker tracking system also detected a large bullish option trade.
The investor purchased about 3,000 May 65 calls for $0.97 and sold a matching number of May 55 puts for $0.57. Volume was more than twice open interest in both strikes.
The resulting position cost $0.40 to implement and will simulate a long position in ACE shares. It will profit if the stock rallies quickly toward or above $65 and lose money below $55. If it's still between those two levels on May 20, both contracts will expire worthless.
ACE peaked at a two-year high over $65 in February, then pulled back to below $60 before bouncing in the last week. Guidance was in line with estimates the last time it released earnings on Feb. 3, and the next report is due after the bell on May 4.
Monday's trade pushed total options volume in the name to 10 times the average level, according to Heat Seeker.
(Chart courtesy of tradeMONSTER)