Last year, I told you about a great bargain in the stock market.
Semiconductor stocks had fallen around 20% in two years. They were one of the worst-performing sectors in the market.
But as I said, buying beaten-down stocks in a sector just before it "booms" could result in massive gains.
Readers who took my advice to take a position in the sector are sitting on big gains today. Since my essay, the big semiconductor fund, the SPDR S&P Semiconductor Fund (NYSEARCA:XSD), is up around 40%. But there's plenty more upside ahead.
And if you missed out on this trade the first time around, there's a great chance to get in today.
Semiconductor companies make the chips that go into computers, smartphones, video-game consoles, smart appliances, cars and other electronic devices. In short, they help "things" connect to the Internet.
Much of the weakness in this sector over the past two years was due to investors being worried about the slowdown in personal computer (PC) sales.
You see, for the past few years, instead of buying traditional desktops and laptops, consumers have been buying tablets, like Apple's (NASDAQ:AAPL) iPad. Many "chip" companies have transitioned their product lines to keep up with growth in the tablet market. But PC makers weren't able to keep up. As a result, most chip companies were stuck with inflated inventory levels.
Investors also were worried about global economic growth sputtering. Many people were terrified things would get worse. So they dumped chip stocks.
But I said a recovery was near.
Chip stocks were well-positioned to lead the smartphone boom. And in May, I told you global telecom companies like AT&T (NYSE:T), Verizon (NYSE:VZ) and China Mobile (NYSE:CHL) were expected to spend more than $300 billion to upgrade equipment and improve their wireless infrastructure. Telecom companies are some of chip stocks' biggest customers.
Since my essay, the sector is up around 40%. For comparison, the S&P 500 is up just around 30%.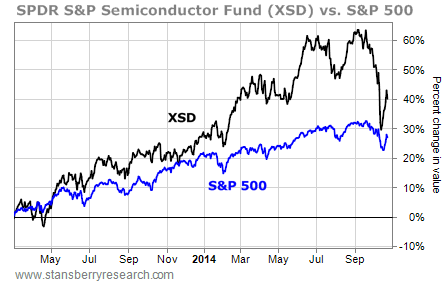 But there's more upside ahead.
As I said last year, chip stocks are well-positioned to profit from the smartphone boom - a trend that is only growing bigger.
Apple, the largest consumer-electronics company in the world, recently announced it sold 39.3 million units of its next-generation iPhones in the third quarter this year. That's almost 40 million iPhones in just three months. For comparison, Apple sold 35.2 million units of its iPhones in the third quarter last year.
And analysts at JPMorgan expect Apple to sell more than 230 million iPhones in fiscal 2015. That's up 37% from the 169 million iPhones Apple sold last year.
But Apple is not the only company selling mobile phones. According to tech-research firm Gartner, there will be more than 1.9 billion smartphones sold in 2015. That's nearly a 7% increase from last year.
And each of these smartphones will need chips made by semiconductor companies.
But it's not just smartphones that rely on these companies to connect to the Internet.
As I've told you before, the "Internet of Everything" (IoE) is connecting many of the devices we use every day - including cars, appliances, televisions, alarm systems and thermostats - to the Internet.
And every day, more "things" are being "connected" to make life easier for their owners.
As I told you last month, retail stores are using IoE to tailor their marketing to customers' preferences and needs.
Meanwhile, farmers are using devices on irrigation systems to turn them on or off based on rainfall and the level of soil humidity - cutting back on water costs and waste.
IoE is even about to change the face of the energy industry by helping energy companies reduce costs and improve efficiency by better predicting when equipment needs maintenance, tracking spare parts on rigs, connecting remote works to systems and reducing health and safety risks.
In short, all of these things will need chips to connect them. So there's massive upside ahead for semiconductor companies.
And today, you have the chance to buy them on sale.
The market's recent volatility has caused investors to run out of many sectors - including semiconductor stocks. XSD is down around 8% in the past month.
In short, the semiconductor market is cheap today. Some of the best names in the industry like Skyworks Solutions (NASDAQ:SWKS) and Broadcom (BRCM) are trading at just 13 times forward earnings. For comparison, the S&P 500 is trading at 17 times earnings.
Skyworks and Broadcom make chips for some of the best-selling mobile phones, tablets, and electronic gadgets in the world - including Apple's iPhones.
These companies are in the perfect market at the perfect time. I see shares going much higher over the months and years ahead as the smartphone boom continues and more industries embrace the IoE trend.
If you haven't already invested in the semiconductor sector, I recommend taking advantage of the recent pullback to get into one of these names today.
Disclosure: No positions.