By Richard Bloch
Even though the silver rally paused in early March, a look at a silver chart shows the metal has almost doubled since last August. That was when Ben Bernanke gave his speech at Jackson Hole stating that the Fed was "prepared to provide additional monetary accommodation through unconventional measures if it proves necessary."
Coincidence? Maybe, maybe not. But I thought I'd take a look at how various silver companies have been trading vs. silver itself over that timeframe – and over the past two years.
These charts show the stock prices for seven silver mining companies against the price of silver, with a regression line that shows the best fit for the data. I drew the green lines myself as a indicator of possible support and resistance points.
For each company, the chart on the left shows two years of data while the chart on the right uses only data from August 2010 to early March 2011.
[Click all to enlarge]
Silver Wheaton (SLW)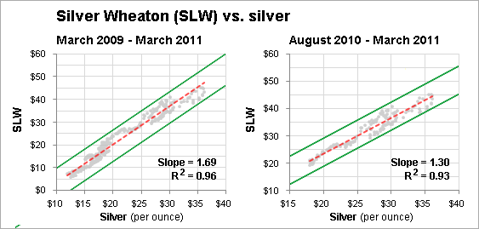 Coeur d'Alene Mines (NYSE:CDE)
Pan American Silver (NASDAQ:PAAS)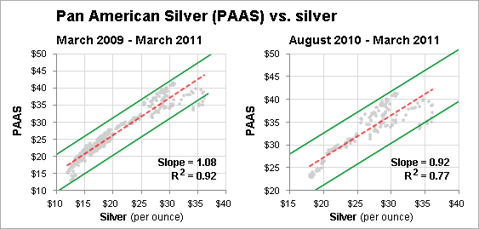 Hecla Mining (NYSE:HL)
Silvercorp Metals (SVM)
Silver Standard Resources (NASDAQ:SSRI)
First Majestic Silver (NYSE:AG)
Each chart shows the slope of the regression line, which is a very rough indicator of how much a stock gained or lost when silver rose or fell by $1 per ounce. And there's an r-squared value, which measures the correlation of the data.
Of all these companies, only Hecla Mining and Pan American Silver have failed to exceed the highs they set back in 2010. This graph shows each company, its peak gain from August, 2010 and how much it has declined from that peak as of mid-March.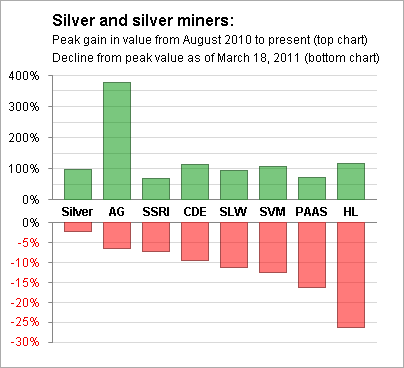 I was also wondering what prices some of these companies were getting for their silver. I took a look at some of the financial statements and came up with this chart that shows average or realized price of silver over the past three quarters.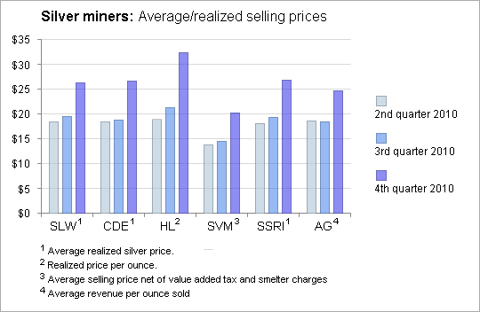 Note that each company may have a different nuance in how it reports sales. With silver now well past $30, these figures could be higher as the next quarter ends.
On the other hand, It's also possible that companies may have hedged future output at a lower than market price. But as for Silver Wheaton, Dr. Duru reported a few weeks ago that company CEO Peter Barnes isn't hedging yet, but might consider it if silver reaches $50 per ounce.
Barnes noted that some "reputable banks" have made predictions for silver to hit $50/ounce by the end of the year. He thinks silver will definitely go through $50 in the next 2-3 years, but it "could be quicker." Barnes's bullishness was confirmed when he stated that hedging the company's silver is nowhere on the horizon; hedging might be considered once silver hits $50.
Okay, so some "reputable banks" have made their predictions for silver. I wonder what the "non-reputable" banks have to say.