Tri-Continental Corp. is traded on the NYSE under the symbol (NYSE:TY). It is one of the oldest closed end funds with one of the lowest expense ratios. In 2010 its expense ratio was .60% with investment income of 1.84%. Ty has total assets of slightly less than $ 1.1billion dollars.
TY has always adhered to its philosophy of investing in large cap growth stocks As of December 31, 2010, its top five (5) holdings were:
TY's portfolio is well balanced across a broad array of sectors and have over a hundred (100) different securities in its portfolio. Many of its shareholders have held TY for three and four generations. It is stable and safe.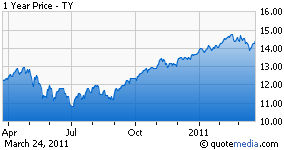 Tri-Continental sells at approximately a 14% discount from net asset value and this greatly adds to its appeal. You get to buy a broad portfolio of large cap growth stocks at a substantial discount. The discount does fluctuate and there have been occasions when it has traded at a premium. It is my preference to always sell when the discount narrows and buy something else.
I must stress that TY offers little innovation or imagination and will never be a star performer. It is simply a broad market portfolio of quality securities. It is for this reason that many of its shareholders have simply purchased shares and continue to reinvest their dividends. They simply hold TY and accumulate more. When they die, the shares are passed on to their children with instructions never to sell.
Expenses have always been kept low and have rarely, if ever exceeded one percent of net assets. There has been a turnover in the investment management firm, which had been owned by Seligman & Co for over 75 years. Seligman has now been acquired by Ameriprise (NYSE:AMP), which also purchased the mutual fund business of Bank of America (NYSE:BAC). Since the change in ownership of the management company, I have noticed almost no change in the operation and management of TY.
TY should only be purchased when it is at a substantial discount and sold when the discount narrows. It is a good investment but is going nowhere. It will always be a market performer.
Disclosure: I am long TY.