A company that has recently had a depressed price but still has terrific long-term prospects is
Smart Balance (SMBL). Price movement recently has been very positive.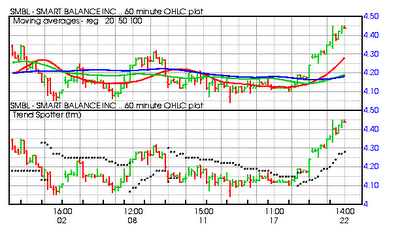 According to the company,
Smart Balance
is committed to providing superior tasting heart healthier alternatives in every category it enters by avoiding trans fats naturally, balancing fats and/or reducing saturated fats, total fat and cholesterol. The company's products include Smart Balance Buttery Spreads, Milk, Butter Blend Sticks, Cream Cheese, Peanut Butter, Microwave Popcorn, Cooking Oil, Mayonnaise, Non-Stick Cooking Spray and Cheese. Smart Balance Inc. is one of the five fastest growing food companies in the United States, according to Nielsen sales figures.
As the U.S. and even the rest of the world looks for a healthier way to prepare food the company offers a 3 level approach: Best Life for price sensitive shoppers, Smart Balance for the majority of the shoppers and a high end Earth Balance for the premium environmental, earth friendly and organic elite.
Lets look at the technical, fundamental and sentiment factors that may make this stock a healthy addition to your watch lists.
Technical Factors:
100% Barchart technical buy signal
Trend Spotter (tm) buy signal
4 new highs and up over 7.25% in the last 5 sessions
Relative Strength Index 69.95% and rising
Trades around 4.45 with a 50 day moving average of 4.19
Fundamental Factors:
Wall Street brokerages released 2 buy and 7 hold recommendations
Sales are expected to increase by 4.70% this year and 5.00% next year
Earnings are projected to increase by 90.00% this year, 42.10% next year and 27.50% annually for the next 5 years
Investor Sentiment:
A large advertising campaign has given the brand general recognition
The CAPS members on Motley Fool votes 302 to 13 that the stock will beat the market
The more experienced All Stars agree 108 to 2
Northland Securities republished their buy recommendation in January
The stock has general recognition, a depressed price and current momentum. A good addition to your watch lists.
Disclosure:
I have no positions in any stocks mentioned, and no plans to initiate any positions within the next 72 hours.