With the bulls in control of the longer-term trends and the bears fighting to maintain control of the shorter-term trends, mid cap stocks may offer a good way to sit on the bull/bear fence. If the S&P 500 heads toward 1,225, which is not out of the question, all things being equal larger-capitalization stocks will tend to hold up better than their small-cap brethren. From a fundamental perspective, Barron's recently noted that Morgan Stanley completed a capitalization study from several different perspectives. According to Morgan Stanley via Barron's:
We analyzed five different market cap cohorts (mega, large, mid, small, and micro) on five major subjects (market risk, valuation and profitability, interest rate considerations, oil price movements, and M&A activity). Despite our cautious bias toward the market, we don't have a strong preference for mega-caps at today's levels. If the market falls by 10% or more, then mega- and large-caps should do best, but otherwise the evidence is mixed and we continue to think mid-cap exposure is prudent.
Morgan Stanley likes mid caps based on a fundamental study. The best investments have both positive fundamentals and positive technicals. Comparing large, mid, and small caps on a relative strength basis also gives the nod to mid caps. The graph below shows the performance the Mid Cap 400 Index (NYSEARCA:MDY) relative to the Russell 2000 (NYSEARCA:IWM), which is a widely accepted small cap benchmark. Mid caps began strengthening in late 2010 and have gone on to establish a positive trend relative to small caps.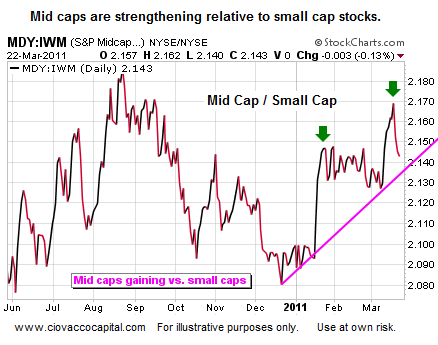 The Mid Cap 400 Index is also performing well relative to the Vanguard Large Cap ETF (NYSEARCA:VV).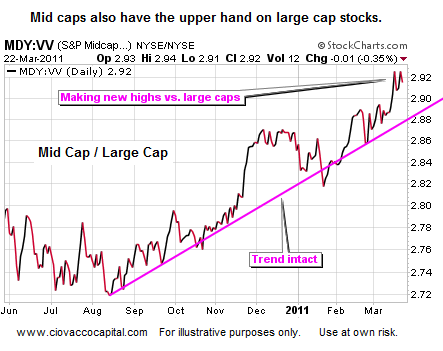 As we outlined on March 22, with the bull market in stocks intact and with strong global growth projected for the balance of 2011, having the S&P 500 reach 1,400 or 1,440 is within the realm of possibility. Under those circumstances, mid caps may offer a way to boost your returns.
Our asset allocation models have several mid-cap ETFs ranking above the S&P 500 Index in terms of attractiveness, including the top-ranking mid caps slanted toward growth, IJK and IWP. Deciding between the two was primarily a liquidity decision for us. We choose IWP which trades 566,000 shares per day vs. IJK's 264,000.
Any positive news from Japan is good for the markets, and more importantly for the brave people affected by the quake and subsequent tsunami. Bloomberg reports:
Ocean currents and natural dilution of sea water contaminated by Tokyo Electric Power Co.'s crippled nuclear plant are likely to spare marine life and the underwater ecosystem from devastation, scientists said.
Disclosure: I am long MDY. Generally, I am long stocks and commodities.