Capstone Turbine has received increased investors' attention of late. After a mention by the President of the United States during a recent speech in Brazil, it looks like the company may finally be ready to sit with the big players in the 'green energy' sector.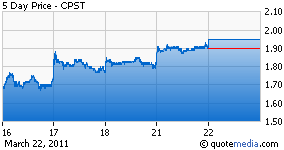 President Obama's mention of Capstone was brief, but he emphasized the strategy of his administration to shift to green energy while employing U.S. manpower to do so.

With Capstone's growing green brand and growing tally of orders and re-orders, it's no wonder that its being recognized by Washington as a potential mascot for America's business strategies of the future.

Aside from the mention by the President in Brazil, Capstone is going to continue to benefit from the shifting global economic and political climate. With bombs raining down on pro-Gadaffi forces in Libya and with unrest the word of the day throughout the Middle East, oil prices are going to be anything but stable for the foreseeable future.

Even while the general public views high oil prices solely as a nuisance, the high price of oil, combined with the growing trend against nuclear energy, only stands to boost Capstone's potential even more.

In the midst of the newfound political support, another multiple-turbine order was announced last week. Six C65s were sold to a "prominent natural gas producer" whose fleet of Capstone microturbines already numbers 49, with a combined one million hours of operation. These six are destined for Mexico's San Juan Basin.
It's always a good sign when the customers place re-orders.

The march to two dollars is in effect, and the perfect storm could be developing to take this company to the next level, and support from the President can only help.

There may be a lot more eyes on CPST now after the Presidential mention.

Disclosure: I am long CPST.