[Originally published 8/25/2014]
Since late 2010, municipal bonds have generally been cheaply valued versus taxable bonds, and it has been logical for tax-paying individuals to remain fully invested in municipals during this period. However, we may be entering a market environment where tax paying investors can better achieve their objectives with bond portfolios comprised of both tax exempt and taxable securities. The reasons are driven by both the improved fundamentals of the municipal market and the diminished supply of new bonds.
For more than three years, the municipal bond market has been shrinking as municipal issuers across the country embrace fiscal conservatism. The Federal government has taken a different approach. Though the size of the Federal deficit has declined, it remains very large and the size of the Treasury market continues to grow. At the same time, demand for municipal bonds has been growing and investors have poured billions of dollars into the market in search of tax-efficient interest income throughout 2014. As the relationship between the municipal market and the Treasury market is not immune to the law of supply and demand, parts of the municipal market have now richened in value versus the Treasury market to levels that are statistically overvalued, particularly highly rated shorter maturities. In light of this fundamental shift in the supply relationship between municipal and taxable securities, investors who have traditionally invested all of their fixed income assets in municipals must now reconsider that approach as they seek high quality tax-efficient returns. The use of taxable securities may be particularly important in the management of shorter duration portfolios as the discussion that follows will demonstrate.
The opportunities to enhance the after-tax yield and total return of a bond portfolio using taxable securities will depend on each investor's comfort level with credit risk and interest rate risk, as well as their particular tax considerations. The landscape of high quality shorter duration taxable sectors is robust, and investors may benefit from complementing traditional municipal bond portfolios with Treasuries, agencies, mortgage-backed securities and corporate bonds. The combination of taxable sectors that may be appropriate for individual portfolios should incorporate the risk and return expectations of the individual client. For example, credit risk averse investors may prefer Treasuries and agencies only, whereas clients seeking broader market exposure may wish to include corporate bonds and mortgages in the opportunity set as well.

An examination of the after-tax yield relationships bet ween municipals and taxable bonds can be a useful starting place for our discussion, but it is only a starting point. As Exhibit 5 shows, taxable bonds are particularly attractive for AMT and other low tax bracket investors.

An after-tax yield analysis, however, has its limitations as an analytical tool. For investors with a longer-term view, such as 12-months, an after-tax total return analysis can provide more insight into the opportunity. Exhibit 6 shows that the expected after-tax return for Treasuries and high quality corporates is significantly higher than that of municipals in shorter maturities, and by a greater degree than suggested simply by an after-tax yield analysis. Bond value can be determined by comparing potential returns over a longer time horizon. This allows us to observe the contribution from not only yield, but also "roll-down" return, which is the incremental price appreciation that occurs in a bond as it ages down a steep yield curve.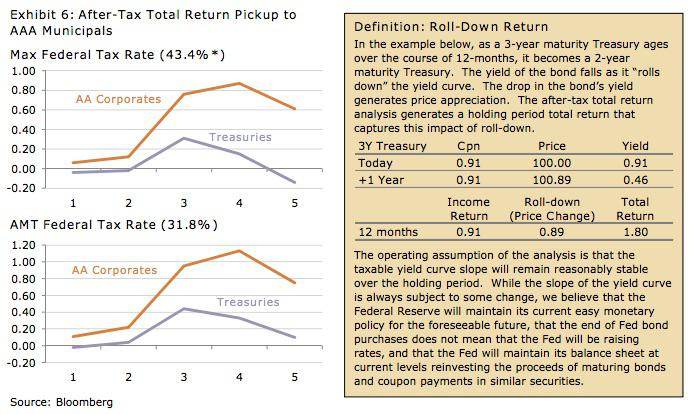 Our after-tax roll-down analysis highlights that Treasuries are more attractive than municipals in shorter maturities, and that they offer the additional benefit of providing investors with sector diversification as well as a safe haven hedge against a proliferation of geopolitical risks. Yet, for investors comfortable with corporate credit, high quality corporate bonds offer even better return potential. In making the decision to allocate to corporate bonds we also examine the after-tax breakeven spreads to Treasuries and municipals. For example, a corporate bond may offer a superior after-tax yield than municipals, or superior after-tax roll-down, but if investors broadly become concerned about corporate credit, and corporate credit spreads widen, the after-tax yield and total return opportunity provided by corporates can be eliminated. Before we invest in a corporate bond we evaluate the after-tax breakeven spreads of corporates vs. municipals. Even when after-tax breakevens are modest, we may still prefer to invest in corporates for clients who are comfortable with credit risk as long as the after-tax yields and roll-down analysis remains favorable and our outlook for corporate credit positive.
Another sector we look to for after-tax value is mortgage-backed securities. For investors with lower state tax rates,GNMAs offer a particularly unique opportunity to enhance after-tax returns in an era of diminished municipal supply.Even more significant, when we place GNMAs in the context of a modern portfolio theory analytical framework, our optimization studies have shown that for conservative investors concerned with generating healthy, low volatility returns, GNMAs show up in a meaningful way in the minimum variance portfolio.
It should be clear that as interest rates fluctuate, the duration of a GNMA can fluctuate (depending on the coupon), and this "convexity" risk is an important one for investors to consider. We prefer to invest in GNMAs when the after-tax total return analysis is favorable across a variety of interest rate scenarios. We are more likely to make use of these securities in client portfolios when we believe rates are more likely to be stable, or trading within a reasonable range. When used properly, callable bonds can play an important role in adding diversification and yield to a portfolio. GNMAs offer a way to add the diversification benefits of callable bonds to portfolios during a time when fairly priced callable bonds in the municipal market are particularly hard to find.
In conclusion, we have arrived at an important moment in time for investors seeking to build tax-efficient portfolios. The low supply of municipal bonds means a municipal-only portfolio solution is unlikely to optimize diversification, tax-efficient income and tax-efficient return. Taxable securities, particularly in shorter maturities, are likely to play a more prominent role in our portfolio construction in the period ahead of us, particularly if municipal supply remains low and investor demand for municipals remains strong or even stable.
The opinions expressed herein are solely attributable to Samson and should not be construed as an offer to buy or a solicitation to sell any securities. Inherent in any investment is the risk of loss. All factual information and statistical data in this document were obtained or derived from public sources. Samson makes no representations that such information or statistical data is accurate or complete. No person to whom a copy of this document has been delivered should rely on any such factual information or statistical data as being accurate or complete and should not undertake any investment program based on such information contained in this document. Any statements regarding future events constitute only subjective views or beliefs, are not guarantees or projections of performance, should not be relied on, are subject to change due to a variety of factors, including fluctuating market conditions, and involve inherent risks and uncertainties, both general and specific, many of which cannot be predicted or quantified and are beyond our control. Past performance is not indicative of future results. All estimates, opinions and analysis in this document constitute judgments made by Samson as of the date of this document and are subject to change without notice. Samson has no obligation or duty to inform any person to whom a copy of this document has been delivered of any change in any estimate, opinion or analysis in this document or to update the document on a going forward basis.