The last time I discussed small caps vs. large caps (in late January), small caps were getting trounced. While I expected that they would recover from the profit-taking, I have to admit to being surprised with the way that they have recovered. Usually, Black Swan events, such as we endured last week, result in smaller stocks suffering due to liquidity. But it didn't happen. Usually a weaker dollar helps large stocks, with their typically higher exposure to exports. But it's not happening. As of the close 3/22, the Russell 2000 now leads the S&P 500 YTD, though by just 0.10%:
(Click to enlarge)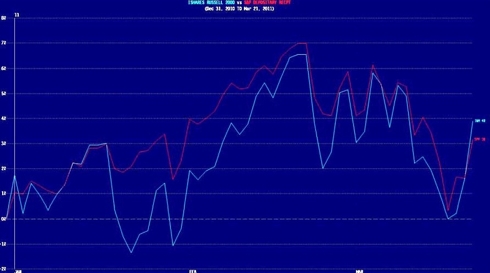 To keep things in perspective, IWM, the iShares ETF for the Russell 2000, has kept pace despite a weakening dollar and some recent volatility after a stunning post-Labor Day run. This is what it looks like since the end of August:
(Click to enlarge)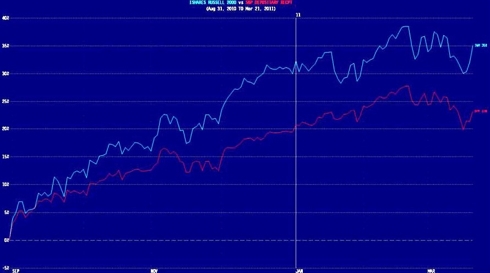 From a macro perspective, I take some comfort in the behavior of the small caps, though I know it's important to remember that the tail doesn't wag the dog. To me, it's a sign that real money continues to find a home in stocks.

From a portfolio structuring perspective, I would be cautious regarding smaller stocks. While the fundamentals remain very strong, investors are forced to pay up to own smaller names. I have been a long-time bull on small caps vs. large caps, but I continue to expect the performances to be roughly in line in 2011.

In my Top 20 Model Portfolio, I have pursued a rather barbelled approach. This is what the portfolio currently looks like:
>$50 billion: 3

$5-$50 billion: 3

$1-$5 billion: 4

<$1 billion: 10
While the names we hold haven't been helping (yet!), I believe that Mega-Caps are historically cheap. The three we own are all down YTD. The six large caps represent 28%, the four Mid-Caps account for 18% and the small caps comprise 54%.

To be clear, after a 10-year run of dominance that I expect has stalled, I don't hold so many small caps just because they are small. I believe that I am able to find some big mispricings among smaller companies, enough to compensate for what I believe should actually be a bias towards very large companies. If you aren't actively managing your portfolio, you might be better served to tilt towards larger stocks, perhaps using the ETF XLG, the Rydex Russell Top 50.

Disclosure: I have no positions in any stocks mentioned, and no plans to initiate any positions within the next 72 hours.