Summary
Turning points in markets occur, but warnings or advance notice are inconsistently accurate.
Individual investors reportedly sold equities en masse from retirement accounts after the decline and purchase fixed-income products after interest rates had risen.
The prospect of a delay in the Federal Reserve's ending of Quantitative Easing may have been a critical component in the reversal of stock markets.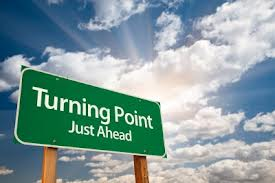 It's too bad that life doesn't come with highly specific indicators that give us direction or at least warn us when our path isn't the best available.
Parents are supposed to do that sort of thing, but in real life the rules are pretty simple. You don't go swimming for 30 minutes after a meal, you don't kill people and you don't swallow your chewing gum.
The seven additional commandments are really just derivative of those critically important first three.
Knowing the difference between right and wrong gives one the ability to change direction when getting too close to what is known to be on the wrong side of what society finds acceptable. Most people get the concept and also apply it to their personal safety.
In stock investing it's not that simple, although there are lots of rules and all kinds of advance warning signals that may or may not work, depending on whether you were giving or receiving the information. As opposed to adolescents who eventually become adults and lose the "it can never happen to me" mentality, investors often feel a sense of immunity from what may await just beyond that point that others would avoid.
It would have been really, really nice if there was some kind of warning system that both alerted us to an upcoming decline and especially the fact that it would be abruptly followed by a reversal.
Much has been said about the various kinds of recoveries that can be seen, but if this most recent bounce higher will in fact be the recovery to the nearly 9% drop on an intra-day basis, then it is certainly of the "V-shape" variety.
This week came word that by a very large margin, the activity in personal 401(k) retirement accounts had been to move out of equities, after the declines, and into fixed-income instruments, after those interest rates had seen a 15% increase.
What may really complicate things is that there really is no society to provide guidance and set the boundaries. There are short sellers who like to see movement in one direction and then there are the rest of us, although we can all change those roles at any moment in time that seems to suit us.
For those that depended on the "key reversal" of a few weeks ago as a sign to buy or dipping below the 200 day moving average as a sign to sell, the past few weeks have frustrating.
On the other hand, news of rampant selling in 401(k) accounts may offer precisely the kind of prognostic indicator that many have been looking for, as being a perfectly contrarian signal and indication that the time to buy had come once again.
But what caused the sudden change that created the "V shape?"
Technicians and chart watchers will point to the sudden reversal seen on October 15th in the early afternoon as the DJIA had fallen more than 400 points. However, that 260-point midday reversal was lost, almost in its entirety at the following morning's opening bell.
However, we may also want to thank serendipity that IBM (IBM) and Coca Cola (KO) didn't report their earnings last week, and that reports of a New York City Ebola patient didn't surface until market and contagion fears had abated.
It wasn't until the afternoon following that 400-point drop that St. Louis Federal Reserve Governor James Bullard suggested that the Federal Reserve should consider delaying its ending of Quantitative Easing.
If you were looking for a turning point, that was it.
Even those that are critical of the Federal Reserve for its QE policies have been happy to profit from those very same policies. The suggestion that QE might continue would be a definite reason to abandon fear and buy what appear to be bargain-priced stocks, especially as the fixed-income side's sudden 15% increase in rates made bonds less of a bargain.
I was either flatfooted or disbelieving in the sudden climb higher, not having made any new purchases for the second consecutive week. I was almost ready to make some purchases last Thursday, following Wednesday's decline, but that was followed by a 120-point gap up the following morning. Instead of adding positions, I remained content to watch fallen asset values recapture what had been lost, still in the belief that there was another shoe to drop while en-route perhaps to a "W-shape."
That other shoe may come on Wednesday as the FOMC releases its monthly statement. Lately, that has been a time when the FOMC has given a boost to markets. This time, however, as we continue to be so consumed by the nuances or changes in the wording contained in the statement, there could be some disappointment if it doesn't give some indication that there will be a continuing injection of liquidity by the Federal Reserve into markets.
If Bullard was just giving a personal opinion rather than a glimpse into the majority of opinion by the voting members of the FOMC, there may be some price to be paid.
While there will be many waiting for such a word confirming Bullard's comments to come, there also has to be a sizable faction that would wonder just how bad things are if the Federal Reserve can't leave the stage as planned.
Welcome back to the days of is good news bad news.
As usual, the week's potential stock selections are classified as being in Traditional, Double Dip Dividend, Momentum or "PEE" categories.
While the move higher this week was more than impressive, there's still no denying that these large moves higher only happen in downturns. The question that will remain to be answered is whether the very rapid climb higher from recent lows will have any kind of sustainability.
For the coming week I expect another quiet one, at least personally. The markets may be anything but quiet, as they certainly haven't been so for the past few weeks, but trying to guess where things may go is always a dicey prospect, just seemingly more so, right now.
Despite what may be continuing uncertainty, I have increased interest in earnings related and momentum stocks in the coming week.
Among those is Joy Global (JOY), a stock whose fortunes are closely aligned with Chinese economic growth. Those prospects got somewhat of a boost as Caterpillar (CAT) delivered better-than-expected earnings during a week that was a cavalcade of good earnings, despite some high-profile disappointments. While the S&P 500 advanced 4.1% for the week and Caterpillar rose 4.6%, Joy Global may just be warming up following only a 2.1% climb higher, but still trading well below its mean for the past year.
In that year, it has generally done well in recovering from any downward moves in price, and after two months in that kind of trajectory, may be ready to finally make that recovery.
With "old technology" continuing to do well, EMC Corp (EMC) held up surprisingly well after its majority-owned VMWare (VMW) fell sharply after its own earnings were announced. EMC typically announces its earnings the morning after VMWare announces and while showing some impact from VMWare's disappointment, rapidly corrected itself after its own earnings were released.
EMC has simply been a very steady performer and stands to do well whether staying as an independent company, being bought out or merged, or spinning off the large remainder of its stake in VMWare. Neither its dividend nor option premium is stunning, but there is a sense of comfort in its stability and future prospects.
Halliburton (HAL) has been trading wildly of late and is well below the cost of my most recent lot of shares. While the entire energy sector has fallen on some hard times of late, there's little reason to believe that will continue, even if unusually warm weather continues. Halliburton and others have been down this path before and generally investors do well with some patience.
That will be what I practice with my more expensive lot. However, at its current price and volatility, Halliburton, with its just-announced dividend increase, offers an exceptional option premium that is worthy of consideration, as long as patience isn't in short supply.
Another stock having required more patience than usual has been Coach (COH). It reports earnings this week, and as has been the case over the past 3 years, it wouldn't be unusual to see a large price move in shares.
The options market is expecting a 7% move in shares, although in the past the moves have been larger than that and very frequently to the downside. Lately, however, Coach seems to have stabilized as it has gotten a reorganization underway and as its competitor in the hearts and minds of investors, Michael Kors (KORS), has also fallen from its highs and stagnated.
I purchased the current lot of Coach shares after it took a large earnings related decline and I didn't believe that it would continue doing so. This time around, I'm likely to wait until earnings are announced and if shares suffer a decline I may be tempted to sell puts, with the objective of rolling over those puts into the future if assignment appears to be likely.
For those that like dabbling in excitement, both Facebook (FB) and Twitter (TWTR) announce their earnings this week.
I recently came off an 8-month odyssey that began with the sale of a Twitter put, another and another, but that ultimately saw assignment as shares dropped about $14. During that period of time, until shares were assigned, the ROI was just shy of 25%. I wouldn't mind doing that again, despite the high degree of maintenance that was required in the process.
The options market's pricing of weekly options is implying a price movement of about 13% next week. However, at current premiums, a drop of anywhere less than 18% could still deliver a weekly ROI of about 1.2%. I look at that as a good return relative to the risk undertaken, albeit being aware that another long ride may be in store. Since Twitter is, to a large degree, a black box filled with so many unknowns, especially regarding earnings and growth prospects, even that 18% level below could conceivably be breached.
Facebook seems to have long ago quieted its critics with regard to its strategy and ability to monetize mobile platforms. In the 2 years that it has been a publicly traded company, Facebook has almost always beaten earnings estimates and it very much looks like a stock that wants to get to $100.
The option market is implying a much more sedate 7.5% in price movement upon earnings release, and the decline cushion is only about 9.5% if one is seeking a 1% ROI.
Both Facebook and Twitter are potentially enticing plays this coming week and the opportunities may be available before and after earnings, particularly in the event of a subsequent share decline. If trying to decide between one or the other, my preference is Twitter, as it hasn't had the same upside move as Facebook has had, and I generally prefer selling puts into price weakness rather than strength.
After some disappointing earnings Ford Motor (F) goes ex-dividend this week. Everyone from a recent Seeking Alpha reader who commented on his Ford covered call trade to just about every talking head on television is now touting Ford shares.
Normally, the latter would be a sign to turn around and head the other way. However, despite still being saddled with shares of a very beleaguered General Motors (GM), I do like the prospects of Ford going forward, and after a respite of a few years, it may be time to buy shares again. The dividend is appealing and more importantly, appears to be safe, and the option premiums are enough to garner some interest as shares are just slightly above their yearly low.
Finally, I don't know of anyone that has anything good to say about Abercrombie & Fitch (ANF), regardless of what the perspective happens to be. It, along with some other teen retailers, received some downgrades this past Friday and its shares plummeted.
I have lost count of how often that's been the case with Abercrombie & Fitch shares, and I've come to expect them to rise and plunge on a very regular basis. If history is any guide Abercrombie and Fitch will be derided for being out of touch with consumers and then will surprise everyone with better-than-expected earnings and growth in one sector or another.
I've generally liked to jump on any Abercrombie post-plunge opportunity with the sale of puts and while I'd be inclined to roll those over in the event of likely assignment, I wouldn't be averse to taking possession of shares in advance of its earnings and ex-dividend date, which are usually nearly concurrent, with earnings scheduled for November 20, 2014.
Traditional Stocks: EMC, Halliburton
Momentum: Abercrombie and Fitch, Joy Global
Double Dip Dividend: Ford (10/29)
Premiums Enhanced by Earnings: Coach (10/28 AM), Facebook (10/28 PM), Twitter (10/27 PM)
Remember, these are just guidelines for the coming week. The above selections may become actionable, most often coupling a share purchase with call option sales or the sale of covered put contracts, in adjustment to and consideration of market movements. The overriding objective is to create a healthy income stream for the week with reduction of trading risk.
This article was written by
I am a simple individual investor who believes that the playing field is level, but may require active management of one's holdings. I've devised a series of steps that constitute a highly defined covered option strategy that most anyone can follow and that I've described in Option to Profit (2011). Having retired from a career in Pediatric Dentistry, approximately 10 years ahead of schedule, after spending the previous 10 years working just 2 1/2 days each week, I now spend my time trading.For almost 5 years I alerted others of trading opportunities in large cap positions through the Option to Profit subscription service, a premium subscription service that provided actionable Trading Alerts via text messaging or e-mail at my old site www.optiontoprofit.com. As of January 2, 2017, the site  and the name "Option to Profit" are no longer mine. as I've again joined the dark side and taken the easy money. But I've returned to my blogging roots on January 2, 2017 by resurrecting the old TheAcsMan.com ad supported web site, open to all.That, too, ended and the new, subscriber based LEAPtoProfit.com which launched July 2018 and is geared to the less active trader who is either shifting into a "buy and hold" strategy, as am I in this next to final stage of my investing career or seeks to milk an existing "buy and hold" portfolio.Current;y. the LEAPtoProfit p[ortfolio is fully invested and the paywall has been removed until December 2019 when I expect an infusion of cash from position assignments.Ultimately, I hope to make my stock portfolio improve the quality of my life. Whatever stage of life you are in, you can make your stocks improve that quality by putting them to work for you and perhaps LEAPtoProfit can be part of that process.
Analyst's Disclosure: The author is long ANF, COH, EMC, HAL, JOY. The author wrote this article themselves, and it expresses their own opinions. The author is not receiving compensation for it (other than from Seeking Alpha). The author has no business relationship with any company whose stock is mentioned in this article.

I may buy/add shares or sell puts in ANF, COH, EMC, F, FB, HAL, JOY and TWTR
Seeking Alpha's Disclosure: Past performance is no guarantee of future results. No recommendation or advice is being given as to whether any investment is suitable for a particular investor. Any views or opinions expressed above may not reflect those of Seeking Alpha as a whole. Seeking Alpha is not a licensed securities dealer, broker or US investment adviser or investment bank. Our analysts are third party authors that include both professional investors and individual investors who may not be licensed or certified by any institute or regulatory body.