This has been a tumultuous year for pot stocks. Some investors have gained, many have lost. And yet, a deep fascination persists as these companies have contorted into not so much a "business" but more of a terrible soap-opera that you can't stop watching.
As volume dries up for most of the tickers, the game right now is all about staying relevant and some companies are going to odd lengths to capture the attention of investors.
Pot Stocks Catch Ebola
Ebola stocks had a nice run after an individual died from the Ebola virus on U.S. soil. It almost felt like the beginning of 2014.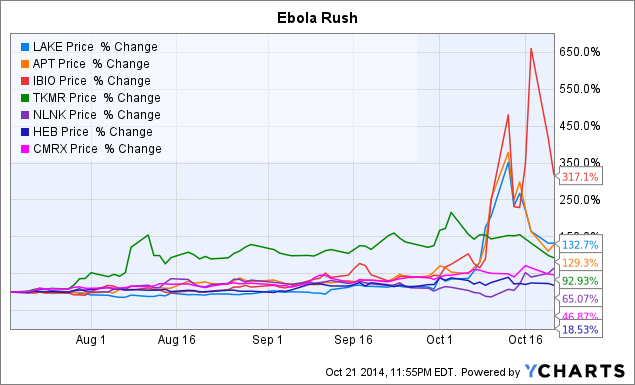 LAKE data by YCharts
It stands to reason that some pot stocks wanted a taste. Most thought better of it, probably realizing what kind of message it would send to investors if they thought the company that they put their hard earned dollars was jumping onto whatever momentum train that was pumping stocks up higher. However, some could not resist, like Neutra Corp (OTCQB:NTRR) and Cannabis Sativa (OTCQB:CBDS).
NTRR put out a press release on 10/14/14 entitled, "NTRR and Partners Offer Critical Assistance to First Responders as Panic Over Ebola and Enterovirus Spreads." That was then. After Ebola stocks started reversing course, NTRR was back to "Cannabis." On 10/21/14, only seven days later, the company's press release reads, "NTRR Sees Big Money Ballot Initiatives as Major Tipping Point for Cannabis Market in November."
NTRR's stock price has been on a wild ride for the best two years.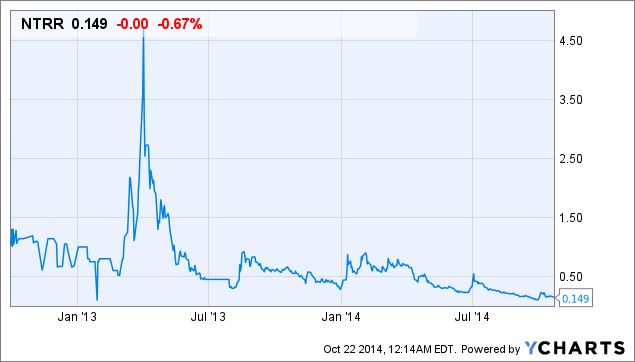 NTRR data by YCharts
In its latest filing, the company reported no revenues, a deficit of $684k, and accumulated deficit of $2.5m. I'm avoiding this one.
According to Cannabis Sativa medical director, there is "evidence" that cannabinoids can offer protection against viral infections, like Ebola. David B. Allen M.D., a retired Cardiothoracic and Vascular Surgeon, makes a compelling case, backing the claims with scientific evidence. My concern is the timing. Why was this blog written 10/10/14?
With no word of "Ebola" until it became an international crisis, this pot stock jumping on the viral train raises red flags. I was hesitant to throw the company under the bus for this "research" but then I saw former governor of New Mexico and CEO of Cannabis Sativa, Gary Johnson, making similar "claims."
On Fox Business Network, Johnson sat down with Stuart Varney to make the appeal that marijuana should be used to cure Ebola.
We actually believe we have efficacy with regard to treating Ebola," said Johnson.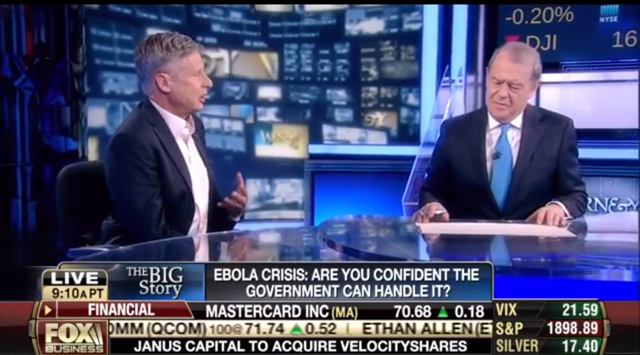 Varney called out Johnson for coming off as a "Snake Oil salesman," pointing out that this appeared to be a ruse to sell his "future products." Johnson denied this saying that it "wasn't about the money." It might not be about "the money" but could possibly be about pumping up the stock price.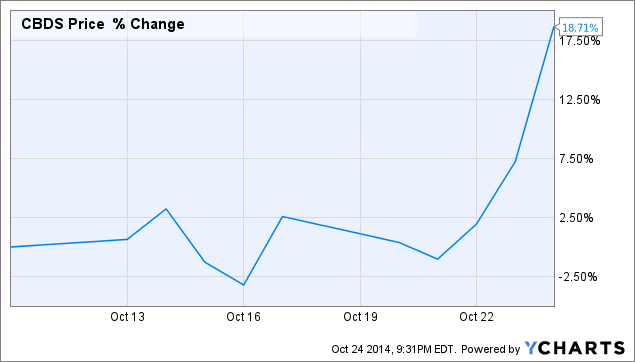 CBDS data by YCharts
Since the interview aired, the stock price has shot up nearly 20%.
In their latest filing, the company reported
$277 in revenues
Proforma net loss of -$794,000
A book value of 0.86 a share
A tangible book value of -0.21 a share
It is possible that Johnson might take another run at the 2016 presidential elections. Due to Johnson's political notoriety, I'm hesitant to throw completely throw CBDS under the bus. However, the shameless attempt to capitalize on a serious viral outbreak plus the worrisome financials makes this look like one investors should avoid.
The one interesting factor is that the company has a 90% ownership of a company with three patent applications filed with the U.S. Patent and Trademark Office for a CTA strain, its use in a lozenge and as a treatment for hypertension. As soon as the applications are granted and/or the patents are issued, I'm staying far away from this ticker.
Terra Tech's Public Enemy #1
Terra Tech (OTCQX:TRTC) has been hard at work dealing with the #1 threat of the future of its business. No, not improving gross margins or paying down debt. TRTC has been focusing on what really matters: going after an obnoxious twitter user, @LaughinPaulRyan.
With limited resources, including capital and time, it is great to see a company really working hard to improve shareholder value. It is not clear exactly what TRTC hopes to accomplish by publicly outing a guy on twitter, but it is enough to keep investors enthralled.
The company has accused @LaughinPaulRyan of "tortious interference" because the obnoxious Twitter user allegedly sent false statements about the CEO and the company to a Clark County review board, which allegedly prevented the company from obtaining a permit to at a later time receive a "dispensary license."
One of the items that was shared was an outstanding bankruptcy lawsuit against Derek Peterson et. al. to the tune of $1.4M (the extra $200k is for attorney fees).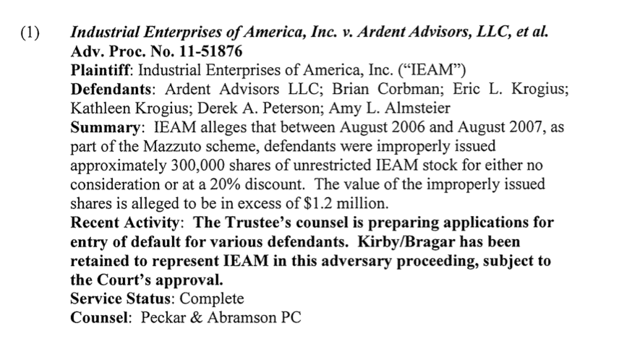 It looks like the case is still open against Peterson et. al.
So far, no case has been filed against the "tortfeasor" and I would be surprised if the company actually followed through. I am not an attorney but it would seem that the plaintiff would need to show that the company 1) that there was a valid contract in place 2) the third-party had knowledge of the contract 3) the defendant intended to induce a breach of contract 4) that there is not another law to protect the act 5) a breach of a contractual agreement actually took place 6) there were material damages.
Well, was there a contract in place? In other words, had TRTC already received a "permit" that was subsequently rescinded? (hint: signs point to no). And what were the material damages? I think this would be hard to prove since even if the company obtained a permit, there was no guarantee that they would be able to capitalize on it; applicants would still need approval from the state.
In an article entitled, "Navigating the Nuances of Tortious Interference Claims" published in the Business Torts Journal, Zachary G. Newman and Anthony P. Ellis argue that if there is no valid contract in place there are few exceptions in which the plaintiff can claim tortious interference.
A valid business expectancy is one in which there is a reasonable likelihood or probability that the expectancy will come to fruition; mere wishful thinking is not sufficient to support a claim. See, e.g., First Public Corp. v. Parfet, 246 Mich. App. 182, 199, 631 N.W.2d 785 (Mich. Ct. App. 2001), vacated in part on other grounds, 468 Mich. 101, 658 N.W.2d 477 (Mich. 2003); Trepel v. Pontiac Osteopathic Hosp., 135 Mich. App. 361, 377, 354 N.W.2d 341 (Mich. Ct. App. 1984).
But who cares about those details? After the Clark County debacle, the share price fell and investors demanded blood. Might as well go after the twitter-trolls.
A recent prospectus from the company showed that there was:
$2.7M in cash
$4.2M in revenues since the beginning of 2014
Net losses of -$9.4M for the same period
Book value of $1.7m
The company has three marijuana "subsidiaries" branded as "MediFarm" for operations in Nevada, pending necessary permits and approvals.
MediFarm ownership 60%
MediFarm I ownership 50%
MediFarm II ownership 55%
As already mentioned, the company has been awarded approval from local officials but still needs state approval before it can operate.
I realize TRTC is a fan favorite but the company loses credibility in my eyes when it celebrates going after a twitter troll. With nearly -$10M in losses, TRTC should probably be spending their resources a bit more wisely. Investors too should inform management that their energies should be better spent reducing costs of goods and expanding operations for their revenue generating segments.
This is one of the few companies in the "medical marijuana" space generating revenues but that still does not make it a "safe" investment. As a publicly traded company with millions in revenues, "exposing" a twitter bully does not make you look heroic, it just makes you look like a bigger bully. Down the road, how does Terra Tech expect the larger investor community to take it seriously if they find out that the company spent months "investigating" a bully?
The "Selfie-CEO" of Creative Edge Nutrition (FITX)
It is no secret that I have been particularly harsh towards this company. To boil it down, my main reasons for criticizing this company are:
Their manipulative use of social media
The hyperbole used in their PRs (world's largest facility, etc.)
The questionable background of large stakeholders and affiliates (SEC lawsuits galore!)
And the CEO, Bill Chaaban, excessive dumping of shares.
In Bill's latest Form 144, it shows that Bill has sold an additional 13.5 million shares for a total of $825K at an average price of .0612 a share.[1] What I find most problematic is that the latest sales begin immediately after the company put out its fluff PR of the year with the headline:
CEN Biotech Announces the Completion of Its Pre-License Inspection by Health Canada"
This press release went out at 6:26 p.m. on 08/25/14 so the trading frenzy did not happen until the next day. According to the Form 144, Bill resumed selling shares beginning 8/26/14 after taking a month from share dumping.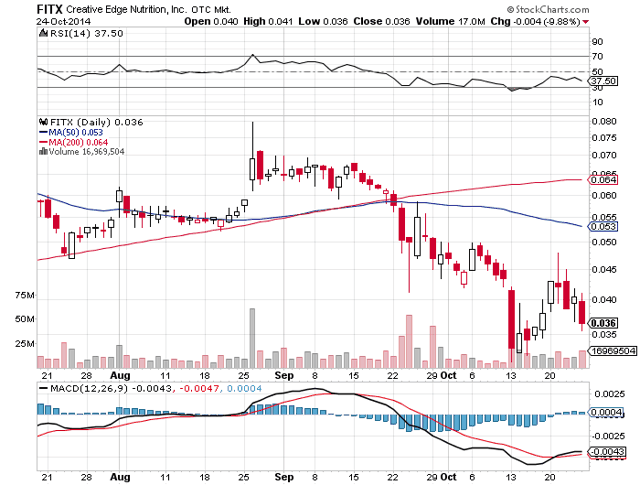 The 50dma during that period ranged from .06-.053 (the 20ema ranged from .063-.043), but Bill managed to sell for an average price just slightly higher that the top range of the 50dma. In other words, Bill is not only dumping massive amounts of shares, he is also selling at a better price than 99% of his shareholders.
This is not the only instance of Bill taking advantage of a PR pump to dump shares
This is an incomplete list of all the dates and sales. You can see copies of insider transactions here and here.
To date, Bill has sold approximately 60.99 million shares for $4,469,093 at an average price of .0733 a share. The company still does not have a license to sell marijuana.
Now, it appears that the "chief" has taken a safari adventure on the company's dime in Tanzania. Since selling a large portion of his holdings the CEO has become something of a world-traveler (and a multimillionaire). Prior to his Africa trip, he was last sighted in war-torn Ukraine, taking "selfies" with local officials. Now he is chumming it up with random officials from Tanzania including Chief Executive Officer & Registrar General, Registration Insolvency and Trusteeship Agency RITA, Ministry of Constitutional Affairs and Justice.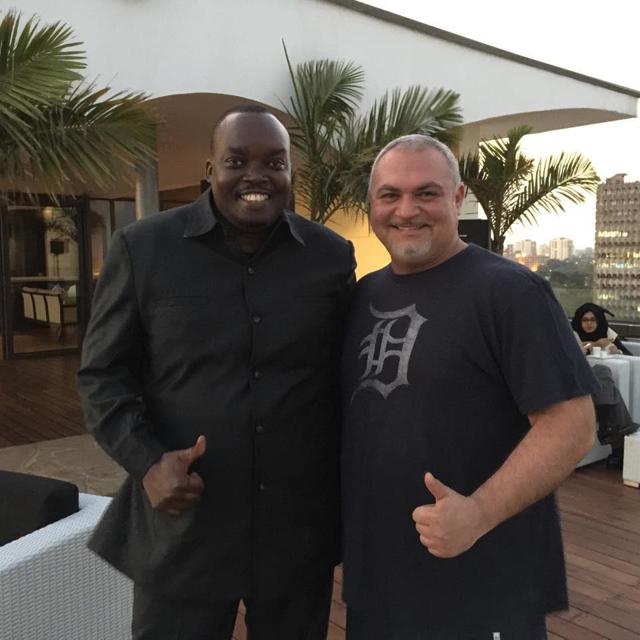 There has been no explanation given as to the reason for the CEO's travels. A lot of speculation that the company will be exporting globally and that Bill is just "planting seeds." So far, this company seems to be only in the business of selling shares. All investors have to show for their investment is the CEO's patronizing "selfies", irate residents of Lakeshore, and a declining share price.
FITX data by YCharts
Despite failing to live up to his many promises, this "selfie-taking-CEO" knows that a thumb and smile is all he needs to make worried investors feel assured. Who cares what the real reason is for his world traveling? Like the future of the company, Bill just leaves it to the imagination.
This is not a joke
But it sure feels like one. As the share price of pot stocks continues to drop, it seems that these companies are doing whatever they can to stay relevant. It does not boost confidence for the long-term. While a company does have a fiduciary duty to its shareholders to create value, it also has a duty not to dupe potential investors with promotional schemes. Whether it is pumping out "Ebola" PRs, threatening to go after the "bashers", or taking "selfies" with random officials from foreign nations, these companies are making medical marijuana sector look like a bad punch-line. If these companies want real investors to take them seriously, enough with the shenanigans and it is time to get down to business.
Notes
1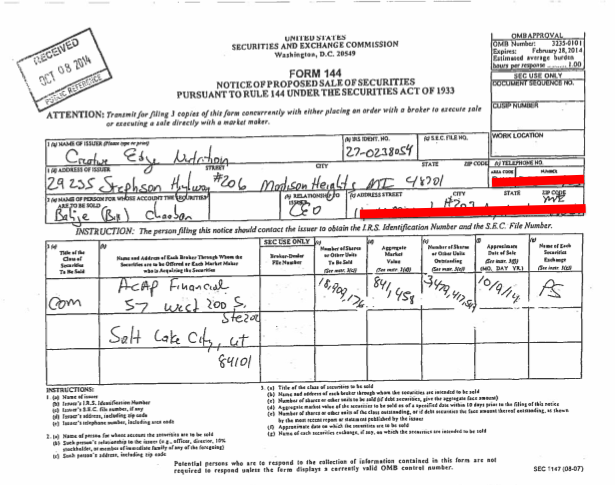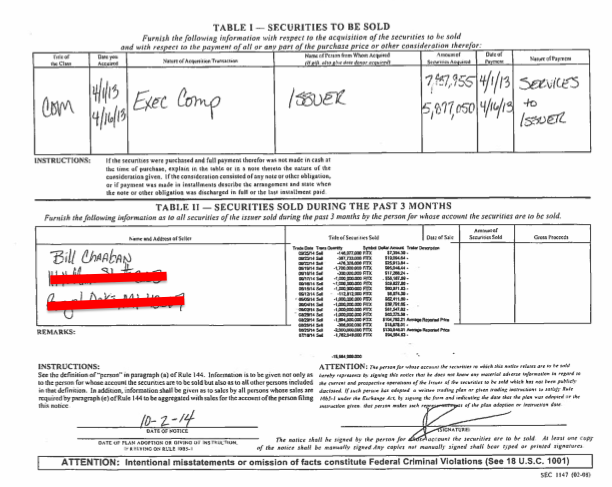 Disclosure: The author has no positions in any stocks mentioned, and no plans to initiate any positions within the next 72 hours.
The author wrote this article themselves, and it expresses their own opinions. The author is not receiving compensation for it (other than from Seeking Alpha). The author has no business relationship with any company whose stock is mentioned in this article.
Editor's Note: This article covers one or more stocks trading at less than $1 per share and/or with less than a $100 million market cap. Please be aware of the risks associated with these stocks.