TRADE SUMMARY
- Stay long the South Korean stock market (ETFs: EWY, 069500(KS)).
- The BUY rating was issued at 1981.82 on 12/25/2012.
- Our target return is 23.09%.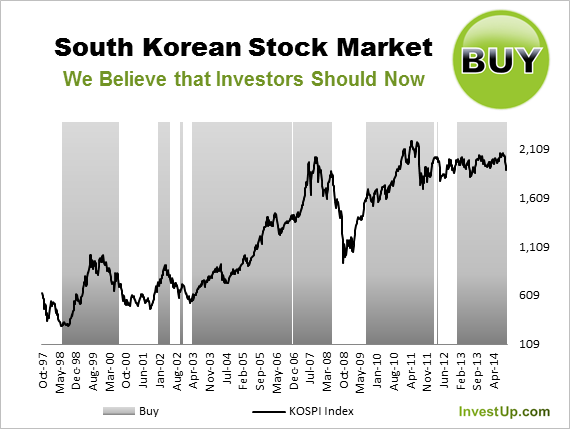 ANALYSIS
We continue to favor being overweight Korea's stock market.
The Korean economy showed further improvements in momentum this month, consistent with the notion that the economic cycle may be stabilizing. While the gap has narrowed, we still think stocks in Korea have lagged other cyclical assets. Our bias is to think that the market can continue to climb its "wall of worry." With the core picture of reasonable growth data, improving readings from corporate cash flows, and ongoing healing in the private sector, our strategists are constructive about Korea's stock market for the next twelve months.
The economic data in Korea has continued to be stable. Overall, business conditions are at a level consistent with expanding output, but it is clear from the volatility of the index that sentiment is fragile. Assuming that another economic downturn is avoided, the employment situation in Korea should continue to normalize, albeit at a very modest rate. That dynamic makes us think more concretely than for a long time about the potential for a move higher in the markets.
Looking at the near-term data calendar and improved expectations for the news flow in Korea, we do need to point out that it is harder than it was a few weeks ago to identify the source of the next surprise. However, our trading view is still basically positive. Unless news from our Leading Indicator for Korea turns more downbeat, we are unlikely to take a much more negative view of the risk picture. Despite the uncertainties in the macro picture, we think the opportunities to be long the Korean stock index are shaping up to be very attractive again.