OTC:CVVT is China's leading valve company and the primary industry consolidator, with three acquisitions in 2010. Revenues for 2010 increased by 92.6% while EPS grew by 45%, producing a historical P/E ratio of 4x. The company has been criticized for lack of transparency, and therefore, the Board of Directors on December 27th, 2010 voted to upgrade their auditors from Frazer Frost to a Big Four.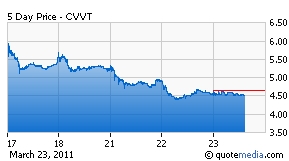 Much has been said about CVVT guiding down 2011 revenues from 30% growth to the 25%-28% range (equating to $228 to $235 million). Q4 2010 revenues came in at $52 million compared to analyst expectations of $44 million. If the additional $8 million of revenues had not come through, 2010 revenues would have been reduced from $183 million to $175 million. 30% revenue growth for 2011 from that latter number is $227 million. So revenue projections for 2011 have actually been raised.
Furthermore, in the conference call, CVVT management stated that backlog had increased from $80 million for Q3 2010 to 850 million RMB ($129 million) for year-end 2010, which is a remarkable quantum leap. From that year-end backlog, they expect 250 million RMB ($38 million) of revenues to appear in Q1 2011. Assuming CVVT gets additional orders which get shipped in the same quarter, it would be reasonable to expect at least $45 million of revenues for Q1 2011. The Q4 revenue of $52 million on the Q3 2010 backlog of $80 million is a 65% conversion rate; so my $45 million revenue number on a $129 million backlog (which is a 35% conversion rate) is conservative.
Q1 2011 analyst estimates before the earnings call was for $40 million of revenues. After the call, in their financial models, Roth now expects Q1 2011 revenues to be $35.8 million; Piper Jaffray has $32.3 million; and Brean Murray forecasts $40.3 million.
Therefore, with my $45 million revenue forecast, the company is setting itself up to beat the above analyst Q1 2011 revenue estimates by a substantial margin.
Organic revenue growth for Q4 2010 accelerated to 32.6%; assuming this momentum carries on to the following year, 2011 revenues and earnings look to be in fine shape.
CVVT missed their Q4 2010 net income target and the stock has been under pressure since the earnings call due to: 1) gross margin pressure, as those of the three acquired companies are lower than those of the original business; 2) CVVT took $3.9 million of non-cash charges which they expensed through the Cost of Sales; 3) G&A increased by $3.5 million sequentially as the company accrued bonuses in that quarter which will be paid in Q1 2011; 4) the tax rate was 49%, above their usual 22% number.
Other than the gross margin, which management has guided for 2011 to 41%-42%, all the above are one-off increases in costs. The gross margin declines of the last three quarters is now stabilizing as gross margins for Q4 2010 with the non-cash charges added back was 42.7%.
Clearly, CVVT has thrown in the kitchen sink with charges and costs in Q4 to clear the decks in anticipation of the new auditors signing on for Q1 2011.
Management announced a major effort to collect receivables, which had grown from $32.3 to $84.1 million over the last 12 months, by incentivizing their sales force; so I am looking forward to receivable growth moderating and the company generating $50 million of free cash flow for 2011. Year-end cash balances should be $90 million, well over half of the current market cap. Net of year-end cash, 2011 P/E comes to less than 1.5x. This is an extraordinary price for probably the finest company in the Chinese RTO space.
It is worth noting that as the premier valve company in China, with incredibly close governmental ties as (it is dealing nearly exclusively with state-owned enterprises), and the Chairman as head of the China Valve Association, any issue of "fraud" in this instance is particularly nonsensical. In addition, Alex Potter of Piper Jaffray stated in his report of March 13, 2011 that he has visited all six of the subsidiaries' plants ("We have now visited each of CVVT's primary operating subsidiaries, including 2 of the 3 facilities acquired by the company last year."), which were active and generating products.
At the recent Roth conference in California, CVVT management gave more details on the auditor upgrade process.
For the last week there has been a Big Four auditor appraising the three acquisitions of 2010, which have been questioned by Citron and have been the reason for the 10 class action lawsuits. At this time, one of the three acquisitions has been given a clean bill of health. The other two appraisals should be completed within the next two to three weeks.
After that final qualification of the accounts, another Big Four auditor will be given the green light to sign on board to represent CVVT. When this occurs, the class action suits will effectively be deemed baseless and without merit.
CEO Mr. Wang and CFO Dr. Wei on the Q4 conference call did an excellent job explaining current business conditions and mapping out in their five-year plan the company's bright future. I believe shareholders are in capable hands. As the leader and major consolidator in an industry growing at 20% per year, a billion dollar market cap is a very reachable goal.
Disclosure: I am long OTC:CVVT.