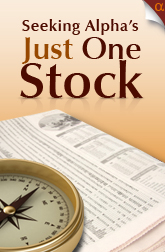 Several times a week, Seeking Alpha's Jason Aycock asks money managers about their single highest-conviction position - what they would own (or short) if they could choose just one stock or ETF.
---
W. Scott O'Neil is president of MarketSmith Inc., a stock research tool developed by a team of investment professionals at William O'Neil + Co., an RIA for institutional money managers providing equity market buy/sell recommendations and independent research. Scott is also a portfolio manager with O'Neil Data Systems Inc.
If you could hold one stock position in your portfolio (long or short), what would it be?
Well, first I should mention that an important part of the growth strategy I adhere to includes interpreting the general health of the market. The market environment tells me when I should be in, when I should be out, how I should allocate my money, and where. Right now, I have a more bearish outlook on the market. But, within that context, I would buy long Stericycle (NASDAQ:SRCL).
Tell us more about the company behind the stock.
Stericycle is a global company that provides medical waste management, specializing in regulated waste management and related services to hospitals, blood banks and pharmaceutical companies. They are leaders in a very solid business segment, and have excellent management.
Their stock has been a strong and consistent performer. Their earnings stability and growth rate are impressive. Last quarter's sales and EPS were both up 25%. Long-term, their five-year EPS growth rate is 20%, and over the past seven years, their annual EPS has increased from $0.89 to $2.53 in 2010. Future estimates look promising at $2.81 for 2011 and $3.19 in 2012.
Their return on equity is 23%, with a pretax margin of 20% and after-tax margin of 15%. One of the more important metrics I follow is a proprietary EPS Rating that compares a company's EPS performance to all the other stocks in our database, over a five-year period. With an EPS Rating of 93, SRCL is positioned in the top 7%, which is considered very strong.
How does your choice reflect your investment approach?
As I mentioned, my approach is one of growth. I try to invest in the highest-quality stocks available at the time. A significant component of my strategy lies in interpreting the direction of the market. From what I see, I think the market may be entering a downturn, as demonstrated by numerous days of significant institutional selling. On Feb. 22, I saw confirmation of those concerns materialize and on March 10, the Nasdaq continued to deteriorate when it gapped down below its 50-day moving average line. Also, many of the quality growth stocks have recently demonstrated poor price and volume action.
That said, I selected SRCL in part because of its proven ability to weather a market correction relative to other stocks. As examples, look to how it performed through both the 2000 and 2008 bear markets. SRCL also has qualities that make it attractive to a growth investor, including extremely strong fundamentals, leadership in their field and an ever-increasing number of quality institutional investors.
How much is your selection based on Stericycle's industry, as opposed to a pure bottom-up pick?
SRCL is a purely bottom-up pick. That being said, using our firm's proprietary ratings, SRCL ranks third in EPS out of the other 35 companies listed in the industry group. In Relative Strength, a measure of price performance over 12 months, SRCL ranks fifth, which is also quite impressive.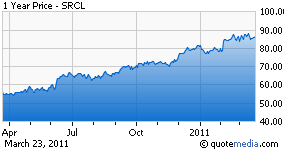 SRCL specializes in the medical side of waste management and there is no denying that the healthcare industry is rapidly growing. With a combination of an aging population, the pressure to reduce healthcare costs and increasing environmental and safety regulations, SRCL is perfectly positioned to continue its exceptional growth.
Given my current market outlook, it is important to note that medical stocks tend to outperform growth stocks during bear markets. A few examples that come to mind are hospitals and nursing homes from 1976-1978, generic drugs during 1983-1984, biotechnology, medical products and outpatient healthcare from 1990-1991 and ethical drugs, outpatient/home care, biotechnology and diversified medical between 2007 and 2008.
How is Stericycle positioned with regard to competitors?
SRCL's 2010 estimated global market share was 13.7% (up from 11.2% in 2009), and as the dominant player in the industry they have significant room to increase their slice of the pie in this very unsaturated industry.
Their largest competitors are the hospitals, drug manufacturers and treatment facilities that handle waste management themselves. For SRCL, increasing their market share means convincing these organizations to outsource that service in an effort to reduce cost through efficiency.
SRCL has an established network of transportation and processing locations that create high barriers to entry. Add to that a capable and experienced management team, revenue stability generated from a diverse and global customer base, and a wide range of services that maintain compliance with the EPA, OSHA and HIPAA regulations.
What about Sharps Compliance (NASDAQ:SMED)? A fraction of SRCL's size, but are they able to get a foothold, or any pricing power?
Just taking a look at a chart of Sharps' stock, there are a number of issues. They are currently trading at $5 a share down from their high of $13. As you pointed out, they are much smaller compared to Stericycle, trading an average of 155,000 shares daily. Both their stock price and low volume are problems as far as driving significant institutional interest. And Sharps' sales and earnings over the past four quarters are very weak. It may end up being a turnaround story, but overall the data on Sharps is telling me that meaningful institutional buying and support is unlikely in the near future.
How does SRCL's valuation compare to its competitors?
I don't place a great deal of emphasis on stock valuation when buying. Our firm has conducted thorough market studies, even dating back to the 1880s, and we found that in many of history's most successful stocks, P/E was not a relevant factor in price appreciation and had a minimal impact on whether a stock should be bought or sold.
A high P/E certainly doesn't discourage me from buying a stock and in SRCL's case, the P/E is 34, which to me is only slightly high.
Growth has been strong but SRCL has grown heavily through acquisitions (17 in the fourth quarter alone, and 180 in 15 years), so is that likely to continue, or is there room for more organic growth ahead - maybe through better penetration of more services?
SRCL has plenty of room to continue growing both organically and through acquisitions. Domestically, despite their market leadership, they still only have 14% market share, which leaves significant room for consolidating other providers. And, as healthcare regulations continue to increase, the proportion of the market that could choose outsourced strategies is likely to increase as well. And the international market is quite simply a tremendous opportunity for them.
Does your view differ from the consensus sentiment on SRCL?
SRCL is an institutional favorite with 57% of its shares in float owned by mutual funds. Over the past four quarters the number of funds owning SRCL has increased from 900 to 953, another good sign of support. Since 2000, the stock's price has increased over 1,300%, and as I mentioned earlier, its resiliency through past bear markets is a good indication of how it might weather future market downtrends.
The stock currently has 6.6 days of short volume, but I disagree with the short sale outlook.
Does Stericycle management play a role in your selection?
Yes, strong and effective management is a key driver for a company's success as reported in the fundamentals. A company like Stericycle with consistently impressive sales and earnings reflects positively on management's ability to run and grow their business.
It's no accident or coincidence that SRCL has time and again performed so exceptionally; it's the result of experienced and effective leadership. Their CEO, Mark Miller, was named CEO of the Year in 2009 by Morningstar.
What catalysts, near-term or long-term, could move the stock significantly?
In order to help project the future performance of a stock, given a variety of unknown catalysts, I look back at its character, or past behavior. Over the past 10 years, SRCL has been a very consistent, albeit slow-moving, reliable growth stock.
We've had plenty of turbulence in the market since 2000, and none of that has knocked SRCL off its horse. Short-term, SRCL isn't going to move significantly but long-term, it should be a very strong and stable performing stock.
What could go wrong with your pick?
If the market moves into a serious correction, we could expect SRCL to be impacted, along with most other stocks. However, given my current market outlook, I selected SRCL for what I anticipate as its resiliency in the face of such a correction.
Also, as a waste management company, they own a large number of trucks for waste transport. Given that, high oil prices could adversely affect their bottom line, but even with the added headwind, I estimate SRCL will continue to perform.
Thanks, Scott, for sharing your ideas with us today.
Disclaimer: This information is compiled to assist you in your study of the securities; however, nothing contained herein is to be construed as a recommendation to buy or sell any securities. W. Scott O'Neil, and/or employees of MarketSmith, Inc., or its affiliates may now or in the future hold positions in the company discussed in this article. Please see Terms of Use.
Disclosure: W. Scott O'Neil does not hold any position in SRCL.
Read more Just One Stock interviews »
If you are a fund manager and interested in doing an interview with us on just one stock or ETF position you'd hold, please email us at Just One Stock.