Note: The following is Part 1 of a 4 part series entitled Research of ETFs. It walks readers through the inadequacies of existing research methods, argues the benefits of a fundamentally-driven, forward-looking analysis, and illustrates how investors and their financial advisors can put these tools to work in the real world. This unique approach is the basis behind the ETF Analyzer app on Seeking Alpha. The entire Research of ETFs guide can be downloaded here (pdf).
Introduction
Exchange Traded Funds are part of a larger, secular trend toward index investing. While many financial advisors have embraced ETFs others view them as a threat or are unsure how they can use them to add value for clients. Often, one's view of ETFs is tied to his or her view on the merits of active versus passive investing.
Actively managed funds' central drawback
But the debate over active versus passive management largely misses the point when it comes to financial planning. The central drawback of actively managed funds is that investors don't really know what they own. This needlessly complicates portfolio building.
ETFs overcome this thanks to their transparency, allowing investors to know exactly what they own at any point in time. And with so many variations available—from the broadest to most narrow indices— ETFs fit the bill in a way that opaque mutual funds cannot, whether the advisor aims to simply provide clean, transparent asset allocation or highly tailored, ongoing tactical investment management.
Putting investors & advisors in full control
This also has important implications for the business of investment advice. Advisors who entrust client assets to mutual fund managers are essentially outsourcing asset allocation and portfolio management to some degree. But adopting ETFs for widespread use in clients' portfolios reverses this, putting the advisor in full control. For those who manage portfolios of individual stocks, ETFs are the ideal bridge to transition clients from a transaction-based account to a fee-based account while still providing full-service, individualized financial planning and oversight.
However, this increased role requires a heightened level of commitment from advisors as well. Selecting the right mix of ETFs for each client takes more than examination of issuers' websites and a quick check of rating systems that were designed to evaluate actively managed mutual funds.
This guide explains how advisors can seize the opportunity to provide more effective financial planning services by adopting ETFs for widespread use in clients' portfolios and build better, more enduring relationships in the process. We will walk readers through the inadequacies of existing research methods, argue the benefits of a fundamentally driven, forward-looking analysis, and illustrate how advisors can put these tools to work in the real world.
We assume the reader is already familiar with the basic structure and workings of exchange traded funds, including their advantages and disadvantages versus traditional mutual funds in terms of costs, tax efficiency, and trading flexibility. For those wanting more information, Appendix B (in the full report) includes a list of resources on these and other topics.

Taking charge with ETFs
The vast majority of financial advisors are familiar with exchange traded funds, their advantages and disadvantages, and aware of their popularity. So is a good portion of the investing public. ETFs are part of a larger, secular trend toward index investing. Since 1993, assets in equity index funds (including both ETFs and index mutual funds) have increased from $24 billion to $1.273 trillion as of the end of 2009, an increase of more than 5,000%, or 28% annually (
Figure 1
). ETFs now account for about half of all equity index assets.
More important however is the shift in the investment landscape. Over the same time period, assets in index investments have increased from just 3% to 26% of all equity fund investments in the United States (
Figure 2
), meaning that they have gained market share at the expense of actively managed funds.
(Click charts to expand)
Figure 1: Equity Index Assets
1993-2009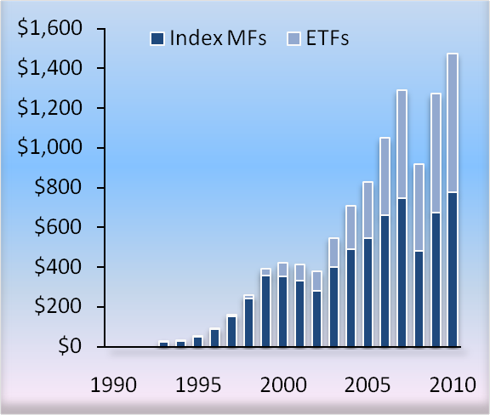 Source: Investment Company Institute
Figure 2: Index Assets as a % of Total Assets
1993-2009 (equity funds only)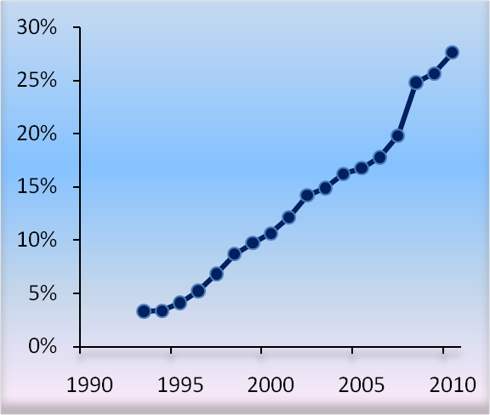 Source: Investment Company Institute
There are several reasons for this, including popularization of the once-academic concept of index investing, innovation and advertising by ETF issuers, and changes in compensation practices in the advisory business, not to mention public anger at mutual fund scandals and performance records.
Surveys tell us that although many advisors have already adopted ETFs in clients' portfolios to some degree, many also believe they must "justify their existence" by also selecting and monitoring active managers or single stocks. This is an unfortunate mistake.
Among the many benefits that ETFs offer investors—including tax efficiency, intra-day trading, low fees and versatility (the ability to sell short)—the one that often gets overlooked is transparency. The central drawback of actively managed funds is that the manager doesn't know each investor's overall financial picture and investors don't know what they own, a point the debate over active versus passive management tends to ignore.
Let's examine that from both sides. The active mutual fund manager knows what the portfolio holds, of course, but is selecting securities on behalf of thousands or millions of end investors he has never met, and whose investment preferences he has no knowledge of. In a sense, this disconnected structure violates the first rule of the investing profession, "Know thy client."
Besides serving investors with many different goals and preferences, the manager cannot know what else the investor holds. If the manager decides to overweight the technology sector, for example, an investor (or his advisor) who also reached the same conclusion and bought a technology fund separately would have an unintended and possibly dangerous concentration in the sector.
Rough ideas
The investor is also flying blind. Most actively managed funds provide only a range of possible investment choices: a "global equity" fund may say in its prospectus that it will invest between 0% and 30% of its assets in emerging markets, for example. Disclosure of actual holdings is only given periodically after the fact, and then usually incomplete.
The fact that most investors own more than one fund—and that the definitions of various assets in which they can invest may be inconsistent—only compounds the lack of clarity. How is an advisor to effectively build and monitor a client's investment portfolio if he has only a rough idea of what's in it?Picture a driver navigating the expressway on a rainy day without windshield wipers for a clear view; he may be able to make out blurry images of other traffic and the sides of the road, but chances of reaching one's destination safely are diminished (
Figure 3
).
Figure 3: Asset allocation with mutual funds is like rainy driving
without wipers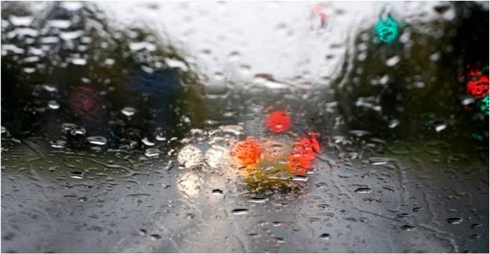 Source: AltaVista Research
Changing the Dynamic
This presents both an opportunity and a challenge for advisors. Instead of acting as middleman between investor and the mutual fund by "handing over" client assets to an outside manager, the advisor using ETFs can assume direct control over clients' portfolios.

Whether that means simple, clean asset allocation (more "passive" investing) or highly tailored, ongoing tactical investment oversight (more "active" investing) is a matter for agreement between client and advisor. In either case, the advisor is in a unique position to fill this role as the only one with a complete view of a client's overall financial picture.
The advisor using ETFs will not find himself in the uncomfortable position of having to explain to the client why a mutual fund performed poorly after investing in ways different from what was intended (so-called "style drift") which he would not have chosen for the client if only he had known about it.
However, this increased role also presents a challenge. Previously, due diligence meant manager due diligence. After selecting several managers and allocating clients' assets, the advisor could generally "set it and forget it" until the next quarterly review. Due diligence did not extend to the underlying securities themselves, and day-to-day portfolio management was outsourced to the manager, who made decisions on investors' behalf (and without their knowledge).
Auto-pilot
This changes with ETFs. All index funds, including ETFs, simply aim to track their benchmarks. There is no active manager evaluating underlying securities and making decisions, such as to get out of emerging markets if they become overheated or to go bargain hunting in a beaten-up sector. So a portfolio of ETFs is essentially on auto-pilot.
As a result it falls to the advisor to monitor, analyze and adjust the portfolio. Although the desired frequency and thoroughness of these functions may differ among advisors, as noted earlier, performing them well requires more than the information provided on issuers' websites or from rating systems designed to evaluate actively managed funds (discussed in more detail later). It requires a comprehensive set of tools designed specifically for ETFs to make a disciplined, detailed analysis of the funds.
There is the opportunity. Using these tools to provide highly customized portfolios over which he or she maintains direct control and responsibility, the advisor can change the dynamic from being at the mercy of active fund managers claiming "it's a stock picker's market," to being in charge in "the index picker's market."
Disclosure: I have no positions in any stocks mentioned, and no plans to initiate any positions within the next 72 hours.