After last year's oil spill in the gulf, fingers have been pointed at BP (NYSE:BP), Transocean (NYSE:RIG), and Halliburton (NYSE:HAL). Not much blame has been placed on Cameron (NYSE:CAM), the manufacturer of the BOP (Blow Out Preventer). BOPs are giant stacks of valves installed on top of land and sea wells to control unexpected pressure changes. As a last line of defense against runaway wells, BOPs have been compared to air bags that can't stop accidents but can reduce injuries. There are only three major BOP manufacturers -- Cameron International, National Oil Well Varco (NYSE:NOV), and GE (NYSE:GE)-owned Hydril Pressure Control.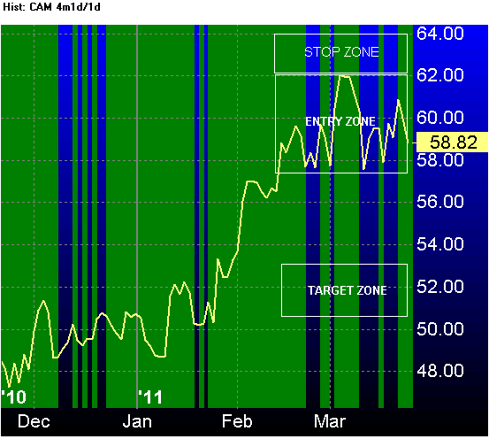 (Click to enlarge)
Yesterday the situation changed dramatically when the 551-page report was issued by forensic analysis firm Det Norske Veritas in the first comprehensive analysis of why the supposedly fail-safe equipment didn't work as planned. Investigators concluded that powerful blind shear rams on the device were unable to completely slash through slightly off-center drill pipe, seal the well hole and trap oil and gas underground. The chief problem was that as soon as oil and gas surged out of the deep-sea well, the drill pipe buckled and shifted to one side -- partly outside the path of the cutting rams. "As the blind shear rams closed, a portion of the drill pipe cross section became trapped between the ram block faces, preventing the blocks from fully closing and sealing," the report said.
The report is bound to increase the legal liability for Cameron. The chart shows the entry zone, the target zone and the stop zone for a short trade. An ideal trade will be a short sale if the stock moves up close to the top of the entry zone; since the stop zone is then very close, potential losses will be limited.
Those who like to play breakdowns may consider a short sell on break of $57.50 with a $0.75 stop.
To be successful at this trade, attention needs to be paid to how oil and oil service stocks are trading. For reference, ETFs USO, XOP, and OIH may be used.
We want to caution that the report may have a perverse effect in that the market may conclude that all existing BOPs have to be replaced and this will result in significant increased business for Cameron. On any decisive break out of $62.31on volume, Cameron will be a long. Such a scenario will also be a buying opportunity for National Oil Well Varco.
Bulls may also argue that BOP findings will not shift legal liability for the accident onto Cameron, because Transocean owned and operated the device and an indemnification clause in Transocean's contract with BP will shield it from liability.
We disagree with the bulls. The report shows that the BOP design was faulty and thus some liabilities will not be shielded by the indemnification clause. Unless an upside break occurs, we will short sell this stock.
At this juncture, only four of the six screens of the ZYX Change Method are satisfied by Cameron. Risk is higher when a trade is taken without satisfaction of all six screens of the ZYX Change Method. Risk averse investors may want to wait until the stock satisfies all six screens.
Disclosure: I have no positions in any stocks mentioned, but may initiate a short position in CAM over the next 72 hours. I will short this stock when all six screens of the ZYX Change Method are satisfied. At present, only four screens of the ZYX Change Method are met.