Australian equities continue to lead global markets in October as better than expected Chinese data and business confidence in the region improve investor sentiment. iShares MSCI Australia Index (NYSEARCA:EWA) is up over 7% since mid-October, while Vanguard Total World Stock Index ETF (NYSEARCA:VT) has risen nearly 3% in that span. Chinese growth and manufacturing figures that beat estimates have contributed to the rise in Australian equities, alongside an improving outlook by businesses in Australia.
Australia is a large producer of natural resources that are exported to China, thus financial assets in the two countries are strongly tied to one another. When the Chinese economy expands faster than forecasts, it signals stronger demand for Australian exports, and thus improves investor sentiment in the region.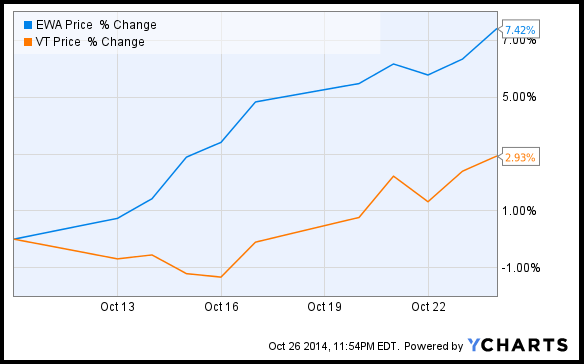 Chinese factory activity slowed slightly in October, but was received favorably by markets as the number beat forecasts. Last Thursday, the flash HSBC/Markit manufacturing purchasing managers' index rose to a three-month high of 50.4 last month, up from 50.2 the previous month, as well as topping estimates of 50.3. The factory activity figure grew more than expected as "firms drew more foreign and domestic orders," said Reuter's analysts. While analyst are worried that upward momentum in Chinese factory activity needs to grow faster to meet government projections, the fact that the indicator has begun to stabilize signals that a recession is not imminent, meaning the central bank may not need to enact wide-scale stimulus measures as support.
Meanwhile, Chinese growth slowed in the third quarter, but was also favorably received by financial markets as it too outperformed estimates. Last Tuesday, the Chinese growth figure showed a reading of 7.3% annualized growth for the quarter, down from 7.5% growth the previous quarter, but above estimates of only 7.2% growth. Like factory activity, the growth figure also showed signs of slowing, but it is stabilizing, calming fears that the Chinese economy is growing too slowly. Chinese leaders said in 2014 that structural changes in the Chinese economy are responsible for the slowdown, and that growth slightly below 7.5% is acceptable. As growth and factory activity remain close to government targets, investor sentiment in the region, as well as in Australia, will improve.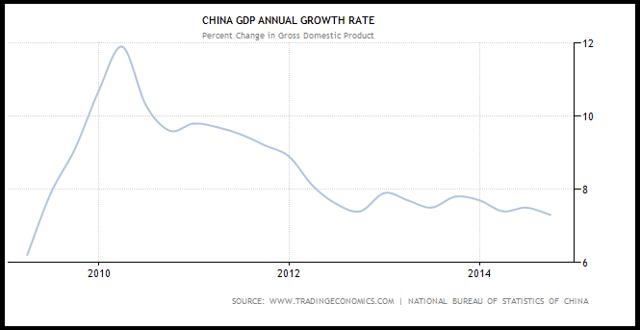 Data provided by Trading Economics
Lastly, domestically in Australia, business confidence is improving. Earlier in the month, the National Australia Bank's quarterly business survey showed business confidence held steady at 6 points, in line with results the previous quarter. Within the report, outlook on current business conditions rose to 3 points, up from one point in the previous quarter, while expected business conditions in the next 12 months were also higher, expanding to 25 from 24 in the prior quarter. The NAB cited both strengthening residential construction and a cheaper currency as reasons for the improved outlook. The Australian dollar is represented by CurrencyShares Australian Dollar Trust (NYSE:FXA). "Residential construction remains a relative bright spot that should have flow-on effects to the rest of the economy," said the report. "Recent falls in the Australian dollar will also help Australian export competitiveness, although with the drawback of higher cost pressures," explained the NAB.
As the Chinese economy stabilizes and continues to outperform estimates, demand for Australian exports should remain healthy. Similarly, as business confidence in the region improves, investment and economic growth will expand. Collectively, Australian equities should continue to lead the market as both the Chinese and its domestic economy strengthen.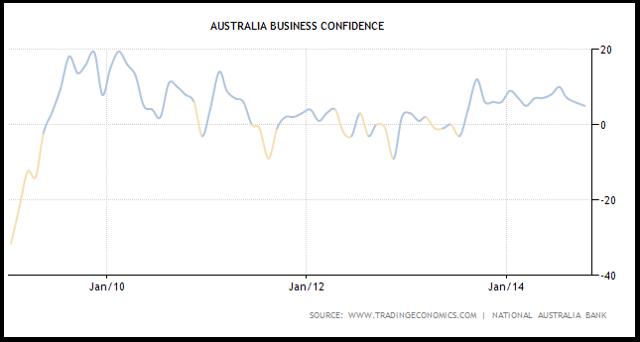 Data provided by Trading Economics
Disclosure: The author has no positions in any stocks mentioned, and no plans to initiate any positions within the next 72 hours.
The author wrote this article themselves, and it expresses their own opinions. The author is not receiving compensation for it (other than from Seeking Alpha). The author has no business relationship with any company whose stock is mentioned in this article.