Internationally, we have mixed news this morning following the release of the ECB's stress tests and the presidential election in Brazil. Europe gave us really good news that was in line with expectations, after leaks and rumors at the end of last week. As expected, the majority of the stress test failures were in areas such as Italy (which had nine itself), Cyprus and Portugal - exactly where the issues should have been. The only disappointment from the stress test failures is that the tests indicated that banks in Europe only needed to raise $12 billion in capital, far short of some of the estimates that the experts were saying needed to be the minimum in order for the stress tests to have any credibility.
Many Brazilian stocks were rallying into the weekend last week, as the latest polls indicated that Brazil was set to vote in a new leader. After the results came in, however, investors rushed for the exits, because voters elected to keep their current president who has been tough on business and weakened the country's currency. There is a sell-off this morning, with the Brazilian market down around 5%.
Chart of the Day:
The Brazilian real is moving lower against the US dollar today, which is to be expected with the election results. Today, the spot price has reached levels not seen since the financial crisis, and truth be told, we hardly see any reason why the trend will end in the near term.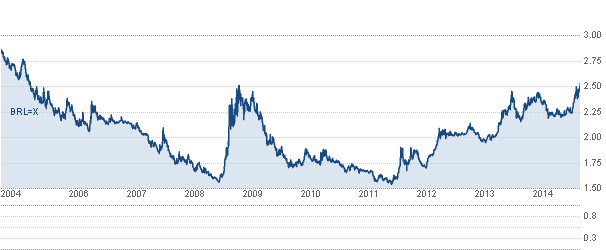 Source: CNBC
We have economic news today, and it is as follows:
Pending Home Sales (10:00 a.m. EST): Est.: 0.5% Act: 0.3%
The Asian markets are higher today:
All Ordinaries - up 0.86%
Shanghai Composite - down 0.52%
Nikkei 225 - up 0.63%
NZSE 50 - up 0.77%
Seoul Composite - up 0.33%
In Europe, the markets are lower this morning:
CAC 40 - down 1.28%
DAX - down 1.36%
FTSE 100 - down 0.58%
OSE - down 0.56%
Drugstores Ax Apple Pay
With Rite Aid (NYSE:RAD) having decided to disable Apple's (NASDAQ:AAPL) Apple Pay a week after its launch, industry peer CVS Health (NYSE:CVS) decided to follow suit this weekend. The move is a bit strange, as both companies have point-of-sale terminals with the required NFC (near field communications) technology, but appears to be aimed at delaying consumer adoption of a rival mobile payment system.
Both CVS Health and Rite Aid are part of a retail industry group which has teamed up to create Merchant Customer Exchange, or MCX, which is developing a system called CurrentC that is being developed as an app that will link to consumers' debit cards and utilize QR codes in the transaction process. The CurrentC system should be ready next year, but will have a lot of help getting off of the ground, as retailers such as Wal-Mart (NYSE:WMT), Target (NYSE:TGT), Sears (NASDAQ:SHLD) and Best Buy (NYSE:BBY) are behind the Merchant Customer Exchange.
If CurrentC does not gain traction with consumers quickly, or if Apple Pay picks up market share quickly, then look for Rite Aid and CVS Health to quickly reverse course and accept payment via Apple Pay.
New Offer In The Works?
It appears that Valeant Pharmaceuticals (VRX) could be close to raising its hostile bid for Allergan (NYSE:AGN) to $200/share, according to its latest letter to Allergan's board of directors. While Valeant did not increase its bid in the letter, it did state that it was prepared to raise its bid to at least $200/share. While some may find this as an odd move during heated negotiations and litigation, it makes sense to throw this out as a potential concession in order to open up a dialogue between the companies.
A good portion of the recent gains in Allergan stock are tied to Valeant's bid, so management needs to be careful here not to create a situation where Valeant walks away.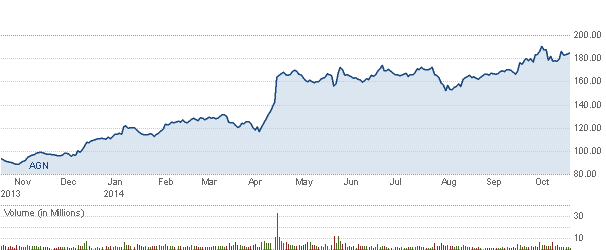 Source: CNBC
This is just the latest twist in the story, which will see a special shareholders' meeting held on December 18th to vote on a slate of board members proposed by Pershing Square's Bill Ackman and Valeant.
Disclosure: The author has no positions in any stocks mentioned, and no plans to initiate any positions within the next 72 hours.
The author wrote this article themselves, and it expresses their own opinions. The author is not receiving compensation for it (other than from Seeking Alpha). The author has no business relationship with any company whose stock is mentioned in this article.
Additional disclosure: AAPL has previously been recommended.