Introduction
Property insurance is a key factor in how, in defiance of all logic, coastal real estate in Florida became a key economic driver on what is probably the most catastrophe-prone strip of land in the world. Property insurance is what makes Florida's nearly $3 trillion in coastal development possible. Unfortunately, insuring property with massive catastrophic exposure is not easy or cheap. Political intervention in chaotic post-catastrophe environments are attempts to maintain a smoothly functioning and "affordable" insurance market without sacrificing votes in the process. However, the short-term, politically driven responses frequently magnify long-term, structural problems. As a result, the market in Florida is a highly politicized brew of public and private incentives, which is neither an effective free market nor a sensible publicly controlled market. Rather, it is a largely closed system in which many small private companies profit through state subsidies and by taking on outsized risks. The state's taxpayers serve as the long-term financial backstop, paying the bills when the system cracks under the weight of the inevitable storm.
Our analysis of the Florida property insurance market is published as a four-part series. We present a short outline of the series below, highlighting the current segment:
I. Historical Perspective
The First Wake-Up Call - Andrew, 1992
The 2004/2005 Season and Its Consequences
II. Florida Property Insurance Market Structure
Citizens Property Insurance Corporation
Florida Hurricane Catastrophe Fund
Florida Insurance Guarantee Association
Market Structure Evolution
III. Depopulating Citizens Property Insurance Corp. - A Deja Vu
Get Them Off the Books - The 1996 Depopulation
Let's Try This Again - The 2006-2009 Depopulation
Building on "Success" - The Current Depopulation and the Old/New Kids on the Block
The Verdict on the Depopulation Efforts - Political and Inefficient
IV. Reliance on Reinsurance and the Capital Markets
Glut of Alternative Capital Compresses Reinsurance Pricing
Why Reinsurance is Critical to the Florida Market
How Much Reinsurance to Buy, or How to Use Catastrophe Models
There are currently five public companies that are direct underwriters of property insurance in Florida. They are, Federated National (NASDAQ:FNHC), HCI Group (NYSE:HCI), Heritage Insurance (NYSE:HRTG), United Insurance (NASDAQ:UIHC), and Universal Insurance (NYSE:UVE). In addition to direct insurers, trends in Florida impact numerous reinsurance companies. These companies include ACE Ltd. (ACE), Arch Capital Group (NASDAQ:ACGL), Axis Capital Holdings (NYSE:AXS), Blue Capital Reinsurance (NYSE:BCRH), Everest Re (NYSE:RE), Fairfax Financial Holdings (OTCPK:FRFHF, FFH.TO), Montpelier Re (NYSE:MRH), Renaissance RE (NYSE:RNR), Markel Corp. (NYSE:MKL), Oxbridge Re (NASDAQ:OXBR), PartnerRe (NYSE:PRE), Validus Holdings (NYSE:VR), White Mountain Insurance (NYSE:WTM), and XL Group (NYSE:XL).
SUMMARY
Who needs Mother Nature to cause a catastrophe? Florida's politicians are busy creating an unnatural disaster in their state insurance market that will blow away taxpayers when the next big hurricane hits.
The Wall Street Journal, February 4, 2009
The politicians of the state of Florida have managed to create a unique mixture of public and private interests when dealing with the state's challenging property insurance market. Faced with a gigantic exposure of coastal development on one of the riskiest stretches of land on the planet, Florida has attempted to create a system that deals with risks at best very difficult to quantify, and at worst "uninsurable", in order to protect the sacred cow of the state's economy - coastal real estate development.
The risks associated with real estate development in hurricane and flood-prone areas will eventually come to the surface. Unfortunately, under the current system, the taxpayers of Florida and some pension funds will have to pay that bill, while numerous private interests have already accumulated substantial benefits. It is our belief that when the current state of Florida insurance system unravels, it will take with it a large number of local Florida insurance companies, and will wreak significant damage on Florida's real estate market and economy.
The current status quo is only possible due to two coinciding facts: first, that Florida has experienced no significant hurricane over the last eight years (the longest such "drought" on record), and second, the low interest rate environment has attracted a lot of alternative capital to catastrophic risk space, thus lowering the reinsurance price for Florida cat risk beyond a reasonable level. Subprime insurers have replaced subprime mortgages as the investment fad-de-jour. The combination of those two factors has made otherwise non-viable insurance models appear profitable. Once one or both of those factors reverse, the current market structure becomes untenable.
State regulation with often conflicting policies has led to a "dysfunctional property insurance system that has distorted pricing, undermined competition and placed a heavy burden on state's taxpayers."[1] Importantly, it has exacerbated one of the root problems of the system - the inadequate spread of risk. The State of Florida has made a number of attempts to shift those risks from state-owned to private entities, offering substantial inducements, only to see a number of "fly-by-night" insurance companies take the benefits and leave the public to face the liabilities.
We will not be the first ones to sound the alarm on the vulnerability of the current state of affairs. Between 2010 and 2011, the Sarasota Herald Tribune's journalist Paige St. John wrote a series of excellent articles outlining some of the problems and providing insights into how weak insurers put millions of Floridians at risk. She won the Pulitzer Prize for investigative journalism for 2011.[2]
Yet, little has changed. In the meantime, some of the "domestic Florida insurers" (DFIs) discussed in this report have enjoyed phenomenal stock market performances, paid handsome dividends and bonuses, engaged in aggressive share buybacks and questionable related-party and investment transactions. Those companies should trade at significant discounts to their current market valuation given not only the systemic and political, but also the idiosyncratic risk associated with them.
In this report, we review the main factors shaping the Florida's property insurance industry. We not only highlight the challenges, but also try to offer recommendations for solving some of the problems.
EVOLUTION OF THE FLORIDA PROPERTY INSURANCE MARKET
Florida has the nation's highest insured losses and the most vulnerable landscape. It boasts nearly $2.9 trillion of coastal property exposure, up from $1.9 trillion in 2004. Florida's demographics and land use policies make it certain that catastrophic losses will rise in the future. Despite having only 5% of America's population, it accounts for half of all hurricane exposure.[3]
It is the kind of wealth concentration in an extremely risky place that defies the logic of insurance. People are allowed to build increasingly more expensive structures in areas that are vulnerable to storm damage.[4] If you reran today the hurricane that struck Miami in 1926, for instance, it would take out not the few hundred million dollars of property it destroyed at the time, but $60 billion to $100 billion.[5] The little-known Lake Okeechobee hurricane of 1928 that killed at least 2,500 in the United States will probably cause as much as $65 billion in damages if it were to occur today.
A catastrophe modeling firm has estimated that a large hurricane in southeast Florida could cause insured losses of $130B and a total economic loss of $260B.[6] As the table below illustrates, half of the historical hurricanes would likely cause more than $10B in insured losses if they were to strike again in the 2012 made landfall in Florida. Robert Hunter, director of insurance at the Consumer Federation of America, wryly commented on the Florida hurricane insurance market:
In a locale whose major university football team is called the Hurricanes, the question is not whether a hurricane will strike but when and how big.[7]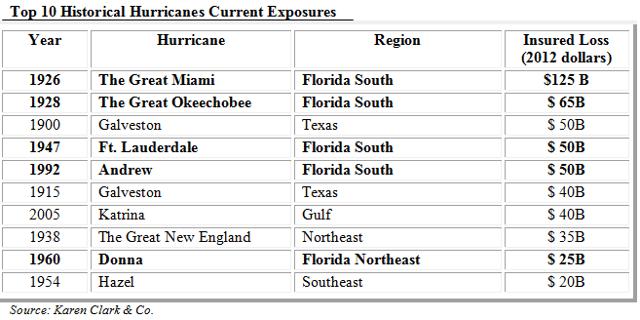 According to Karen Clark & Co. estimates, the U.S. is likely to experience, on average, a $10B or larger insured loss event one year out of four. In other words, there is a 25 percent chance of a $10B or larger loss this year. There is almost a five percent chance of a $50B or larger loss.[8]
There are three factors which put hurricanes, along with several other natural catastrophes in the category of risk that is typically referred to as "uninsurable":
Damages may occur infrequently, but can be substantial;
Damages are typically concentrated in one geographic region (and most buildings in that region are affected to some extent);
It is hard to objectively estimate the expected damage cost.
The term "uninsurable" was coined by the insurance industry itself. It refers to the fact that private insurance companies usually try to avoid insuring risks of this kind, or do so only at premiums that are substantially higher than the expected damage cost.[9]
Strong private insurance markets are characterized by the orderly matching of buyers and sellers, adequate coverage of consumers, competitive pricing and moderate government intervention. Florida's market faces structural challenges on each of those elements, and its government plays a very active role in its insurance market.[10] As Towers Watson, a consulting company, puts it:
There is no question: Florida's insurance market is in a state of disarray, and property insurers and homeowners have huge challenges ahead of them.[11]
Insurance is generally regulated at the state level, with each state having its own statutes and rules. Florida has experienced frequently changing and complex insurance regulations, which are both challenging and expensive to implement. Regulation is particularly volatile for property insurance, with periods when rates are suppressed due to public pressure on politicians. As a result, companies have not been able to charge prices that reflect their costs of operating in one of the world's most catastrophe-prone markets. The big insurers have responded by cutting back on the amount of insurance policies they are willing to write, or withdrawing from the market altogether. Florida has replaced them with a crop of generally weak homegrown companies.
The political risk in the Florida property insurance market is very high. Elections are won or lost based on proposed insurance policies that are crucial for both real estate development and affordability. Insurers sell a "promise", one essential to the flow of credit, whose value comes from insurers' ability to pay claims. As such, one can argue that Florida's current homeowners' insurance system is broken, since one major hurricane has the potential to bankrupt private insurers and the state's self-insurance programs.[12]
I. Historical Perspective
1. The First Wake-Up Call - Andrew, 1992
In 1992, after years of relative calm, category five (maximum intensity) hurricane Andrew hit South Florida. It resulted in 40 deaths, cost more than $25B in nominal dollars of damages and left a quarter of million Floridians (most of them in Miami-Dade county) with destroyed or uninhabitable homes.
Following the huge losses, the bankruptcy of 11 small insurance companies, the withdrawal from the state of some of the large national insurers and the sharp increases in insurance rates, Florida politicians responded by establishing market-stabilizing mechanisms, like a residual market - Citizens Property Insurance Corporation (Citizens); Florida Hurricane Catastrophe Fund (FHCF) which provides reinsurance; the Florida Insurance Guaranty Association (FIGA), which pays losses of failed insurers and the Florida Commission on Hurricane Loss Protection Methodology, which approves catastrophe models that are crucial for rate making by insurers.
A series of 1997 reforms strengthened the ability of the state-sponsored entities to levy taxes (assessments) to pay for insurance events, and expanded their capacity to write insurance. The system lasted with a few changes until 1999, when a bad season that only grazed Florida caused the Legislature to bail out citizens.[13]
2. The 2004/2005 Season and Its Consequences
By the end of the 1990s, Florida's property insurance market had largely recovered from the effects on Andrew. However, in 2004/2005, the state was battered by a series of storms, resulting in huge losses for insurers. The global insurance and reinsurance industry had reported over $65B in losses from the hurricanes Katrina, Rita and Wilma (KRW). Further, the season drained the entire $7B that the FHCF had built up.
As a result, several insurers reduced exposure to Florida, either by declining to renew policies or by not accepting new ones. State Farm and Allstate, controlling a third of the market prior to 2004, led the wave of withdrawals, followed by Nationwide, USAA, Hartford and Travelers. As one blogger put it "The insurance market in Florida is kryptonite to viable insurance companies."[14]
The higher price and limited availability of property insurance became the dominant issue in the 2006 state election. In January 2007, Governor Charlie Crist and the Florida Legislature fashioned a political solution in which the state's taxpayers were left to assume much of the risk for future catastrophic damage.[15] Citizens was not allowed to raise rates until 2009, causing a massive influx policies to the state insurer and increasing the chances for a massive hurricane tax.
End Notes:
[1] Ten Reforms to Fix Florida's Property Insurance Marketplace, The James Madison Institute, November 2013
[2] Pulitzer.org/archives/9192
[3] Restoring Florida Insurance Market, Eli Lehrer, The James Madison Institute, Issue 55, February 2008
[4] Florida's Insurance Markets: An Overview, Insurance Information Institute
[5] In Nature's Casino, Michael Lewis, The New York Times, August 26, 2007
[6] Florida's Financial Exposure from its "Self-Insurance" Programs, Special Report, April 2010, Florida Council of Economic Advisors at Florida Tax Watch
[7] Catastrophe Insurance, Dynamic Premium Strategies and the Market for Capital, Russell, Jaffee, Alternative Approaches to Insurance Regulation, National Association of Insurance Commissioners, 1998
[8] Historical Hurricanes that Would Cause $10B or More of Insured Losses Today, Karen Clark &Co., August 2012
[9] Hurricane Insurance in Florida, Ungern-Sternberg, Faculty of Business and Economics, University of Lausanne
[10] Florida Property Insurance, The Window of Opportunity, Towers Watson, January 2010
[11] Ibid.
[12] Florida's Financial Exposure from its "Self-Insurance" Programs, Special Report, April 2010, Florida Council of Economic Advisors at Florida Tax Watch
[13] Ibid.
[14] Homesteadishome.blogspot.com
Disclosure: The author is short HCI. The author wrote this article themselves, and it expresses their own opinions. The author is not receiving compensation for it. The author has no business relationship with any company whose stock is mentioned in this article.
Editor's Note: This article covers one or more microcap stocks. Please be aware of the risks associated with these stocks.