The weekly ETF Pullback is finally starting to shift asset exposure in response to the difficult market we've been experiencing since the Middle East erupted in February. It's not a completely defensive posture, which is just as well since trends have come and gone with considerable rapidity of late that we can't even count on continuing market weakness. But it is more defensive than anything I can recall in quite a while. Here's this week's list:
This was last week's list:
The essence of the strategy is mean-reversion, The idea here is to look for significant uptrends that have very recently experienced interruption. In a bona fide trending market, it ought to work, at least with ETFs that are less exposed to company-specific news than would be the case for a stock portfolio. No trend can ever be a perfect straight line, so it's logical to assume that in most cases, downward deviations will be corrected by strength as the ETF returns to the broader trend. And indeed, the long-term back-tests confirm such assumptions. (See below for details of the strategy and performance test results.)
The downside of this strategy is that it does take some time for a trend to be identified. With trending strategies in general, if we compress the period of study too much, we increase the chances to whipsaw. In a bear market, the model has, during backtest periods, been fixed-income heavy. But it doesn't go all bonds on day one. Here, it has taken about a month and a half to get two TIPS ETFs into the list.
Actually, quantitative considerations aside, I really like four out of the five ETFs. Besides the TIPS, we have a mid-cap growth ETF and one that focuses on equities with exposure to networking.
As to the latter, I'm not a great tech expert. But it doesn't take Albert Einstein to figure out that if there's one business that really needs a heck of a lot of activity going forward, it's networking. Speaking just for myself and just in the past month, I picked up a Netflix (NASDAQ:NFLX) download subscription (and quickly lost count of how many anime films my son has been streaming) and a Sirius (NASDAQ:SIRI) Internet subscription, which I use constantly. That's a huge jump in bandwidth just for two people, me and my son, and neither of us even owns a tablet. Multiply that by a gazillion others with multiple devices, and you get the picture.
Ultimately, bandwidth is like the hard drives on the old PCs we used to buy. Do you remember when it seemed like it would be impossible to ever fill up a 64 MB drive? Yeah ... right. We know how that turned out. No matter how much excess capacity one thinks there is, it actually isn't nearly enough. At least that's the way it is in our generation. Spending on networking will, obviously, ebb and flow. But if there's one business we can count on having strong overall multi-year prospects, this is it. And for those incapable and/or unwilling to translate that big-picture idea into individual stock choices, a networking ETF seems like a good way to go, especially since the decade-ago valuation absurdities have been well washed out of the market.
As for the mid-cap growth ETF, it's not necessarily my favorite sector. Aside from income stocks, when I buy equities, I like to go as small as possible, something that should surprise nobody considering I edit a stock-under-$3 newsletter. But I can live with mid-cap as an element of diversification. (At least it's not S&P 500. Z-z-z-z . . . wake me when or if that becomes interesting.)
The one ETF on the list that makes me nervous is the one that invests in the yen. There is one factor in the yen's rise that may have some legs and give me cause to like this ETF: There's a huge amount of reconstruction work in Japan's future thereby exerting upward pressure on the demand for yen. Countering that, and making me nervous about yen exposure, is the political desire to avoid gains; the last thing the world Japan needs now, atop all its earthquake damage and nuclear problems, is an exchange rate that makes whatever the country can still export less competitive. A wild card is the carry trade, a tendency of late for hedge funds to borrow money in Japan at the insanely low rates available there and reinvest the proceeds elsewhere, where it didn't take all that much effort to earn rates above the cost of funds. Now, there's talk of carry trades being unwound, a process that involves selling the foreign currencies and buying the yen. Assuming that's happening, it may be just a temporary phenomenon.
Figure 1, a screen shot from the FolioInvesting.com account I use to trade the strategy.
Following some struggles lately, last week's commodity exposure provided a nice bounce. With two TIPS ETFs this week, I find it hard to envision another bounce like that. But after what's been happening year to date, I'd gladly take some stability.

Appendix
To create this model, I started with a very broad-based ETF screen I created in StockScreen123.com.
Eliminate ETFs for which volume averaged less than 10,000 shares over the past five trading days

Eliminate HOLDRs (I don't want to be bothered with the need to trade in multiples of 100 shares)

Eliminate leveraged and short ETFs (I think of these as hedging tools rather than standard ETF investments of even trading vehicles)
Then I sorted the results and select the top five ETFs based on the StockScreen123 ETF Rotation - Basic ranking system, which is based on the following factors:
120-day share price percent change - higher is better (15%)

1-Year Sharpe Ratio - higher is better (15%)

5-day share price percent change - lower is better (70%)
The idea of using weakness as a bullish indicator is certainly not new. But often, it's an add-on to other factors that, on the whole, emphasize strength. Here, the weakness factor is dominant, with a 70% weighting.
This model is designed to be re-run every week with the list being refreshed accordingly. I trade through FolioInvesting.com, where I pay a flat annual fee rather than a per-trade commission, so I don't care about the fact that turnover form week to week is often 80%-100%. If you want to follow an approach like this but do have to worry about commissions, the strategy tests reasonably well with three ETFs, or even with one. (Cutting the number of ETFs is far preferable to extending the holding period.)
Figure 2 shows the result of a StockScreen123 backtest of the strategy from 3/31/01 through 12/30/10.
Figure 2
Click to enlarge
Figure 3 covers the past five years, a very challenging market environment that witnessed the fizzling of many strategies that had succeeded for a long time.
Figure 3
Click to enlarge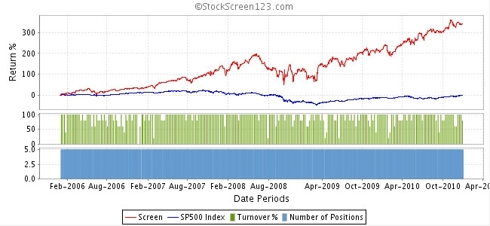 Disclosure: I am long FXY, IPE, PXQ, RFG, TIP.