Oil & gas companies along with oil & gas service providers have suffered in 2014 as a result of a sharp decline in oil & gas prices, especially in the last few months. In general, the oil & gas industry stocks have declined by 20% to 30% and more in some cases.
Bristow Group (NYSE:BRS), a company that provides helicopter services to the offshore energy industry, has been an exception to a large extent. The stock has just declined by 6.1% in 2014 and by 12.6% from its 2014 peak. This article discusses the reasons for considering Bristow Group an excellent long-term buy and the same reasons have result in the strong resilience in the company's amidst the headwinds.
One of the biggest positives related to Bristow Group is that the company has maintained stable revenue and EPS growth along with shareholder reward through dividends. In the last five years (FY10 to FY14), the company's revenue has grown at a CAGR of 9% and the company's EPS has grown at a CAGR of 13%. Further, the company aims at continuing to grow the EPS at 10% to 15% on an annual basis.
With stability in earnings, Bristow Group is well positioned to increase dividends as well. Since the company initiated dividends in 1Q12, the dividend payout has increased by 100% with the company paying a dividend of $0.32 per share in the first quarter of 2015 (for year ending March 2015).
I believe that strong earnings and dividends growth will continue for Bristow Group as the company has a pipeline of 29 helicopters to be delivered by 2016 with an option of buying another 21 helicopters. Of the 29 fir delivery, six has already been contracted and as these helicopters come into operation, incremental revenue growth will come for Bristow Group.
I mentioned earlier that the company's revenue has grown at a CAGR of 9% in the last five-years. However, the company's 1Q15 revenue growth has been robust at 18.4% as compared to 1Q14 and the strong growth in revenue has resulted in firm stock prices even amidst carnage in oil & gas stocks.
While the second quarter growth can be relatively moderate, Bristow Group looks well set to clock 10% to 15% EPS growth even in a challenging environment through long-term contracts and blue-chip clients.
As of September 2014, 65% of the company's revenue came from fixed monthly contracts and 35% was from variable hourly fee based contracts. A large part of fixed contracts ensure stable revenue inflow.
According to the company's latest investor presentation, global deep-water spending and global offshore logistics spending are also expected to grow at a CAGR of 9% and 7% respectively over the next five years. I believe that the current downturn in offshore spending is temporary and a rebound is spending is likely.
I discussed the reasons why oil prices are likely to trend higher from current levels in one of my recent articles. Therefore, I do agree that offshore spending will be robust over the next 5 years. The correction in oil prices and correction in related industries is therefore an opportunity to consider exposure to some quality stocks.
If global offshore logistics indeed grows at 7% over the next five years, Bristow Group will be well positioned to maintain its steady revenue growth. Being among the largest players in the industry, the company is positioned to grow in well in excess of 7% and this is evident from the company's 1Q14 growth trend.
Bristow Group has identified 255 qualified helicopter opportunities over the next three years and the company considers 135 opportunities to be realistic in terms of the company bidding for the opportunity. With Bristow Group having a 33% bidding success rate, it is likely that the company will win bid for 45 new helicopter contracts over the next 3 years.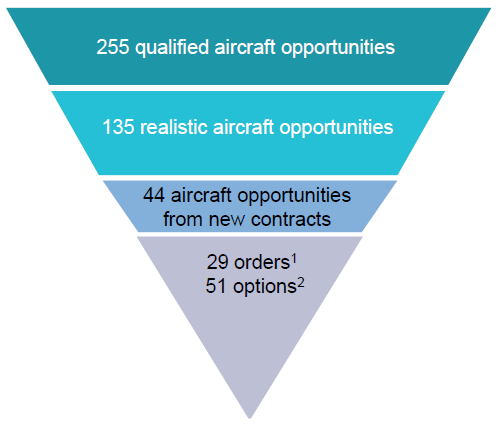 This is in-line with the company's helicopter order book of 51 (including options). I wanted to discuss this point to show that the company's growth pipeline is clear and there are enough opportunities to maintain the current level of growth or even accelerate growth.
From a valuation perspective, Bristow Group looks cheap with a forward (March 2016) PE of 12 considering the point that the company expects EPS growth to be in the range of 10% to 15% over the next few years. The company's 12 month forward PEG ratio of 0.94 does suggest undervaluation and I believe that current levels are exciting for long-term exposure.
Bristow Group is likely to resume an upside trend once there is some recovery in oil prices and offshore oil & gas activity. However, I believe that the company has limited downside considering the valuation and the growth potential. The company's stock resilience in difficult market conditions is an indication of strong fundamentals, undervaluation and robust likely growth. Bristow Group is therefore an attractive stock to consider.
Disclosure: The author has no positions in any stocks mentioned, and no plans to initiate any positions within the next 72 hours.
The author wrote this article themselves, and it expresses their own opinions. The author is not receiving compensation for it (other than from Seeking Alpha). The author has no business relationship with any company whose stock is mentioned in this article.