The oil market has been clobbered today, but is making progress in erasing some of the early session losses. Analysts continue to position themselves to be more bearish, even though one could make a very good argument that most of the losses have already been experienced. It is during rough patches such as the last few months where we have to remind ourselves that the pendulum swings both ways, from one extreme to another. It did not necessarily make sense for oil to zoom to fresh highs when ISIS was moving quickly across Iraq, or when US intervention in Syria was discussed. Likewise, $70/barrel WTI Crude will not make sense if the world economy picks up in 2015.
Chart of the Day:
We are watching the euro moving forward as the stress test news was pretty good, although one would have thought that the capital needing to be raised would have been north of $20 billion. With good news for the continent, especially Germany, we think that the euro could test the $1.30 level. We are not involved with this trade, but are watching it simply because it ultimately affects the US dollar strength and commodity pricing.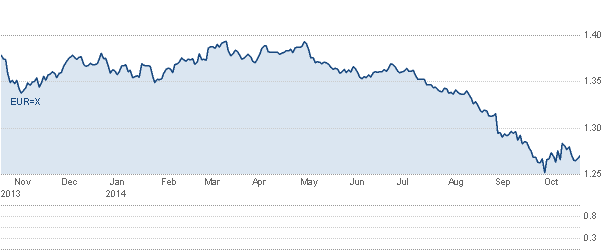 Source: CNBC
Commodity prices are as follows (at time of submission):
Gold: $1,229.20/ounce, down by $2.80/ounce
Silver: $17.19/ounce, up by $0.008/ounce
Oil: $80.54/barrel, down by $0.47/barrel
RBOB Gas: $2.1711/gallon, down by $0.0106/gallon
Natural Gas: $3.569/MMbtu, down by $0.054/MMbtu
Copper: $3.063/pound, up by $0.022/pound
Platinum: $1,253.20/ounce, up by $2.30/ounce
Brazilian Stocks Down Sharply
There was an awful lot of speculation heading into the weekend that Brazil would elect a new president. Traders were basing last week's bullishness off of the latest polls which showed current president Dilma Rousseff trailing the more conservative candidate in the run-off election. We had our doubts as it is rare for a poll to accurately predict a close win for a challenger versus an incumbent, which is why we were not active in the trade.
Today Petrobras (NYSE:PBR) and Vale (NYSE:VALE) are getting hit hard, with their stock prices falling roughly 15% and 6%, respectively. Investors in both companies can look for fresh reforms which help social programs but hurt corporate profits within Brazil and make both companies less attractive when compared to their peers. The Brazilian Real is falling to multi-year lows, lows not seen since the financial crisis and the bottom line here is that investors might want to look elsewhere for both value and growth.
Goldman Pushing Energy Stocks Lower
Energy stocks are lower after Goldman Sachs lowered their 2015 outlook on oil prices. The latest outlook from the investment bank now positions it as the most bearish in regards to WTI oil prices, as Goldman expects that WTI Crude pricing could fall as low as $70/barrel in the second quarter of 2015.
This latest bearish news is pushing even the largest energy names lower on the session, with Chevron (NYSE:CVX) falling 1% and Exxon Mobil (NYSE:XOM) down over 1.2%. Both of those names should see yield protection kick in pretty soon, with Chevron's yield at 3.70% and Exxon Mobil's now at 2.90%. The other 'Big Oil' name we have been watching lately, BP (NYSE:BP), appears to have finally found yield support with its dividend currently yielding 5.50% right now. Even with falling oil prices, we like BP around current levels and Exxon Mobil at or below $90/share.
While BP does have litigation risk, we think that the market may have factored in too much downside already. It is one of the 'Big Oil' names that we like most, especially when the dividend is factored in.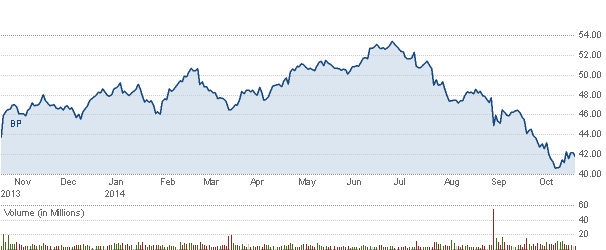 Source: CNBC
Disclosure: The author has no positions in any stocks mentioned, and no plans to initiate any positions within the next 72 hours.
The author wrote this article themselves, and it expresses their own opinions. The author is not receiving compensation for it (other than from Seeking Alpha). The author has no business relationship with any company whose stock is mentioned in this article.
Additional disclosure: BP has previously been recommended.