It can be safely said, I believe, that the biggest news for the production of oil and gas in North America has been the ability to turn shale oil and gas deposits into assets capable of commercial production.
Hydraulic fracking was first developed in an effort to free NG from tight shales, and was found to be applicable to shale oil deposits as well. Forcing water, augmented with various chemicals, caused the shale to fracture, enabling the gas and/or oil to flow towards the well.
Unfortunately, as in much of life, there are no "free lunches", and it wasn't all that long until environmentalists started pointing out the drawbacks to hydraulic fracking. First, it can consume significant amounts of water, which is another resource that is becoming increasingly in short supply. More important are the chemicals that are added to the water to facilitate the fracturing of the shale. In most, if not all cases, the firms that employ the process deem the chemicals used and their proportions to be "proprietary", making it difficult, if not impossible, to ensure the waste water is properly handled with minimal effect on an area's groundwater supply. Often, the waste water generated is held in "settling ponds".
But a Canadian firm, GasFrac Energy Services (OTC:GSFVF) has come up with a process that is equal, or superior, to using water as the fracking medium. Trading on the TSX-V (Toronto Stock Exchange-Ventures) under the ticker GFS, the firm's process employs gelled LPG (liquid propane gas) to fracture the shale. According to the firm's website, in their process the LPG is highly soluble, and virtually 100% recoverable from the oil/gas production stream. With "conventional" hydraulic fracking, as much as 50% of the carrier can remain in the formation, hindering well performance.
At a town hall meeting in Tioga County in upstate NY, GFS pointed out a number of environmental advantages their method has compared to conventional hydraulic fracking.
It has been successfully used in 700 Canadian wells.
The additives to propane are patented, openly published, and approved by OSHA.
There is no (or negligible) flaring.
There are no settling ponds.
95% of the propane, along with the natural gas, is in a single gaseous wih the natural gas and comes up with some sand and additives. These are separated, with the propane being used for the next well, and the NG going into the pipeline.
For a 6 well platform, only 7 trucks are used to bring in the propane, as opposed to about 30 trucks coming in, and almost 30 going out, with water.
It should be noted that GFS is a relatively new firm, and only went public in 2010. The firm's website only provides for 36 months of financial statements. Still, it's notable that the firm increased revenue from $30.4M in 2009, to $96.9M in 2010, and is now expanding into Texas shale plays.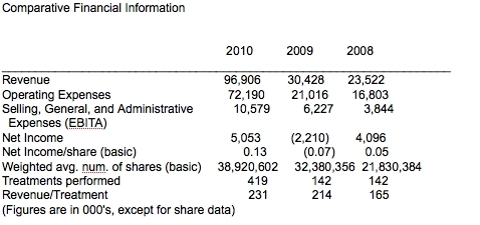 This information should not be construed as a recommendation, and investors should, as always, perform their own due diligence.
Disclosure: I have no positions in any stocks mentioned, and no plans to initiate any positions within the next 72 hours.