Now that I've revealed two of the stocks I recently added to my private investment portfolio, I thought it would be a good idea to take a look at the positions I sold during the first 10 months of 2014 and comment on why I added them first and then removed them from my portfolio. This way, you'll get a better understanding of my strategy and thought process not only when I consider to buy a stock, but also when I'm about to sell a stock.
These five stocks left the portfolio during the first 10 months of 2014:

First thing you should notice is that I only sold stocks with a profit during 2014, as I'm not quickly inclined to sell a stock when it is quoting below my purchasing price. I'm much more inclined to buy the dips than sell the dips, as I always do a lot of homework before taking a position, and buy with an intention to hold forever.
Let's start from the top.
I bought Nutreco (OTC:NUTCF) 2 months ago as the company met all the requirements I'm looking for in a company/stock. The company first of all is a global player with hundreds of years of know-how and expertise in its industry with market share up to 33%. The company knows what it is doing, has a leading position in its market and operates in an area that is understandable for the average Joe: Nutreco sells animal nutrition and fish feed. My full article about Nutreco can be found here.
But of course, investing is all about pricing, even the best business in the world can give you an investment loss if you get in at a too high price. Buying Nutreco at €40 would have been a no-go in my book.
Thankfully for me, the company was quoting near a 52-week low due to Russian sanctions that forbid salmon import from Norway to Russia. Which I knew would have almost no impact on Nutreco in the long term whatsoever.
All of this would have been enough for me to pull the trigger, but then I discovered that Nutreco also decided to buy back shares for an equivalent of €100 million now that the stock was sitting at a 52-week low. And as a wise man knows: Management could be selling its own shares for a million reasons, but can only be buying for one reason.
Then I made a simple earnings model with moderate assumptions, which gave me a decent prospect of a €46.05 share price by 2017 versus €30 at the time. A return I could certainly live by, excluding the many dividends I'd be receiving in the meantime.
Now, two months later, Nutreco received a takeover bid of €40 per share, a fair price at the current moment and a 38.4% premium on when I got in. So I sold my position for €39.41 and cashed in a 38% return in 2 months, not bad if you ask me.
CF Industries (CF) at $206 was a weird and rare case. At first, I was very suspicious when I found the company as it all seemed too good to be true. The company was a market leader within the US. Had a strong track-record and history. Had a lot of institutional shareholders. Was operating in a relatively stable industry with great long-term prospects. Was quoting against 7 times its earnings. Its profit margin was high (+30%). Its current ratio was impressive (4.7). It had tons of cash on the balance sheet. I eventually took the bet and it came out very nicely.
I sold out a bit too soon at $245 after a return of 18.6% in a few months, as I decided the stock was fairly valued against a forward P/E of around 12 at the time. I should have known better and should have kept this gem until it came close to $300, indicating a P/E of 15. A few weeks ago the stock hit $280, which should have been my selling point. But perfectly timing the market is an impossible job.
I decided to eliminate the good old beverage giant Coca-Cola (KO) from my portfolio, as I realized I shouldn't have taken the position in the first place. In my opinion, Coca-Cola had 0% upside at $41.82 as it was already quoting at a forward P/E of 19. At $38, the stock had some potential, but not enough to be a compelling buy. Furthermore, after my article "Beverage Wars: Coca-Cola vs. PepsiCo" I actually wanted to buy PepsiCo (PEP) on a decent dip. Unfortunately for me, the decent dip never came.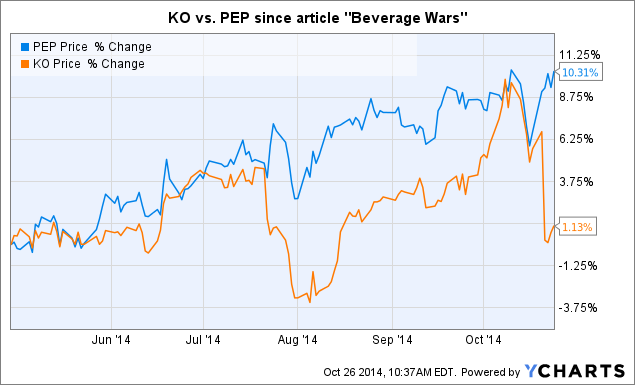 Total (TOT) shall, in my opinion, always be a buy at or below €46 or $57 (as it is right now). Paying 9.2 times forward earnings for a huge, profitable, market leading oil major with a strong brand is ridiculously low. The company has a book-value of €36 or $45 and a cash position of €7 or $8.75 which makes the company at least worth €43 or $53.75. Total also pays a huge dividend, currently yielding at around 5.66% and should actually be in your portfolio for this reason alone. I sold out at the perfect time, right before oil prices tanked.
I was sitting on a nice profit that was achieved in a very short period of time. So a correction was necessary. I would put Total back in my portfolio, but I'm already having a rather large exposure to the oil and gas industry (stay tuned for my next article).
Last but not least, everyone's favorite: Apple (AAPL); Apple at $427 was a no-brainer for me.
I loved its products, I knew how everyone in my surroundings enjoyed its products, and I saw the rising trend of the MacBooks and iPhones at my University. Apple was far from dead.
Apple fell from $700 to $400. The analysts and the market were screaming SELL and I was thinking BUY. Ironically, everyone screamed buy when Apple was quoting near the $700 mark, but told me to sell at $400. For me this was utter crap and irrational. I found Apple way too expensive at $700 and was delighted when the stock finally fell to $400, which finally offered me a decent entry point.
Profit margins where still delightfully high, its P/E was around 9 at the time, the company had tons of cash, dividends were being raised, and I loved its products. I made a few earnings models in a blog-post and eventually decided that now was the time to buy. Even in a very pessimistic scenario Apple's downside was limited.
I eventually sold out with a decent gain of 41% as the stock was becoming expensive again.
Conclusion
In my opinion, investing is easy, fun and rewarding when sticking to these simple rules:
You shouldn't beat yourself up when you get it wrong, we all fail, we can't know everything and it's all part of the learning experience.
Think for yourself, don't follow the noise of the media or the "professional" analysts.
Dare to be a contrarian and take asymmetric risk/reward positions.
Pricing is everything: paying too much for an outstanding business is not a good investment decision.
Buy with an intention to hold forever. The returns will come much sooner than you'll expect. Be patient.
Sell whenever you feel that the stock is fairly priced/too expensive. Don't beat yourself up if you sold too soon. Just follow your own judgment and stick to it.
Disclosure: The author has no positions in any stocks mentioned, and no plans to initiate any positions within the next 72 hours.
The author wrote this article themselves, and it expresses their own opinions. The author is not receiving compensation for it (other than from Seeking Alpha). The author has no business relationship with any company whose stock is mentioned in this article.
Editor's Note: This article discusses one or more securities that do not trade on a major U.S. exchange. Please be aware of the risks associated with these stocks.