This morning I was looking at a list of companies that have had sales and earnings growth of at least 10% annually and are expected to continue that growth rate in the future. Anytime you have a list of companies that have equal attributes its amazing that some may be over bought while others are over sold. I take lists that are similar and run them against the Barchart technical indicators to find those that have lagged in the past but are trying to catch up. Tractor Supply Co. (NASDAQ:TSCO) was right at the top of the list. While researching this company I came across the term "recreational farmers and ranchers." These suburban clients are giving this company fantastic sales growth and the stock has very positive momentum.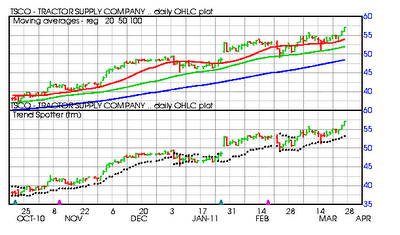 (Click to enlarge)
Tractor Supply Company (TSCO) is a specialty retailer which supplies the daily farming and maintenance needs of its target customers: hobby, part-time and full-time farmers and ranchers, as well as rural customers, contractors and tradesmen. One of the things that keep customers returning is animal feed. The average feed customer revisits the store 13 times a year while other repeat customers only visit 7 times a year. The stores sell not only a private label line of feed but also sell Purina and Nutrena national brands at over 970 location in 44 states.
Technical Factors:
100% Barchart technical buy signal
Trend Spotter buy signal
8 new highs and up 10.01% in the last month
Relative Strength Index 70.55% and climbing
Trades around 57.19 with a 50 day moving average of 51.98
Fundamental Factors:
Wide Wall Street analysts following with 11 buy and 9 hold reports published by brokerage firms
Sales are projected to increase by 11.80% this year and 9.50% next year
Earnings are estimated to increase by 16.90% this year, 14.40% next year and 16.27% annually for the next 5 years
Both Zacks and Deutsche Securities have published very positive recommendations recently
General Investor Sentiment:
CAPS members on Motley Fool voted 251 to 25 that the stock will beat the market
The more experienced All Stars agree 91 to 8
The more I read about his company the more I like it. Growth in both sales and earnings look great.
Disclosure: I have no positions in any stocks mentioned, and no plans to initiate any positions within the next 72 hours.