Bank of the Internet (NASDAQ:BOFI) stands out for many reasons. It can expect above average growth in the future while already being priced quite reasonably. I maintain that BOFI has a distinct niche or moat in the banking world that is not easily replaced- though that can be debated. I will discuss these three factors as well as the managment and product provided in my analysis.

The Bank of the Internet has seen incredible 50% growth in deposits YOY from June 2009 to June 2010 and 33% annualized growth from June 2010 to December 2010 (the most recent QR). This brings total deposits to $1.116B compared to a total loan portfolio of $1B for a healthy ratio of 1.1. The interest paid on deposits is the highest nationally (as is called for by its niche) and comes to an expense of 1.89%. This is quite high and represents a large hurdle in finding yield to offset this expense and create net income for shareholders.
The bank's total expense, however, comes to just 4.65% for all expenses- which ultimately is quite reasonable. This compares to Wells Fargo Company (NYSE:WFC) which has a total expense rate of 6.9% on deposits (with a similar rate on its portfolio of loans and securities) while paying just 0.5% on deposits. Wells Fargo makes all its profits (and covers for losses) with banking fees, whereas BOFI makes net income on banking practices and the fees add to total net income. This low expense rate means BOFI can continue to offer the highest yields in the country on savings accounts and Certificates of Deposit.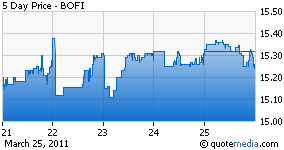 Bank of the Internet offers the lowest rates on loans in the country as well because of its stringent loan policy. The latest annual report shows that of the $1B loan portfolio, just 8% of the bank's portfolio would be considered "risky" in some form. This includes all of BOFI's RV loans, $17M in NPL [non-performing] loans, and $7M in loans with down payments of less than 20%. BOFI has a NPL to total loan portfolio ratio of 1.7%. This is very low and seems to have stabilized, with losses from the RV portion slowing (and no further loans made for the past 2 years).
Finally, a little over 50% of all loans came with a 50% down payment! Those are quality customers. BOFI had net income of $20.5M for FY2010 for an EPS of $2.21 and has produced two consecutive quarters of earnings of approximately $4.5M or EPS of $0.45. This gives a six month total of $0.90, which should be expected moving forward. Growth in earnings will come from increased loans and increased interest rates. As a result of being the lowest cost distributer of loans, BOFI stands to do extremely well at higher interest rates. The P/E ratio is 8.5 (current price of $15.25). Tangible book value is $12.75 a share.

I believe a significant moat exists due to the nature of the bank. The company owns one branch, the headquarters, which serves as its only face-to-face contact with customers. BOFI has impressive customer service; just try calling and complaining about something random! This is the main reason that costs (not including deposit expenses) as a percentage of deposits (on loan portfolio) are approximately 1%! This compares to Wells Fargo, which spends about 5% of its annual deposits on hand to pay workers and keep branches and ATM's running. Wells Fargo is by no means an outlier here if you consider the following:
Bank of America (NYSE:BAC) pays 0.4% on deposits but has a total expense rate of 12.7%

M&T Bank (NYSE:MTB) pays 0.4% on deposits but has a total expense rate of 5.11%

Fifth Third Bank (NASDAQ:FITB) pays 1.15% on deposits yet has a total expense rate of 5.85%
This is just a small sample of banks of various sizes, but it gives an example of branch based banks and their expenses for banking as compared to BOFI's model. BOFI recently started allowing ACH transfers and has always given free transactions fees at ATM's, thus allowing most people to access their money at nearly any location. The bank's high interest rate on deposits has attracted large growth in deposits on hand and should continue to do so as BOFI becomes more known outside of California.
BOFI currently offers better mortgage rates on nearly all products as compared to Wells Fargo Company, who is the national leader in providing mortgages. With the transition of payments moving from cash/check to credit/debt, the lack of physical branches will, in my opinion, slowly become less of a necessity and the savings from all ATM and ACH payment options will become worthwhile for many. I believe BOFI holds a moat in this case because a company such as MTB, FITB, or WFC cannot fully transition to the banking model of BOFI without experiencing significant fees, and losses in some form or another (while upsetting current customers expectations).

BOFI only invests in mortgage loans or buying of government bills (or municipal bonds and securitized MBS), and has recently engaged nearly exclusively in single and multifamily mortgages. The bank currently only give loans with a 20% downpayment or greater and prefers FICO scores of 720 or higher. This insistence on high quality borrowers is what allows me to trust BOFI's management.
BOFI has only raised cash through equity offerings after a nearly 90% rise in stock price- from $8 to $14-15 last year. To conserve capital in 2009, nearly all of the directors and executives at BOFI took a decrease in total compensation, even as net income increased by 80%. Nearly half of all salaries for executives is paid in "stock awards" which expire if you are not employed three years after issuance. This shows that the executives believe in the long-term growth of BOFI and make decisions today that are also the best decisions for long term prosperity and stability. Management shows its willingness to listen to its banking customers as well as investors by making a strong push last year to obtain ACH transfers for its customers (to decrease the time to transfer money between banks). There's also a current push to get a mobile banking app for all major smart phone opperating systems.

I have been long BOFI since 2009 with plans to purchase more at the right price.

Disclosure: I am long BOFI.

Additional disclosure: Not long any other bank mentioned