Credible technology news sources have reported that BlackBerry maker Research In Motion (RIMM) plans to release its flagship BlackBerry Messenger application for other platforms in the not-too-distant future. Research In Motion shareholders should be concerned.
A parallel that helps elucidate the danger of releasing a proprietary application onto other platforms is America Online's (NYSE:AOL) release of AOL Instant Messenger (AIM) over a decade ago.
I can still remember using dialup AOL to access the internet as a youngster. I'm guessing that my initial buddy list might have had a whopping five friends from other families that adopted internet usage while it was still relatively uncommon. When cable internet became available, my father was eager to ditch dialup for Adelphia's speedier service and I was probably very concerned about becoming a social outcast after losing my buddies that had AOL. Thankfully, AIM existed, and I was able to keep in touch despite ditching AOL's service.
The lack of a barrier to exit AOL's core service was a significant problem that contributed to the decline in the company's core business (along with other factors, like the emergence of broadband internet.) AIM's release allowed internet users everywhere to access one of AOL's best features without actually having to pay AOL to use it. AOL set its core service up for failure even though AIM became highly-successful; AIM owned 52% of the instant messaging market in 2006, while AOL's paying subscribers had halved from the peak level (which happened in 2002) by that point.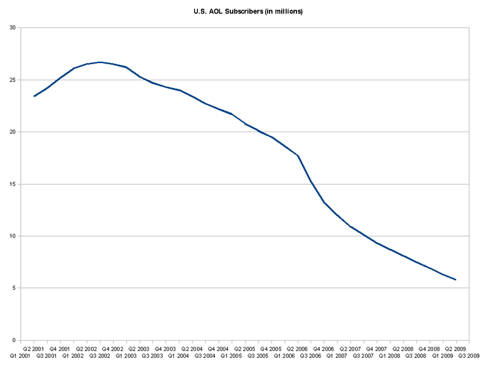 I believe that Research In Motion will be making the same potentially-fatal mistake if they release BlackBerry Messenger applications for other mobile operating systems. I don't think that many people decide to switch to a BlackBerry because of BBM, but I do think that many users who have grown accustomed to the service may switch to non-RIMM hardware if they can still use BBM.
Considering that Research In Motion is already having trouble releasing hardware that competes with the iPhone (NASDAQ:AAPL) and Android (NASDAQ:GOOG) handsets, choosing to give up the competitive edge that BBM provides would be foolish. As the AOL comparison shows, it's doesn't matter if BBM becomes the top-downloaded app on iOS and Android if the number of BlackBerry owners declines simultaneously. Any incrimental revenue earned by charging for the app or advertising in it would be unlikely to cover the amount lost by users leaving the core BlackBerry service.
There may be some platforms that RIMM could port BBM to without losing handset sales; I think that computers would be a great fit. Some companies may already have a culture that stipulates use of an existing messenger program, but every company that I've worked at hasn't had a standard, widely-used program. Research In Motion may have the opportunity to dominate the corporate-instant communication market with a program that allows communication between workers at computers and BlackBerry-wielding out-of-office employees.
Interestingly, the company seems to have the opposite philosophy when it comes to the PlayBook tablet. Tethering the PlayBook to a BlackBerry phone will be critical to the overall experience, especially in terms of corporate security and office-employee use. Research In Motion was very smart to develop the tablet in this manner, as it will encourage adoption by companies and employees who currently use BlackBerry handsets and will discourage PlayBook adopters from buying other mobile phones in the future.
I do not own Research In Motion shares, but if I did, I'd be closely watching developments concerning BBM. Despite the recent excitement over the PlayBook's prospects, the handset business will make or break Research In Motion for the foreseeable future, and any development that threatens handset sales should be noted.
Disclosure: I have no positions in any stocks mentioned, and no plans to initiate any positions within the next 72 hours.