With gold hitting another historic high recently I thought it would beneficial to see which small cap gold stocks performed the best year-to-date..

Gammon Gold (NYSE: GRS)
Gammon Gold posted the best small cap gold stock performance, year-to-date.
The company reported Wednesday that its fourth quarter net earnings rose 74 percent, which far surpassed analysts' expectations. For the quarter, the gold and silver producer increased net earnings by $23.5 million, or 17 cents a share. This was up from $13.5 million or 10 cents a share during the same quarter last year. Revenue from mining operations was also higher at $71 million, up 4% from last year.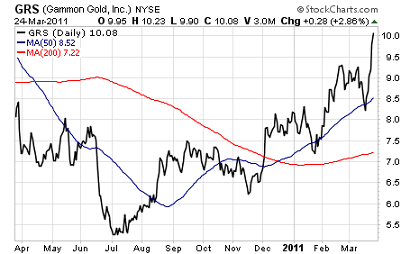 Capital Gold (AMEX: CGC)
Capital Gold jumped $0.20 higher to hit a 52-week high on Wednesday at $5.92. Currently Gammon Gold and Timmons Gold are having a bidding war over Capital Gold. The war has been ongoing for several months, but it looks as though it will end April 1st when shareholders are expected to vote on the takeover offer from Gammon and Timmons.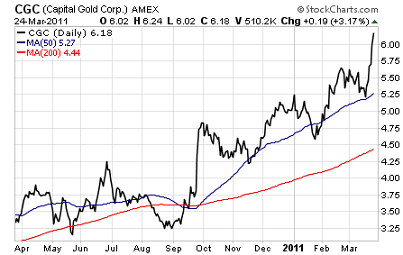 Claude Resources (AMEX: CGR)
This junior gold producer has a strong growth profile. It is expected to double its gold production to 80,000 ounces by 2015. Currently Claude Resources is only producing from its Seabee mine, but is expected to bring two new projects on board in the next two years.