Real-Time Monetary Inflation (last 12 months): 2.5%
Gold rebounded against the world's reserve currencies this week. Like last week, the yen stood out, but this time it was notable for its retreat. After coordinated central bank intervention, the Japanese currency gave up 5.5 percent to bullion. The Swiss franc retraced most of last week's gain and ceded 3.7 percent to gold. Sterling shed 2.1 percent and the euro slipped 1.1 percent.
Inflationary pressures stepped up on the U.S. currency- and dollar-denominated assets:
On Thursday morning, gold was fixed in London at $1,441, up 1.5 percent for the week; since last Friday, fixes averaged $1,429; COMEX spot metal settled 2.2 percent higher at $1,435 and averaged $1,428; average daily volume plummeted 24.8 percent to 154,737 contracts; open interest inched up 3,309 contracts to 504,928 though, on average, the daily numbers were down from last week's level.
COMEX gold inventories ticked up by 2,508 ounces (0.1 tonnes) to 11.029 million; stocks cover 21.8 percent of open interest; immediate demand for COMEX bullion amounts to no more than 1,900 ounces, while 2.366 million ounces are in a deliverable position.
SPDR Gold Trust (NYSE: GLD) vault assets fell by 3.3 tonnes (107,255 ounces) to 1,213.9 tonnes.
Gold's average projected volatility, tracked by the CBOE Gold Volatility Index [CBOE: GVZ], slid 1.1 points to 17.6 percent.
One-year gold lease rates averaged 32 basis points (0.32 percent), up a point from last week.
Junior gold mining shares once again earned their reputation for volatility as the portfolio underlying the Market Vectors Junior Gold Miners ETF (NYSE: GDXJ) shot up 9.6 percent compared with a 7.7 percent gain for the gold producers comprising the Market Vectors Gold Miners ETF (NYSE: GDX); stocks making up the S&P 500 Composite rose 2.8 percent.
The broad market's correlation to gold producers' stocks inched up 3 points to 21 percent this week, while the relationship between the S&P index and bullion tightened by 4 points to 1 percent.
Domestic crude oil prices jumped 4.1 percent to $105.60, dragging the gold/oil multiple down from 14.1x to 13.8x.
Gold futures traders maintained expectations for steady rates by holding embedded financing costs fairly even; the discount to one-year Treasurys narrowed by 3 basis points this week; a one-year contango on COMEX strengthened by 9 percent, or 80 cents an ounce, to $9.70; the spread implied in the London forward market widened by 6.2 percent.
The one-year TED spread slipped back a basis point to average 0.53 percent this week.
A 2-basis-point weakening in long bond rates flattened the Treasury yield curve to an average 437 basis points.
Another 1.1 percent gain in the euro vs. the U.S. dollar brought the average interbank cross rate to $1.4156.
Average daily readings of the Monetary Inflation Index's one-year rate jumped to 2.2 percent, up from last week's 1.5 percent mean; at today's rate, the real return on three-month Treasury bills is -116 basis points.
Real-Time Monetary Inflation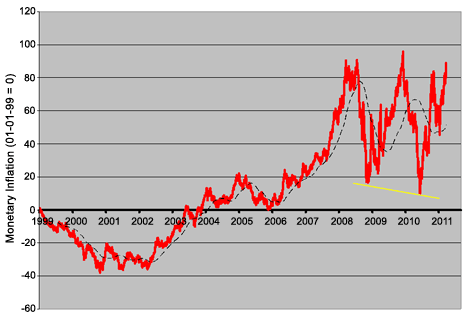 Note: Explanations of the Scorecard's indicators can be found in the Hard Asset Investors' primer articles, "Deciphering The Inflation Scorecard: Why Gold?" and "Deciphering The Inflation Scorecard: Part 2."