Wall Street typically has the media's attention but now media stocks have Wall Street's attention. The numbers tell it all. While the S&P has gained about 4% YTD, media stocks have gained 11% during the same time period, clearly outperforming the broader averages.
Research has shown that the stocks which perform best in a given three month period typically continue to outperform … particularly in a bull market. Media stocks are Wall Street's most recent darlings with lots of upside, in our opinion.
With that backdrop, we screened our database of 5,000 stocks looking for large cap media companies with a bullish gauge rating, healthy valuation metrics, strong price momentum and good profit margins.
Our gage rating is based on a 20-factor model incorporating financial metrics, earnings performance, price/volume activity and expert opinions to determine a stock's potential over the next 3-6 months.
Below are four large cap Media stocks that meet our criteria. We believe they will continue to lead in the coming quarter and would recommend using any short-term price pullbacks to initiate or add to positions.
| | | | | |
| --- | --- | --- | --- | --- |
| Company (Ticker) | Current Price | Market Cap | Operating Margin | PEG Ratio |
| CBS Corporation (NYSE:CBS) | $24.67 | 16B | 13% | 0.99 |
| Comcast Corporation (NASDAQ:CMCSA) | $25.02 | 67B | 21% | 1.24 |
| DIRECTV (DTV) | $47.08 | 36B | 16% | 0.61 |
| Walt Disney Co (NYSE:DIS) | $42.97 | 82B | 19% | 1.18 |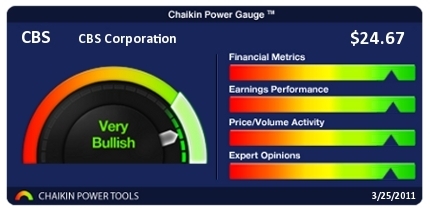 CBS Corporation (CBS): $24.67
In a recent analyst conference, CBS outlined a revenue growth goal of $3B a year driven by local online operations, cable fees and sales of TV shows outside the US. In 2011, this would represent 21% YOY revenue growth. Analysts keying on this announcement by CFO Joseph Ianniello, raised their 2011 earnings estimates leading to a very bullish expert opinions metric on our gauge.
Investors too have responded positively to the announcement since it comes on the heels of a very strong quarter that saw the company beat earnings estimates. Shares are on a tear this year and have already gained 30% YTD, 6 times higher than the broader markets.
Strong money flow activity, positive price trend and volume trend together result in very bullish price volume activity, indicating that the current rally has legs and the stock should continue to make new highs in the near future. Consistent earnings and positive price strength vs. other media stocks and the overall market further bolster the very bullish rating.
The company generates a high level of free cash flow and management is considering raising the dividend payout to shareholders. This stock should lead the market higher.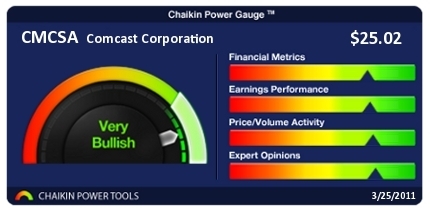 Comcast Corporation (CMCSA): $25.02
Driven by subscribers' move to buy bigger cable packages showing signs of improvement in the economy, Comcast exceeded analyst expectations and posted a 7% YOY revenue increase in the 4th quarter of 2010. This revenue and earnings growth contributes to a bullish earnings performance metric and has led to increased analyst confidence and upward earnings revisions.
The NBCUniversal acquisition at the end of January further helps Comcast to expand its push into content while benefiting from NBC's very profitable cable channels such as USA and Bravo. This is a very important strategic step forward for Comcast as it combats stiff competition in its traditional business from the likes of DIRECTV and Verizon. Confident about the company's current cash position and future prospects, management announced a 19% increase in dividend payout this year along with plans to buy back more than $2 billion in stock by year end.
The company continues to benefit from the "triple play" packages adding broadband as well as voice customers. The recent launch of its Xfinity signature support service further strengthens this package by offering customers a single source for troubleshooting and support and delivering an end-to-end exceptional customer experience backed by the Comcast Customer Guarantee. Positive money flow activity and a strong price trend roundup the metrics leading to a bullish power gauge rating. If the company continues to focus on its newly introduced customer satisfaction initiative, we believe stock price will continue its upward trend making higher highs in 2011.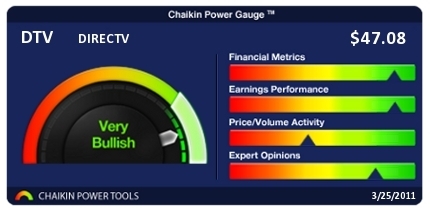 DIRECTV (DTV): $47.08
DTV's very bullish financial metrics rating is driven by a high ROE and a low price/sales ratio. The company boasts a strong balance sheet, almost tripling its FCF in just 3 years, reaping the rewards of its heavy investments to grow the business just a few years ago. The company bought back $5.1 billion in stock last year and recently announced plans to buy back an additional $6 billion this year. Management is also considering the company's first-ever dividend payout next year.
The company proved its strength during the economic downturn in 2009 when sales grew by 10% and then it grew by another 12% in 2010. Consistent earnings growth leads to a very bullish earnings performance metric on the power gauge. Despite the healthy growth leading to shares more than doubling in value since the end of 2008 and reaching all time highs, a PEG ratio of 0.61 suggests that they are still undervalued at current levels with fair value around $75.
Analysts, confident about the company's strong fundamentals have raised earnings estimates leading to a very bullish Earnings Performance metric.
Positive money flow activity indicates near-term momentum and adds to a very bullish rating. We believe shares will continue to handily outperform the broader markets and make new all-time highs in 2011 as the company further penetrates the traditional cable TV market.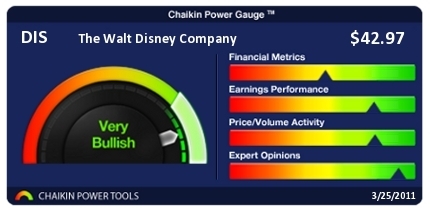 Walt Disney Co (DIS): $42.97
Steve Jobs' largest holding, Disney, boasts a strong balance sheet with solid cash flows, and healthy profit margins. The company reported higher than expected results for the quarter ending Dec 31 fueled by earnings growth in all of its business units from television networks (ESPN, ABC) and movie studio to consumer products and money-losing theme parks. Theme Parks have been losing money for the past 9 consecutive quarters, and a turnaround this quarter signals a recovery for the company on all fronts.
Analysts believe this earnings surprise is no fluke as the company seems to have entered a similar period to the 2005-2008 period when it was considered an earnings beating machine, and have raised their 2011 earnings estimates, thus contributing to a very bullish expert opinions metric in the rating. Disney continues to penetrate newer markets with innovative offerings. Just recently, the company launched Disney Junior on the Disney Channel on Valentine's Day, targeting a 2 to 7 year old audience. It also plans to add new cruise ships and expand its theme parks.
Positive money flow activity and strong price trend and volume trend suggest shares are gaining momentum. A very positive earnings performance metric driven by consistent earnings performance, helps bolster a very bullish rating. A high ROE adds to the bullish mix. Despite a great quarter which has taken Disney shares to its highest price since 2000, this seems to be still the early stage of the real recovery and we believe Disney has a lot of potential ahead with any market related weakness in the near future adding to the attractiveness of Disney's shares.
For more in-depth analysis on these stocks, please click here.
Disclosure: I have no positions in any stocks mentioned, and no plans to initiate any positions within the next 72 hours.