Background
This article is an update to my 401k portfolio, which I have been profiling as it has been transitioned from investments in mutual funds into a dividend growth portfolio. With the change in investing styles, my focus has also changed from one that relied strictly on capital gains to an emphasis that now focuses more on a growing stream of dividend income. It is my hope that as I continue to grow that income stream, I will eventually be able to use this portfolio as a significant portion of the funding for my future retirement.
This article marks the 7th part in the series, which is remarkable to me now in retrospect. Just 20 months ago, I had no knowledge on the DGI strategy, and I'm now sitting here writing my 35th article on Seeking Alpha. The process has been a rewarding experience, and because of it I've found a new passion and a new hobby along the way.
Third-Quarter Highlights
The third quarter was an active one, and once again I had more transactions than I would prefer to see in the portfolio. Part of this was due to a couple mergers and acquisitions, and part of it was my searching for improvements in portfolio composition.
First, on the mergers and acquisitions front, Lorillard (NYSE:LO) was acquired by Reynolds American (NYSE:RAI) on July 15th. The agreement called for Lorillard shareholders to receive $50.50 per share in cash and 0.2909 shares of Reynolds stock. In anticipation of and as a result of the announcement, the share price of Lorillard ran up to as high as $67 per share, which was significantly above my cost basis of $37.90. Due to uncertainty on the time frame for completion of the deal, and the fact that I already hold Reynolds American in another account, I decided to take my profits and move on to another position. I closed out my position on August 11th at $60.70 per share, good enough for a 58% gain in just 17 months of holding the stock.
The other merger during the quarter was the August 14th finalization of the agreement between Questcor Pharmaceuticals (QCOR) and Mallinckrodt (NYSE:MNK). This deal provided me with 0.897 shares of Mallinckrodt and $30 per share in cash for each Questcor share I owned. My Questcor investment is the best in the portfolio to-date, as my initial investment of $516 provided me with $494 worth of cash, plus 14 shares of Mallinckrodt worth $1262, giving me a 240% gain on my Questcor purchase after just 17 months of holding the stock.
In addition to the mergers, I also made a few other adjustments to the portfolio during the quarter.
I did this to upgrade my portfolio income and increase the quality of positions, as AT&T yields about 1% more than Potash. I feel more comfortable with AT&T as a long-term holding, as Potash is in a cyclical industry that looks to have some headwinds with dropping commodity prices and increased fertilizer supply.
As mention above, I decided to sell Lorillard to lock in my gains after the merger announcement with Reynolds American. With the proceeds I decided to make a purchase in Kinder Morgan after it announced it was acquiring Kinder Morgan Energy Partners (NYSE:KMP), Kinder Morgan Management (NYSE:KMR), and El Paso Pipeline Partners (NYSE:EPB) and provided guidance for a dividend increase to $2.00 per share for 2015. With a purchase price of $37.75, I locked in a forward yield of 5.3%, which was a nice boost over the yield I was getting with Lorillard. Kinder Morgan management also provided guidance of 10% annual dividend growth through 2020, which will quickly compound my reinvestment of dividends in the position.
This purchase brought my Mattel holding to a full position in the portfolio, after the stock hit a then 52-week low. The company is currently going through a tough period as it struggles with a changing business environment, and has disappointed on earnings for several quarters in a row. However, the dividend is still well covered, and with a yield now around 5%, I am willing to wait out the current struggles as the company works to turn things around.
I sold Clorox, as I felt it was somewhat overvalued at a PE of 23 with a slow growth rate of low-to-mid single digits. With the sale, I was able to lock in a gain of 30% and put the proceeds into Tupperware, which looks to be undervalued at a PE of around 13 and a dividend yield of around 4%. With the trade, I was able to increase my yield by around 1% and buy a company with a higher expected growth rate going forward.
Aflac is a position I've considered selling for some time, as it has struggled with a tough business environment and currency headwinds in Japan. With a yield of just 2.5% and low growth expected over the next few years, I felt that trading it out for a slightly lower yield in Ameriprise was justified. Ameriprise has a higher growth rate that has grown at a 13% rate over the last 5 years and is projected to continue growing at a mid-teens rate going forward. This compares favorably to the mid-single digits growth expected with Aflac.
I had new money available, and noticed that Realty Income had sold off when the market over-reacted to fears of rising interest rates. I was able to buy at $40.90, which provides a dividend yield of nearly 5.4%. Realty Income is one of my positions that I had been wanting to bring up to a full position, so I was very happy when Mr. Market gave me the opportunity at a discount.
Here are all of the transactions in table form, showing buy and sell prices for those who may be interested.


The trades don't look very successful thus far, as all but one purchase made during the quarter is currently under water. I suppose that is one downside of value investing and buying stocks that are currently near 52-week lows, as is the case with Tupperware and Mattel. However, these trades increased my overall yield and should provide me with higher growth in income going forward.
Dividend Increases
This is always my favorite part of writing these articles, as it is such a rewarding and exciting aspect of dividend growth investing. The third quarter is generally a quieter one compared to some of the others, but there was still plenty of news to get excited about.
The annual dividends were increased by an average of 12.4%, which is down slightly from the 16.2% average increase last quarter, but still extends the streak of double-digit average increases to 6 quarters.
With a portfolio yield of nearly 3%, these increases keep me well above my "Chowder number" goal of 12% and well above the rate of inflation.
Here are the actual dividends collected during the history of the portfolio. Due to some trading of positions and varied payout dates by a few companies, the trend doesn't look like it is increasing very quickly, but overall I'm making good progress, as I've already surpassed 2013's dividends received with 3 months still to go.

My goal for the year was to collect an average of $100 per month, or $1200 for the year. I'm a bit behind that pace as we enter the fourth quarter, but between the announced increases and a few companies that traditionally pay special dividends in December, there is still a chance I can meet that goal.
Portfolio Performance
The portfolio as a whole held up pretty well during a volatile quarter for the market, as it gained $420 in value since the last update. The gain includes new cash that was deposited during the quarter, so my existing positions dropped slightly during the period. I have no complaints or concerns at this time, as the portfolio is performing as planned, with increasing dividend income over last quarter.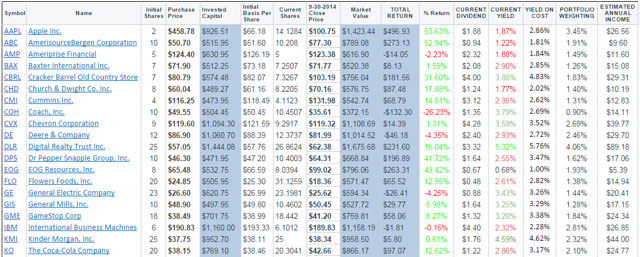 On The Radar
There are a few companies that I am watching closely in their recent struggles. Coach (COH) and Mattel have both seen decreasing earnings due to changing consumer tastes and poor execution. While Mattel has maintained its streak of regular increases, Coach has now paid the same amount for 6 quarters in a row. The payout appears to be safe at 72% of expected 2014 earnings, but I don't foresee the company raising the dividend any higher until it can return to positive earnings growth. Coach releases earnings on October 28th, and I will be looking closely to see what management has to say regarding future expectations. Mattel usually announces its increase in January, so I plan to wait until then before making any moves.
Some possible targets if I do decide to make a swap include Southern Company (NYSE:SO), Kraft Foods (KRFT), Parker Hannifin (NYSE:PH) and Visa (NYSE:V).
Closing
I appreciate hearing from others regarding other potential dividend ideas and thoughts on the moves I have made during the last quarter. I've learned so much from sharing my experience and look forward to further discussion in the future. Hopefully, this portfolio can be a good example for other young investors interested in dividend growth investing.
Disclosure: The author is long AAPL, ABC, AMP, BAX, CBRL, CHD, CMI, COH, CVX, DE, DLR, DPS, EOG, FLO, GE, GIS, GME, IBM, KMI, KO, LMT, MAT, MCD, MDP, MDU, MNK, MSFT, NSC, NXPI, O, OHI, OXY, PII, PM, PSX, QCOM, ROST, SBUX, T, TAL, TGT, THO, TUP, UNP, WAG, WEC, WFC, WMT, WSO, WYNN.
The author wrote this article themselves, and it expresses their own opinions. The author is not receiving compensation for it (other than from Seeking Alpha). The author has no business relationship with any company whose stock is mentioned in this article.
Additional disclosure: The companies listed in the tables of this article are all held in my personal 401(k) account. I am a Civil Engineer by trade and am not a professional investment adviser or financial analyst. This article is not an endorsement for the stocks mentioned. Please perform your own due diligence before you decide to trade any securities or other products.