When you analyze thousands of companies a year like I do, every once and a while you get lucky and stumble upon a company that Wall Street has totally missed the boat on and leaves you grinning from cheek to cheek. Then on top of that it gets even better, as that same company also misses their Wall Street estimates and as a result gets slaughtered by Flash Traders, while you are just about finishing up your research on it, which allows you to get in at a price that is 14% cheaper. So CSC lowered their estimates by 2.8% and flash traders trashed it by 14% in one day and brought it down from a "Steal It" price to an "Absolute Steal It" price.
The following is a Mycroft Research System Analysis of Computer Sciences (CSC) in order to show why I think Wall Street has totally missed the boat on this one, creating tremendous opportunity for the deep value investor. The current valuation that the market has placed on CSC is also a perfect textbook example of how flawed the efficient market theory really is.
The main thrust of this analysis is concentrated in three parts. The first two parts are based on owner earnings (future and historical) and the third is based on historical price action as a gauge of investor sentiment.
Before we get to the analysis let me give those new to my Mycroft Research System some links to show you how it all works.
The three methods used in this analysis are:
Price to Owners Earnings (OE) = Future analysis
Cumulative Owners Earnings (COE) = Historical analysis of owners earnings
Statistical Indicator Analysis (SIA) = Historical price action
Analysis of Computer Sciences (CSC)
Computer Sciences is an information technology and business services company headquartered in Falls Church, Virginia, USA. CSC predominantly provides IT personnel staffing services in the following areas: systems integration and professional services; enterprise application development and management; application software for the financial services industry; business process outsourcing; managed hosting services; and application and IT infrastructure outsourcing. CSC's consulting and professional services include advising clients on the acquisition and utilization of IT and on business strategy, security, modeling, simulation, engineering, operations, change management and business process reengineering. CSC serves Fortune Global 1000 companies in fifteen industries and national and local governments. CSC employs about 92,000 people in 90 countries and is one of the largest players in global outsourcing.
After reading the above description you have to say to yourself "WOW!, this is a company that is in the right place at the right time and should be selling at an overbought price instead of the deep value oversold price that it currently is."
The main reason that it is so mispriced is because Wall Street is worried about governments of the world cutting back on spending because of their huge budget deficits, but as you can see from following the news, that governments have little interest in cutting corners and would rather just borrow more money or print it until they run out of trees. In the USA for example, the Republicans and Democrats are fighting tooth and nail over cutting $60 billion in spending or about 2% of the entire budget and they are not making any progress at all.
Rumors on Wall Street are more powerful than facts, so companies that service governments have been taken to the woodshed and that is where deep value investors like me are finding the greatest bargains. As far as CSC is concerned, I see them being the last on the totem pole of cuts because they run the computers of the government and are the most cost efficient. Well enough words for now, let me show you CSC's numbers so you can see why I think I got very lucky when stumbled upon this stock.
The following is a table containing Computer Science's historical owner earnings data:
As you can see from the table above that the company is one of the most productive owner earnings generators on Wall Street, having pumped out $83.02 a share in COE since 1973. The current management has also done an amazing job in controlling costs as their CapFlows for the last three years have averaged about 31%. Here is CSC's Cumulative Owner Earnings Chart so you can see how productive the company has been.
From looking at the data above Owner Earnings for the company have been excellent but what does our Statistical Indicator Analysis (SIA) tell us about investor sentiment? Here is our SIA % chart that clearly shows that investor sentiment on the stock has been dead as a doorknob, as I guess not many investors have ever really heard of the company.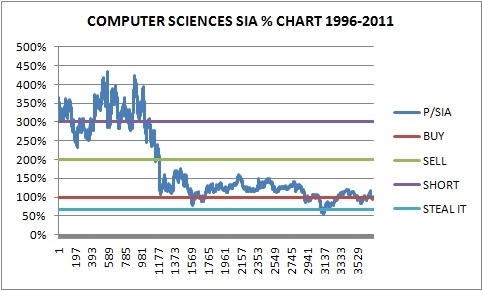 Their nearest competitors are IBM (NYSE:IBM) and Accenture (NYSE:ACN) and both are doing very well and recently traded around their all time highs, so that should tell you that Computer Sciences should do well going forward. After all, they are expected to pump out $8.95 per share in Owner Earnings for 2011, which means that as of Friday's closing price of $49.17, that CSC is trading at 5.49 times its 2011 price to owner earnings estimates. That is why I am of the opinion that it is trading at an "Absolute Steal it" price according to my system.
Disclaimer: Always remember that these are the results of our research based on the methodology that I have outlined above and in other articles previously published. This research is provided as an educational tool and should not be considered investment advice, but just the results of our research. There are many ways to analyze a stock and you should never blindly follow anyone's work without doing your own due diligence or by seeking the help of an investment advisor, if you so need one. As Registered Investment Advisors, we see it as our responsibility to advise the following: We take our research seriously, we do our best to get it right, and we "eat our own cooking," but we could be wrong. Please note, investments involve risk and unless otherwise stated, are not guaranteed. Past performance cannot be used as an indicator to determine future results. Strategies mentioned may not be suitable for everyone. We do not know your personal financial situation, so the information contained in this communiqué represents the opinions of Peter "Mycroft" Psaras, and should not be construed as personalized investment advice. Information expressed does not take into account your specific situation or objectives, and is not intended as recommendations appropriate for you. Before acting on any information mentioned, it is recommended to seek advice from a qualified tax or investment adviser to determine whether it is suitable for your specific situation.
Disclosure: I am long CSC.