By Melvin Pasternak
In my recent article "The Perfect Way to Short Nuclear Power Stocks," I described how the nuclear crisis in Japan is negatively impacting nuclear power companies worldwide, providing potentially profitable trading opportunities. However, another way to profit from the ongoing nuclear crisis is to invest in alternative energy stocks, especially solar power stocks.
Because solar power generation doesn't carry as many safety risks as nuclear, countries like Japan and Germany -- where nuclear plants have been shut down while stress tests are being performed -- may require greater reliance on solar energy to make up for lost nuclear-generated power. As a result, there is potential for solar power demand to spike in the coming months.
To find the top solar power pick, I conducted an in-depth technical and fundamental analysis, comparing the world's leading solar stocks. Through this analysis, I've arrived at my top pick: ReneSola (NYSE:SOL). The China-based company is a leading solar wafer provider and manufacturer.
Although ReneSola is a relatively new company, founded in 2005, it's already established an international customer base due to its competitive pricing structure. In fact, the company is one of the lowest-cost crystal and silicon manufacturers in the industry.
In 2011, ReneSola plans to aggressively expand production and capacity, expecting solar wafer and module shipments to rise by nearly 50% from 2010. Despite this expected growth, the stock appears technically strong and remains attractively valued, compared to its peers in the solar industry.
Technically, ReneSola is in a major uptrend and appears close to breaking an Intermediate-term downtrend off its recent February high of $13.25.
[Click to enlarge]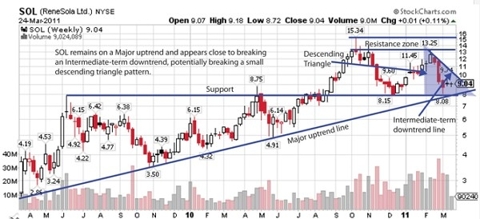 Although the stock tested support near $8 in early March, it has recently bounced back and appears poised to bullishly break out of a small descending triangle, formed by the intermediate trend line and support. If ReneSola can break the descending triangle, the stock could easily test resistance in the $13-15 trading range.
Fundamentally, ReneSola appears to be shining brightly. Earlier this month, the company announced upbeat full-year 2010 results: Revenue increased by 136% to $1.2 billion, compared with $510 million in the previous year. Growth was driven by strong sales of the company's popular solar modules. For the full 2011 year, analysts project revenue will increase 11.3% to $1.3 billion, then another 4.1% to $1.4 billion, by 2012, as shipments and customer orders continue to increase.
The earnings outlook is equally bright. Due to higher wafer and module shipments, full year 2010 earnings saw a strong turnaround to $0.97 in earnings, from a loss of $0.49 the prior year. With the company expecting a 35-45% year-over-year increase in shipments, analysts project full-year 2011 earnings will rise 7.8% to $2.08. Growth is expected to stabilize by 2012, however, increased demand for solar power instead of nuclear generation may bump up future earnings.
In addition to growth potential, ReneSola shares are attractively valued. The stock has a low trailing price-to-earnings ratio (P/E) under 5. In comparison, competitor MEMC Electronic Materials (WFR) has an enormously high P/E of about 80.
Shares also have a low price-to-sales (P/S) ratio of about 0.6. By comparison, MEMC's P/S is about 1.3. Additionally, ReneSola has a solid return on equity (ROE) of about 34%, while MEMC's is just above 2%.
Given that ReneSola is attractively valued, shows growth potential and appears technically solid, traders can go long on the solar technology provider if it can bullishly break its current descending triangle pattern. You can do this by placing a buy-on-stop order at $9.76. This means if the stock does not hit or go above $9.76, I will not enter the trade.
My stop-loss is $8.03, just below historical support and the intersection of the major uptrend line. My target is $15.34, resistance marked by the October 2010 high. The risk/reward ratio is: 3.22:1.
Disclosure: Neither Melvin Pasternak nor StreetAuthority, LLC hold positions in any securities mentioned in this article.