Certainly this comparison makes it look so:
Price/estimated earnings ratios:
2011 – Caterpillar = 17.8x; DJIA = 12.6x
2012 – Caterpillar = 13.7x; DJIA = 11.3x
So, should we avoid Caterpillar now? No. Even with the price run-up, the stock's valuation looks reasonable. Here's the picture ...
First, it's important to classify Caterpillar correctly.
Caterpillar is a cyclical growth firm. When the economy is growing (and, for Caterpillar, that means the global economy), the company's earnings can rise nicely. But when the economy slumps, results turn down.
Next, recognize that Caterpillar is a leading company in this economic period.
Currently, Caterpillar's growth is excellent and could remain so for some time. It is built on a foundation the company laid previously that puts it in the right places for this economy.
(Note: There are numerous good articles and reports about what Caterpillar is up to and how the company's positioning is excellent in this economy. My focus here is on the stock's relationship to forecast earnings and whether the the valuation is too high.)
Caterpillar's expected earnings growth:
While Caterpillar's stock has been rising steadily, so have the company's estimated earnings.
Click to enlarge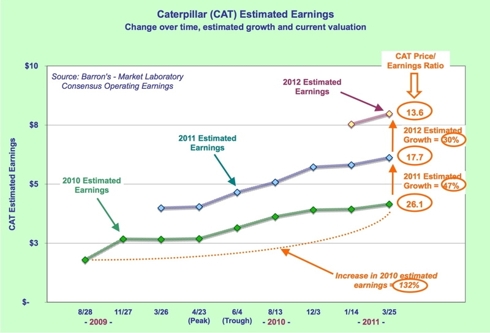 High earnings growth is projected for 2011 (47%) and 2012 (30%). In addition, each year's forecasts keep rising (for 2010, estimates rose 132% from August 2009 to the actual report). Add to this Caterpillar's positive statements about the company's future, and we clearly have a leading, cyclical growth company.
A comment about using estimated earnings ...

Remember that Wall Street analysts can have differing views about a company's future. The estimated earnings number we
see is the median forecast. For example, 25 analysts are forecasting Caterpillar's 2011 earnings to be from $5.49 to $6.90. The $6.12 stated estimate is simply the middle analyst projection. Go out to 2012 and the spread increases: 26 analysts project from $6.65 to $10.00, with the mid-point being $7.98.
Note:
Some investors prefer to rely only on past earnings. They view forecasts as being too imprecise. The problem is that Caterpillar is in a rapid growth period. To see the magnitude of that expected growth, we have to look ahead. Waiting for the proof can keep us out of promising stocks because current P/Es look too large (e.g., Caterpillar's 26.1x 2010's reported earnings).
What about Caterpillar's stock valuation?
Before looking at that, we need to discuss the four stages a cyclical growth company typically passes though because each stage has different valuations.
The first stage is after a recession ends. The economy and company experience both a rebound and the start of actual growth. Operating and financial leverage is especially powerful at this time. Earnings can shoot up dramatically, so valuations tend to be high. For example, Caterpillar's earnings grew 190% from 2009's $1.43 to 2010's $4.15.
The second stage
is the economic growth period, which can cover a number of years. The company rides the economy, with skill and strategies augmenting its earnings growth. Valuations tend to stay fairly steady as the stock rises in line with earnings.
In the third stage
, economic growth begins to slacken (still positive, but slowing). The stock now rises less than earnings as investors looking ahead become wary. The result: Valuations "improve." This stage can see more stock volatility as investor groups arrive at different conclusions about those valuations.
The fourth stage
is recession. Results are too variable to come up with one description. The recession's nature, the previous excesses, and the economy's changes can produce dramatically different results and outlooks for a cyclical company. The one item that usually holds true is this: Valuations become unattractive and uninformative as earnings plummet faster than the stock. Toward the recession's end, the P/E ratio usually becomes useless (i.e., extremely high or "N/A") because of very low or negative earnings.
What stage are we in?
This year, we appear to be moving from the first stage to the second stage. Because the global economy is not back to "normal," companies like Caterpillar are still enjoying rebound earnings growth. In 2012, economic growth will likely be the main driver of company results.
Caterpillar's valuation:
This graph shows how Caterpillar's valuation (i.e., the price/estimated earnings ratio) has changed over time.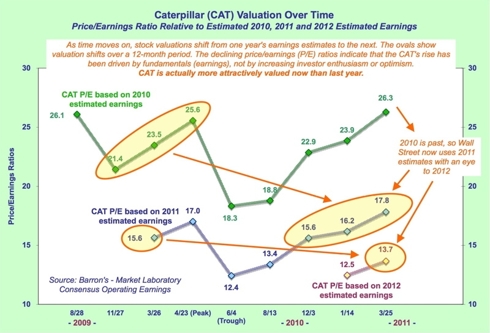 For proper comparison, look at the circled areas. These show the change in P/E valuation over about one year, shifting to the next year's estimated earnings. The downward move (i.e., the "improvement" in valuation) is likely due to the move from "Stage 1" to "Stage 2" in the cyclical growth cycle. We are now seeing more reasonable valuations because earnings growth is losing its rebound "kicker."
That said, the current valuations are not worrisome. They are appropriate given Caterpillar's expected growth.
So, Caterpillar's stock, while in all-time-high territory, carries a sensible valuation. With the high projected growth, the stock could retain its market leadership position for some time to come.
Disclosure: I am long CAT.