Improving cash flows, both with gross cash flow and free cash flow, is crucial to long-term growth. Simply improving profit margins is not a sustainable method to boosting earning; you can only tighten the belt to a point. If you want to find a stock that has the ability to consistently improve the bottom line, look for an increasing flow of cash.

But how can you determine a high-growth trend in cash flows? As regards high-growth, extensive research suggests that historical long-term growth rates make poor indicators of future growth. Analyzing shorter time frames, however, do provide better predictive results. With this is mind, the goal is to find stocks increasing their gross and net cash flows over the last few quarters to potentially uncover some short-term popping power.

Cash flow and free cash flow will need to grow over 10% per quarter over the past three periods. Over the counter stocks will not be considered.

Here is what I came up with…

Advanced Battery Technologies (OTCPK:ABAT) (Click to enlarge)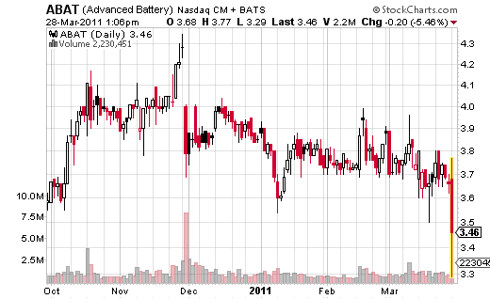 ABAT is a holding company of subsidiaries that manufacture and distribute electric vehicles and batteries to Europe, Asia, and the USA. ABAT also has interest in a cellular company based in the U.S.

Recent share dilution from 63 million to 91 million hurt the 'per share' value. Still, there is a strong upwards trend in cash flow from operations over the past three quarters. Cash flow has risen from 6.9 million (one year ago) to 19.8 million.

Free cash flow has comparatively gone up from 9 to 16 cents per share between quarters when looking at 12 trailing months.

Book value per share has decreased over the past year. Although earnings popped, share dilution hurt intrinsic value per share as the pie was divided up in more ways than before.
ABAT is looking to use its cash to complete the purchase of the 'Shenzhen Zhongqiang' assets for $8.5 million and to purchase a manufacturing site which the company will convert to a battery-making factory for $51 million. ABAT claims to be in good financial health with $57 million in assets that is free of liens. These assets could be used as collateral for future loans. If further dilution is not up management's sleeves, then I would advise accumulating shares if they dip to $3.50 or below based on long-term support.

Other Battery and Related Market Plays

Some other notable battery makers are Valence Technology (VLNC), A123 Systems (AONE), Ener1 (NASDAQ:HEV), and Exide Technologies (XIDE).

Alternatively, if you want exposure to a wide range of lithium stocks, purchase the Global X Lithium ETF (NYSEARCA:LIT). Buying this ETF is suitable if you have a bullish sentiment in the overall lithium industry.

To simply pick stocks based on increasing cash flows, consider ABAT or one of the following 'Free Cash Flow Stars'.

Ecolab Inc. (NYSE:ECL) (Click to enlarge)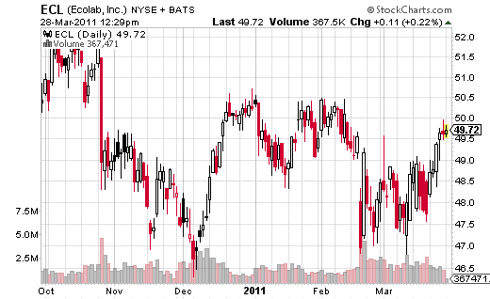 ECL develops and markets a variety of sanitary products and programs to the food, hospitality, healthcare, and industrial market.

Cash flow and free cash flow have dramatically risen over the last few years. In 2008, the FCF was $0.92 per share. In 2009 this rose to $1.10 and last year this number jumped up to $2.13 per share of free cash flow.

Between quarters we also have a profound rise in cash flow. The last four quarters of free cash flow per share are as follows: $0.16, $0.45, $0.70, and $0.83. The dividend payout ratio currently sits at 29%, and this is an implied yield of 1.4%. If ECL keeps up the free cash flow increase, you can expect prices to significantly jump.

Vishay Intertechnology (NYSE:VSH) (Click to enlarge)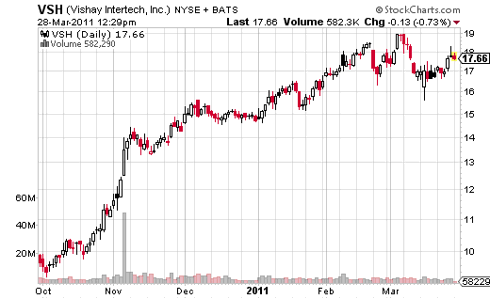 VSH is an international manufacturer/supplier of semiconductors and passive electronic components. Some of its suppliers are Cisco (NASDAQ:CSCO), IBM (NYSE:IBM), Nokia (NYSE:NOK), and Sony (NYSE:SNE). Competitors are Fairchild Semiconductor (FCS), Murata Manufacturing (OTCPK:MRAAY), and TDK (OTCPK:TTDKY). Their cash flows and free cash flows have jumped over the past few years.

Cash Flows:

2007 - $-0.70 per share

2008 - $-1.14 per share


2009 - $1.37 per share


2010 - $1.67 per share


Free Cash Flows:

2008 - $0.56 per share

2009 - $1.27 per share


2010 - $2.10 per share


After a small pullback from $19, VSH looks like a very attractive stock based on fast growing cash flows.

Do you have a view on one of the above stocks? Please share your view.

Disclosure: I have no positions in any stocks mentioned, and no plans to initiate any positions within the next 72 hours.