In my recent post entitled QE-Proof Stocks for Summer 2011, I introduced 19 stocks that held up well during the QE pause from April to August 2010 and passed tests for size, quality and stability. Perhaps these stocks will continue to be well suited to outperform when QE2 comes to an end on June 30, 2011. In my post More QE-Proof Stocks for Summer 2011, I added another 14 stocks to this list by relaxing the quality constraint across the rest of the S&P 500 universe. In the coming weeks leading up to the end of QE2, I will be conducting a detailed analysis on each stock introduced on my list to test its mettle as a potential outperformer once again in a market without QE.
I'm kicking off my 33 part series with McDonald's (NYSE:MCD). The selection of the global restaurant chain comes with good reason, as a variety of factors set it up as a good candidate holding for both a post QE2 market as well as any potential QE3 market down the road.
McDonald's' operating performance is rock solid. Looking back over the past decade, the company has increased revenues consistently at a +5% annualized rate while growing earnings at a more robust +12% annually. This includes an impressive +18% annualized earnings increase over the past five years that contained the financial crisis. As a result, McDonald's has produced healthy profit margin expansion over the last decade, from the high single digits to north of +20% today.
McDonald's is also a financially healthy business. The company is a strong and steadily improving free cash flow generator and has a manageable debt load.
The company also has a strong track record in recent years of increasing shareholder wealth. McDonald's return on equity has risen from the high single digits a decade ago to +34% today. Over this time period, the stock price has risen at a +14% annualized rate and held up meaningfully better than the overall market during the depths of the financial crisis in late 2008/early 2009, with a maximum peak to trough decline that was only two-fifths that of the S&P 500 Index. The company has also raised its dividend every year since 1976, including a more than doubling of the payout in the last five years.
images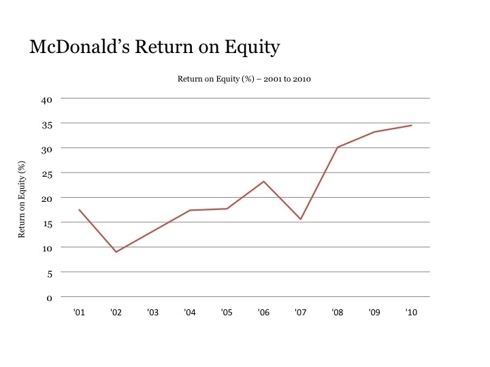 McDonald's also has strong appeal from a qualitative perspective. Leadership has been strong at McDonald's since CEO Jim Skinner took the helm in 2004 and launched many of the initiatives that have led to the strong operating performance in the years since. It is also the dominant global discount restaurant company, which provides the ability to gain exposure to some of the world's fastest growing economies in a U.S. based company. In addition to the growth angle, McDonald's business also has appealing defensive characteristics, offering a discount product that consumers both enjoy during periods of economic expansion and migrate toward for value when economic times are tough.
In regards to risks, competition remains heavy in the fast food restaurant business, but McDonald's remains innovative with new product offerings and in differentiating their overall dining experience. Rising input commodity costs will also likely be a persistent challenge for McDonald's in the coming months and years, so watching the associated impact on margins and the ability of McDonald's to pass along these costs is an issue worth monitoring going forward. Finally, as with any stock in a more highly correlated market, McDonald's stock will likely experience downside in any environment where broader market indexes move sharply lower, although the associated downside would likely be relatively less barring some concurrent company specific shock along the way.
Given the overall favorable profile for McDonald's, is now a good time to purchase the stock? From a valuation perspective, McDonald's appears to offer an attractive opportunity. At 16.4x earnings, it is currently trading at a 16% discount to its historical valuation and on par with the overall market, which represents an implied discount in its own right since companies of McDonald's quality typically trade at a premium to the overall market.
From a technical standpoint, McDonald's has found strong support at the 200-day moving average. Following a pullback from December 2010 into January 2011, the stock has tested its 200-day moving average three times thus far in 2011 and rebounded higher in each instance. With momentum and money flow indicators both steadily improving for McDonald's stock and a relative strength reading that recently bounced from oversold readings to neutral, all of these factors bode well for McDonald's stock to continue to advance at least in the near-term. Breaking above the $77.25 per share level would be particularly bullish for the stock. A potentially good entry point would be toward the $73.50 range at the 200-day moving average, although a sustained break below this level might raise cause for concern from a technical perspective.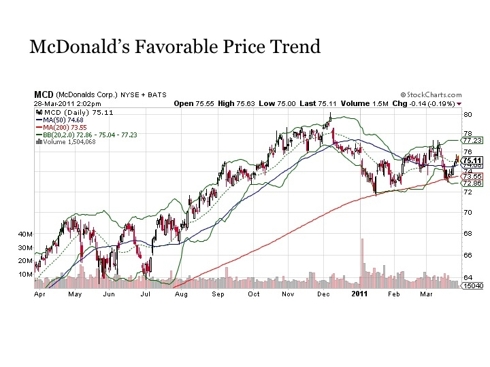 Bottom line: McDonald's represents at potentially attractive high quality equity portfolio position both for a post QE2 market as well as a core long-term holding. It also offers some appeal from a shorter-term trading perspective, although pullbacks toward the 200-day moving average may provide an even better entry point.
(This post is for information purposes only. There are risks involved with investing including loss of principal. Gerring Wealth Management (GWM) makes no explicit or implicit guarantee with respect to performance or the outcome of any investment or projections made by GWM. There is no guarantee that the goals of the strategies discussed by GWM will be met.)
Disclosure: I am long MCD.