In spite of reduced oil prices in the last quarter, with West Texas Intermediate (WTI) hovering near $80 and Brent, the global benchmark, around $85, Occidental Petroleum (NYSE:OXY) continues to deliver on promises. And OXY is not flinching from lower oil prices or changing any plans at present. Given supply costs and supply/demand fundamentals, even lower prices are not in the cards for any length of time, notes an executive. In earlier articles, the impact of the Permian focus and OXY's diversified upstream-midstream portfolio were sources of profitability over the longer haul (see below).
Chief Financial Officer Chris Stavros noted in the earnings call last week:
"For the fifth consecutive quarter, we continued our strong domestic oil production growth. We met our guidance and achieved the year-over-year domestic oil production increase of 20,000 BOE per day or about 8%, led by our Permian and California assets."
OXY's total firm-wide oil and gas production volumes averaged 755,000 boe/day for the third quarter of 2014. U.S. oil and gas production averaged 475,000 boe/day in the third quarter, up 11,000 boe/day sequentially. Domestic oil production was 282,000 barrels per day during the third quarter, a new quarterly record. Domestic oil production volumes increased by 20,000 barrels per day from the year ago quarter with the Permian Resources business, its unconventional arm, growing its oil production by 26% to 43,000 barrels per day.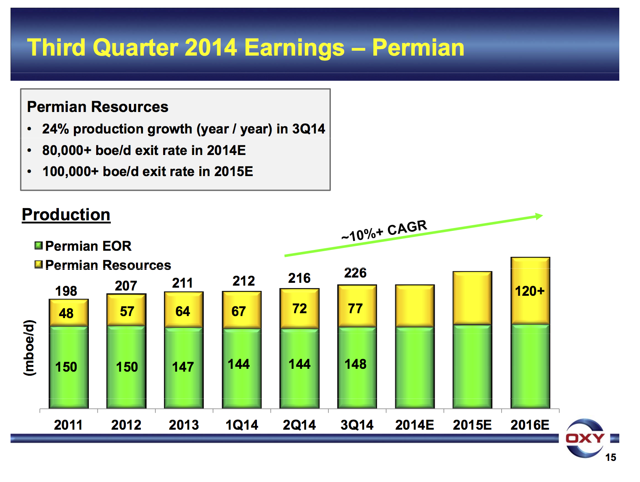 OXY expects an acceleration of total oil and gas production growth in 2015 from the Permian Resources group and the ramp-up of production from its Al Hosn project. Permian Resources is expected to deliver production growth of at least 20% in 2015, primarily from oil. They expect the Resources business to exit 2014 at over 80,000 boe/day and next year at over 100,000 boe/day. In the Permian, OXY expects to execute accelerated development in 2015, with the caveats of being flexible as conditions warrant. They are targeting 15% to 18% production growth in 2014 and project 120,000 boe/day in 2016. Additionally, the firm plans to acquire more Permian bolt-on acreage as opportunities present themselves. If prices continue to soften, there may well be more opportunities.
First production of the Al Hosn Gas project is anticipated later this quarter. OXY's net share of production is expected to ramp toward 60,000 boe per day during the first half of next year. The project, which will develop the Shah gas field located about 210 kilometers southwest of Abu Dhabi, is expected to contribute significantly to the energy needs of Abu Dhabi and the United Arab Emirates for more than 30 years, says Al Hosn Gas. The project is a 60-40 joint venture between Abu Dhabi National Oil Company (Adnoc) and OXY.
Another highlight for OXY is the late-September startup of the Permian-gateway-to-the-Gulf, the BridgeTex pipeline. The firm suggests it will capture a portion of the spread between (Louisiana Light Sweet) LLS and WTI, leveraging 200,000 barrels per day of oil transported to the Gulf Coast.
OXY's holistic approach in the Permian, in upstream and midstream segments, is projected to capture value of roughly $1 million a day for OXY. CEO Chazen also notes that OXY expects to have roughly 60% of oil and gas production coming from the United States. OXY is very bullish about the long-term prospects for the Permian Basin, which mirrors other producers' comments from large master limited partnerships like Energy Transfer (ETP) to small-cap players like RSP Permian (RSPP) and larger independents Apache (APA) and Pioneer (PXD).
OXY's stock price continues to climb its way back as other E&P stocks are as well.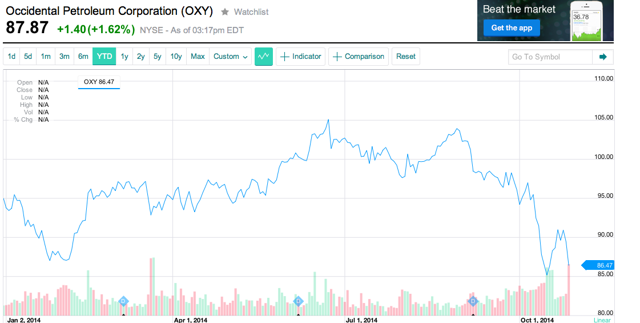 • Backgrounders on OXY's first re-designed strategy in the Permian here and here.
• And an earlier article titled, "Occidental Petroleum: A Smooth Operator With Slow-Moving Alpha Speeding Up," suggested that a multi-prong strategy is a source of value for OXY.