Slowly and quietly, spreads of the 2-10 year Treasuries decided not to blow out and instead have started coming back. What does it mean that in a world of increasing rates, we're getting a flattening yield curve?
Here's the 10 year yield ():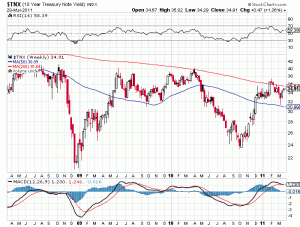 Edging up slightly recently, and certainly not contracting. On the flip side, look at the 2-10 spread ():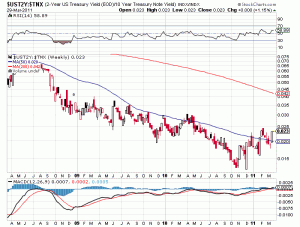 A few short months ago, hyper-inflationists were warning that this spread, which hit high after high, would blow out as inflation took hold, became rampant, and we'd be back to the middle ages. I was never in that camp, and while we see some inflationary pressures building, I think the main risk remains deflation as real estate, unemployment, etc. will drag down the consumer.
Regardless, the 2-10 spread has come back from the brink and the curve is now flattening. I don't know which way we go from here, but my analysis is still that rates are headed higher on an absolute level and the flattening yield curve supports my view that a recession or worse could be on the way. It's a bad combination to have higher rates, deflation of stores of wealth, and a government with no ability to provide future fiscal and monetary stimulus.