U.S. gold fell for a fourth straight session on Tuesday, its longest string of losses since January 7. The metal's fall was modest, however, at 0.3 percent — the same as silver's. Silver futures prices for June delivery, now the most active contrast, retreated $0.03 to close at $37.23 an ounce on the Comex in New York. Silver prices hit an intraday low of $36.51 and a high of $37.24.
The recent rebound in the U.S. stock market from the March lows is a negative for the precious metals markets, as it shows investor risk appetite has increased. The recent downside price pressure in the U.S. Treasury market prices is another indicator of better investor risk appetite in the market place.
Unresolved world events ranging from rebels fighting in Libya to nuclear plants' partial melt down in Japan have increased uncertainty in the market place. This is limiting the downside price pressure in precious metals prices.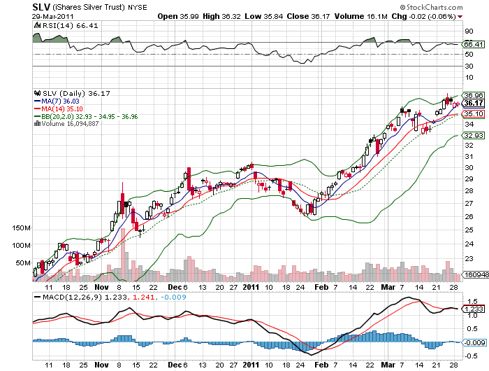 (Courtesy: StockCharts.com)
Prices for silver closed near session highs on Tuesday. That is good news for the bulls. Silver has a very strong overall near-term technical advantage. An eight week uptrend is still in place on a daily chart. Many traders think $35 will provide strong support for silver prices as it acts not only as a key technical support but also has a psychological pivot point. Silver's current price at the time of this writing was $37.01 which is still within striking distance of its recent high of $38.18 an ounce.
Gold and silver prices have come under pressure since mid last week due to traders squaring off their positions as the end of the first quarter nears. In my opinion, before the end of first week of April, silver will make yet another 31 year high, extending its gains beyond $38.18 an ounce. Current consolidation in both gold and silver should be used to build long positions to take advantage of higher metal prices in coming weeks.
Disclosure: I am long SLV.