In my last article, I analyzed the top Small Cap dividend stocks in the Perkins Small Cap Value Fund. While most investors know intuitively that dividends have a significant impact on returns, I found a great example among one of the fund's holdings illustrating this point, which make it worth sharing.

First Niagara Financial Corp (NASDAQ:FNFG) has raised dividends a total of 45% over the past 5 years. At the same time, its stock price during the past 5 years has shown almost no price appreciation. Note the 5 year chart (), below.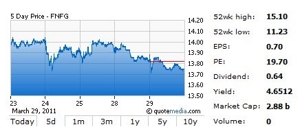 A return of approximately 0% without dividends based on the price chart above.
So how did the dividends help? In the table below (), note that FNFG provided a return of 14.8% and beat its benchmark by 11.8% over the 5 year time frame! All that return came from the stock's dividends (dividends included in the calculations below).

Perkins Small Cap Value - Top Dividend Stock Holdings





It is difficult for most investors to get the actual return calculation that considers the dividends. At my brokerage the performance would show the 0% return and not consider the dividends' impact on the return. Another option for investors wishing to understand the impact of dividend payouts on a stock, is to use the LikeAssets application now available in the Seeking Alpha app store. It is free and it can help you determine the true return of your dividends stocks.

Disclosure: I have no positions in any stocks mentioned, and no plans to initiate any positions within the next 72 hours.