Perkins Small Cap Value Fund (JSIVX) has all the right ratings and a great long-term track record. It's so good that the fund is closed to new investors.
For income investors looking for some small/mid cap diversification I thought it would be interesting to take a closer look at the Perkins Fund's top small/mid cap holdings that provide attractive dividend yields. Seven of the top ten holdings as of 2/28/2011 have attractive yields, with the group generating an average yield of 4.1%. Those seven stocks have an average market cap of $1.8 billion.

Perkins Top Small Cap High Dividend Yield Stocks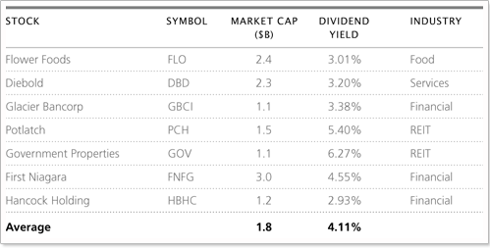 Additional Analysis - Dividend Growth Rate

When looking at smaller cap income opportunities I like to see a solid track record of dividend increases since small cap stocks generally carry more risk than large/mega cap stocks. Of the top names in Perkins' current portfolio, many have shown healthy increases over the past 5 years - a difficult 5 years for most stocks. One of the stocks clearly stands out in this analysis: Flower Foods (NYSE:FLO) has increased dividends 199% over the past 5 years. It is interesting to note that FLO also happens to be the best performing stock among the group over the past 5 years as well.

Perkins Top Dividend Stocks - 5 Year Dividend Growth Rates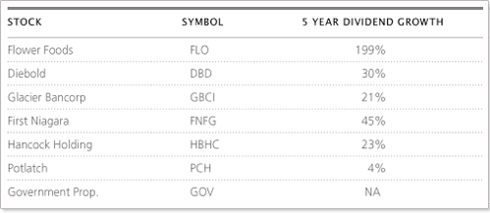 Perkins - A Proven Manager Worth Following

US News' summary of Perkins does a nice job of aggregating mutual fund ratings from multiple 3rd party sources, M*, Lipper, Zacks, S&P and the Street. After aggregation and anslysis, US News scores Perkins #2 out of all Small Cap Value Funds. Morningstar gives it 5 stars Overall, and also for 3 year and 5 year periods. I also analyzed the fund relative to its benchmark and we can see a 25% outperformance over the past 5 years.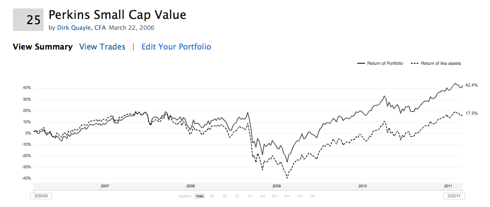 Tracking Performance of the Top Holdings

I'm now tracking the top high yield holdings of Perkins Small Cap Value and will update the top holdings, monthly, to determine if they out-perform their benchmarks over time. Below is the performance since 2/28/2011.

Perkins Top High Yield Holdings - Performance Since 2/28/2011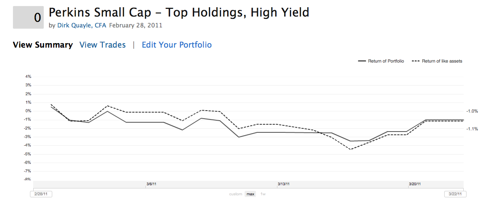 Disclosure: I am long FLO.
Disclaimer: Please note that the stocks mentioned in this article are not suitable for all investors and each investor should consider his or her own financial situation or consult a financial advisor before making their own allocation decisions. Any securities discussed are used as a reference and should not be considered advice. There are risks in any investment strategies and prior performance does not guarantee future success.