Within a week, Xenoport (NASDAQ:XNPT) and partner GlaxoSmithKline (NYSE:GSK) should receive feedback from the FDA regarding the NDA for Horizant, a gabapentin pro-drug for the treatment of Restless Leg Syndrome ('RLS'). With several recent clinical trial failures, approval is paramount for Xenoport.

Earlier this month, Xenoport announced that its 'GERD' product candidate, arbaclofen placarbil, was not efficacious enough "to warrant further develpoment." In July of 2010, Horizant failed to produce clinically significant results for the treatment of migraines. This came after a particular brutal first quarter in 2010, when Horizant received a CRL from the FDA for Horizant, while earlier in that quarter, GSK announced that it would shift its therapeutic focus to rare disease and that it would stop R&D in pain and CNS disorders. In mid 2009, Horizant failed to show clinical significance in diabetic peripheral neuropathy in Japan. The last two years have been painful for Xenoport shareholders.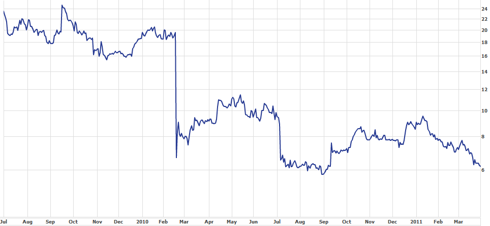 Cancer

The most pertinent issue regarding Xenoport's upcoming PDUFA date is with regards to the carcinogenicity of Horizant and whether or not it will preclude approval. The FDA asked that-- with the NDA resubmission for Horizant-- XNPT and GSK should ascertain if rat carcinogenicty is predictive of cancer in human patients, define a safety margin that meets the ICH guidelines, and submit epidemiology studies to show if there are any increased risks of cancer in humans who were treated with gabapentin.

According to XNPT's recent corporate presentation, XNPT and partner GSK have complied with all requests. The company believes it has demonstrated no links between gabapentin and pancreatic cancer in its epidemiology studies. It also believes that it has demonstrated that the rat model for carcinogenicty does not translate well to humans, due to physiologic and biochemical differences. XNPT also demonstrated that the low dose tested during animal studies clearly shows no cancerous effects in rats. And most interestingly, the resubmission was changed to a 505((b))(2), allowing GSK and XNPT to reference historic safety studies for gabapentin.

Uncertainty

The chances of approval are difficult to ascertain. Although, GSK and XNPT addressed all of the FDA's requests, many questions were left unanswered. Were the epidemiology studies rigourous enough? Did they exclude too many patients? Was the time-window too narrow? All of these questions, at this moment, remained unanswered.

What's more perplexing is the move to the 505((b))(2) NDA. Was that a prudent move to reference more safety data or was it a last ditch effort after exhausting all other options? Clearly there are uncertainties.

Strategies for PDUFA

It would be safe to assume that XNPT's cash position, about $3 dollars per share, would be a good estimate for downside risk with non-approval. Conversely, approval would result in considerable milestones and royalties moving forward. Although undisclosed, I estimate milestones for approval of Horizant in U.S. and Japan to bring XNPT around $30-$40 million in total. That may translate into a $1 to $2 dollar pop in PPS on approval, at minimum.

With the likelihood of volatility, new investors may want to consider straddling April options. The April $4 dollar puts cost $0.45, while the April $9 dollar calls costs $0.60. At a cost of about $1 dollar per share, new investors can expose their portfolio to this binary, and likely volatile, event. Current long investors may consider sellings options, given the premiums. Selling those same options would lock in $1.00 in gains now, while still allowing for appreciation to $9 if approved.

Given the uncertainties, overall strategies to mitigate risk and capitilazing on the volatility seem most prudent.

Worthwhile reads:
Xenoport Conference Call, here
Recent Corporate Presentation, here
Jason Napodano's recent article on Horizant and Gralise, here
Gekkowire Bear / Bull Analysis of XNPT, here



Disclosure: I am long DEPO, PFE, ABT, MRK, SNTS, PTIE, DRRX.