Broadcom Corp.'s (BRCM) shares climbed almost 5.5% to $39.37 on Wednesday, the day after the chipmaker reported its Q3 2014 earnings that topped analysts' estimates and gave a forecast that eased concerns that orders might be drying up. The company reported per share earnings of $0.91, topping analysts' estimates of $0.84. It posted revenues of $2.26 billion, compared to analysts' predictions of $2.18 billion for Q3 2014. Orders for the chips that connect devices such as the iPhone and iPad helped boost the revenue in Q3 2014.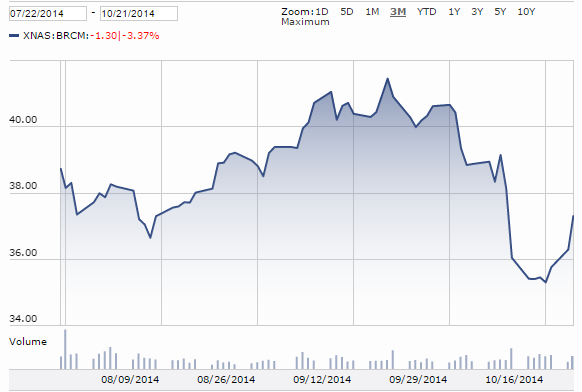 Source: Morningstar
Broadcom provides semiconductor solutions for wired and wireless communications. Its products offer voice, video, data, and multimedia connectivity in the home, office, and mobile environments.
Recent Performance at a Glance
The company's top-line witnessed a growth of 5.3% during the third quarter of 2014, and it reported absolute revenues of $5.26 billion compared to the third quarter of 2013. The growth in revenue was contributed by upside in the company's Broadband and Connectivity division, including Broadcom's chips for mobile connectivity. The Broadband and Connectivity segment revenue increased 16% on a sequential basis, driven by higher-than-expected sales of set-top boxes and broadband modem solutions.
Another factor contributing toward the company's top-line growth is the recent launch of the iPhone 6 and iPhone 6 Plus, which have Broadcom's components inside of them. Broadcom provides computer chips and touchscreen controller ICs for the iPhone 6 Plus. Apple (NASDAQ:AAPL) sold 10 million of iPhone6 units in September, and is rumored to have received 20 million pre-orders in China. The launch of the iPhone6 and iPhone 6 Plus could be an advantage for Apple and its suppliers. Being a part of the Apple supply chain should have a major impact on Broadcom's top- and bottom-line growth.
The top-line growth resulted in very strong earnings for the quarter. The company's per share earnings increased almost 20% compared to the corresponding period last year, topping analyst estimates of $0.84. During the quarter, Broadcom began to wind down its cellular base-band business, due to which it recorded restructuring costs of $114 million. It expects to incur another $60 million in restructuring costs next year. The wind-down of the cellular base-band business will results in annual savings of $700 million in the R&D, selling and general administrative expenses. This will free up cash to reward shareholders, and will allow the company to concentrate on its Broadband and Connectivity business.
Development Toward Internet-of-Things Platform
Broadcom recently announced the launch of its WICED (Wireless Internet Connectivity for Embedded Devices) sense development kit. This kit will enable developers to rapidly create prototypes and concepts for Internet-of-Things devices and applications. This kit provides innovators of all sizes a cost-effective platform that minimizes set-up time and enables rapid demos of Internet-of-Things concepts for hardware and software developers. The Internet-of-Things market is expected to grow 30 times and be worth approximately $309 billion by 2020, according to a report by Gartner. The launch of the WICED sense development kit will contribute to the future growth of the company's Broadband and Connectivity business.
Automotive Connectivity
At the 2014 SAE Convergence Conference & Exhibition, Broadcom Corporation will showcase its full line of automotive connectivity technologies. Broadcom's automotive integrated circuits are showcasing innovation throughout the industry. The company's automotive-qualified BroadR-Reach Ethernet technology is already on the road in the 2014 BMW X5. Industry analysts predict 100% of new cars to be internet-enabled by 2025. This will significantly boost the company's top-line growth in the coming future.
Analyst Opinion and Valuation
The following is a summary of Broadcom's valuation provided by 33 brokers. The consensus price estimates reveal significant upside potential. The mean target price estimate is $43.52, presenting an upside potential of more than 10% at its current price of $39.37. The most optimistic price estimate, if materialized, presents an upside potential of almost 32% at its current price.

Source: Yahoo Finance
Broadcom is currently trading at a P/E multiple of 54.3x, compared to the industry average of 21.5x, making it relatively expensive. However, after incorporating the future earnings growth, the forward P/E multiple is 12.7x, making the stock relatively cheap compared to its industry peers.
Conclusion
By constantly rolling out products and tapping into the Internet-of-Things and automotive connectivity markets, which have unlimited potential to grow, Broadcom has taken a smart step that might lead to future top- and bottom-line growth. The wind-down of its cellular base-band business will allow the company to reward its shareholders and focus on its key growth areas. Based on the plans of the company to take advantage of future lucrative opportunities, it is recommended that investors buy the stock.
Disclosure: The author has no positions in any stocks mentioned, and no plans to initiate any positions within the next 72 hours.
The author wrote this article themselves, and it expresses their own opinions. The author is not receiving compensation for it (other than from Seeking Alpha). The author has no business relationship with any company whose stock is mentioned in this article.