This morning I was looking for companies with superior earnings growth, balanced with favorable value characteristics, that had issued a new bull trend buy signal. Results of the Alphaking.com investment research project highlighted these three investment elements as the winning combination of future stock market leaders.

O'Reilly Automotive (NASDAQ:ORLY) has triggered such a growth/value/trend buy signal this week, and below are 10 reasons you should consider buying ORLY at this time:
Analysts expect 16.6% earnings growth this year over last.
PEG ratio 1, with a price to earnings ratio of 16 matching its EPS growth rate.
AK Trading signal new buy (see chart below.)
Price to sales ratio 1.5.
Price to book 2.5.
Return on investment 10.3%.
Same store sales 9% in the most recent quarter.
Gross profit margin 48% in the most recent quarter.
History of beating analyst earnings.
Weak economy keeping consumers driving older cars that need maintaining.

O'Reilly Automotive operates 3,570 stores serving the home based auto repair market, adding 156 new stores in 2010. The company is expected to continue its growth phase this year, with 170 new stores expected to open.

Sources: Reuters.com for financial data, Alphaking.com for technical data, and the O'Reilly Automotive annual earnings report for 2010.

Our signal has issued a new buy signal for ORLY (top of chart below.)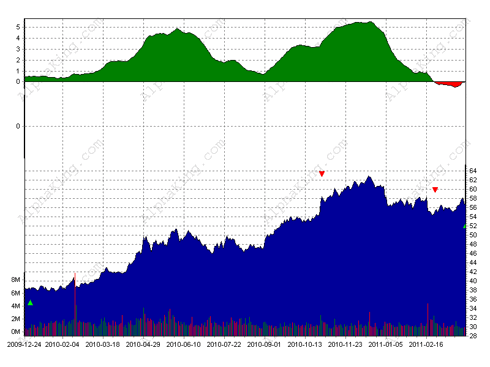 (Click chart to enlarge)
ORLY traded via our trading signal as shown in the chart above (cash on sell signals) turned $1,000 invested in 2000 to $9,200 by March 2011. There were 13 trades during those 11+ years, with 69% delivering a profit. The average gain on the winners was 34%, versus an average loss of 6% on the failed signals. A 50% profit cash out was used, as well as a 7% stop loss trigger, and that is the set-up I recommend using here.

Disclosure: I have no positions in any stocks mentioned, and no plans to initiate any positions within the next 72 hours.