Upcoming events: 2Q 2011 – Top-line data Phase 3 trial results for DR Cysteamine in the treatment of nephropathic cystinosis.
Raptor Pharmaceutical Corp. (NASDAQ:RPTP) –based in Novato, CA engages primarily in the reformulation and enhancement of existing therapeutics for the treatment of various diseases (corporate fact sheet). Currently, attention is focused on the upcoming results of the Phase 3 trial for the lead compound DR Cysteamine in the treatment of nephropathic cystinosis. The data is expected to be released sometime in 2Q 2011, with a follow on study projected to begin immediately, given favorable results.
Cystinosis is a genetic, autosomal recessive, inherited disease (part of the broader class of lysosomal storage disorders) characterized by the accumulation of the amino acid cystine within cells. This is particularly damaging to the kidneys and eyes. Although the exact reason for the accumulation is not known, the net result is generally Fanconi Syndrome followed by kidney failure (usually by age 9 or 10) in the most severe, and common form of cystinosis, infantile nephropathic cystinosis. This is a rare disease, affecting a small number of patients (~500 patients in the United States, and ~2000 patients worldwide) and Raptor has obtained orphan drug designation from both the FDA and EMEA for this indication. While many of the patients require kidney transplants, the new renal cells do not carry the same genetic disorder and do not accumulate cystine. However, treatment must be continued to prevent cystine buildup in other tissues. Cysteamine has been shown to delay and sometimes prevent the need for kidney transplants, as well as improve the clinical manifestations of the disease. Currently, the standard of care is a formulation of Cysteamine (trade name Cystagon) which cleaves the disulfide bond with cystine to produce molecules that can escape the metabolic defect in cystinosis. While simple and elegant mechanistically, Cystagon leaves a lot to be desired. Dosing is currently a strict 4x a day (including a 1:00 am dose) with harsh side effects, including diarrhea, drowsiness, lack of energy, nausea, stomach pain, unpleasant breath odor (very common with sulfur containing compounds, in fact, a sulfur compound is added to natural gas in minute concentrations to give it that distinctive odor (rotten eggs) to detect leaks!), and vomiting. Not surprisingly, there are significant compliance issues.
Raptor's formulation is designed to overcome the significant shortcomings in the current standard of care. Raptor's candidate, DR Cysteamine, is simply a reformulation designed to bypass the stomach intact and to slowly release the active ingredient in the small intestine, thereby reducing both dosing frequency of dosing and side effects. From the Phase 2a data press release:
"The Phase 2a study demonstrated proof-of-concept for DR Cysteamine, which is Raptor's proprietary, delayed-release, enteric-coated microbead formulation of immediate release cysteamine bitartrate contained in a gelatin capsule. Immediate-release cysteamine bitartrate (IR Cysteamine) is the current standard of care for treating cystinosis. The results indicated that when given twice daily, the prototype DR Cysteamine formulation was effective at maintaining low white blood cell cystine levels in subjects with cystinosis. Results also indicated that the prototype DR Cysteamine effectively maintained trough WBC cystine levels within a satisfactory range when patients received approximately 60% of the previous total daily dose of IR Cysteamine."
With this favorable data, and based on conversations with the FDA (done under a Special Protocol Assessment, or SPA) through which the FDA provided significant guidance on trial protocol design, clinical endpoints, and a statistical analysis plan ("SAP"), Raptor has designed the (currently ongoing) Phase 3 trial as a comparative study between Cystagon and DR Cysteamine. The primary endpoint was defined "to assess the steady-state white blood cell cystine levels of RP103 compared to Cystagon," with secondary endpoints "to assess the safety and tolerability of RP103 compared to Cystagon" and "to assess the steady state pharmacokinetics and pharmacodynamics of RP103 compared to Cystagon." Given the similarity with the Phase 2 trial in dosing and duration (with validated disease biomarkers), and the benefits compared to Cystagon, we believe that this will result in positive data and likely form a strong case for approval (Raptor will be using a 505b2 application, given that it's a reformulation). Based on the significant drawbacks with the current treatment, a twice daily formulation with a superior side effect profile bodes well for approval. As mentioned earlier, immediately following the completion of the study, a follow-on study (6 months) will be initiated to assess safety. A possible NDA could be filed by the end of the year, and management hopes to receive fast-track status. Management has also decided that following approval they will market alone in cystinosis, give the well-developed patient population.
Pipeline: This graphic, reproduced from Raptor's website, reveals that RPTP's pipeline contains programs spanning many indications.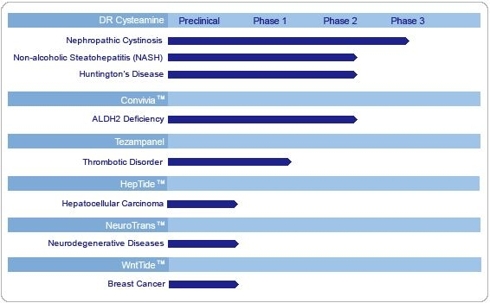 (Click to enlarge)
Raptor's resources, however, are primarily focused on a single major compound, DR Cysteamine, in multiple indications. Currently, a trial sponsored (current enrolling) by France for DR Cysteamine in Huntington's Disease (HD) is underway. While HD is a very challenging indication, there is reason to believe DR Cysteamine provides neuroprotective qualities, which may possibly slow the progression of the disease. Raptor has obtained orphan drug designation for this indication. Overall, we believe this project is extremely speculative, given the lack of scientific data in HD. Data is not expected until early 2013.
Raptor is also developing DR Cysteamine for the treatment of NASH, an inflammatory liver disease (Non-Alcoholic Steatohepatitis). Although NASH is most common in insulin-resistant obese adults with diabetes and abnormal serum lipid profiles, its prevalence is increasing among juveniles as obesity rates rise within this patient population. While most patients are asymptomatic and feel healthy, NASH causes decreased liver function and can lead to cirrhosis, liver failure and end-stage liver disease. While it appears that the levels of certain lipids play an important role in the progression of this disease, our knowledge of the exact mechanisms still remain limited. Preliminary results from earlier studies show that DR Cysteamine reduces certain lipid levels, a promising sign. Raptor has designed a Phase 2 study and plans to begin when the program is funded (approximately $8 MM for a Phase 2b study) and given favorable results Raptor plans to partner the project. It is possible that 2 concurrent studies (one funded by NIH in juvenile, and one by Raptor in adults) will begin next year.
In addition to the lead compound and related indications, Raptor's pipeline includes many clinical and preclinical candidates in various stages of development. Convivia is an oral reformulation of a compound (4-methylpyrazole, 4-MP) already approved as an anti-toxin for ethylene glycol poisoning. Convivia is designed to be taken 30 minutes before alcohol consumption, and clinical data has shown efficacy in treating ALDH2 deficiency. This is a very large market in Asia, and the disease has complications (other than the embarrassing asian flush!) including higher risk of GI cancers and significant heart palpations. In their Phase 2a study, the study demonstrated that the active ingredient in Convivia significantly reduced heart palpitations at all dose levels tested. The study also found that the 4-MP significantly reduced peak acetaldehyde levels and total acetaldehyde exposure in a subset of the study participants who possess specific genetic variants of the liver ADH and ALDH2 enzymes (this subset is estimated to be 1/3rd of East Asian populations). This is partnered with Uni Pharma, in Taiwan (not developed in the U.S.) and is currently being developed. An option exists for the same terms in South Korea. No timeline has been provided.
Tezampanel is a potent inhibitor of glutamate receptors licensed from Eli Lilly (NYSE:LLY). Raptor hopes to use this candidate for the treatment of thrombosis. During thrombosis, platelets become activated, a process involving a cascade of signaling factors, ultimately leading to aggregation and the formation of a solid mass, the thrombus, within blood vessels. Tezampanel has been shown to inhibit human platelet activation, subsequent human platelet aggregation, and thrombosis in mice. It has previously been tested in Phase 1 clinical trials and has been demonstrated to be safe over a wide range of doses, without any serious adverse events and without any major abnormal laboratory tests. Human pharmacokinetics of tezampanel, are well characterized. A Phase 1 efficacy trial is expected to enroll later this year.
HepTide, NeuroTrans, WnTide, are all early stage preclinical programs dealing with proprietary technology mainly involving small peptides attached to candidates to deliver targets to organs using specific membrane receptors to target these tissues. NeuroTrans attaches small peptides to the candidate of interest in order to transport the drug through the blood-brain barrier and is partnered with Roche (OTCQX:RHHBY) and preclinical data is expected later this year. Early pre-clinical data for HepTide indicates that this peptide attached to the drug candidate of interest can increase delivery to the liver seven-fold. IND-enabling work is progressing, and no timeline for getting a candidate into the clinic has been provided by management. WnTide was originally targeted as a delivery system analogous to its siblings, but preclinical data has indicated efficacy in certain breast cancer models. While we view this initial technology as innovative and promising, it is too early to assign values to these programs. However, they represent future upside potential as a technology platform.
Fundamentals: According to the most recent investor presentation and SEC form 10-Q, RPTP has $16.2 MM in cash and cash equivalents (1/6/11) and burns through approximately $1.2 MM per month. With the equity raised in a PIPE transaction last summer, the company is capable of maintaining the current pace of studies and investment through the all of 2011 without dilution. As quoted from the 10-K (fiscal year ending 8/31/10), "We believe our cash and cash equivalents as of August 31, 2010 of $16.9 million will be sufficient to meet our obligations into December 2011. We are currently in the process of negotiating strategic partnerships, collaborations and potential equity sales to supplement the funding of our preclinical and clinical programs beyond December 2011." The company expects additional cash with exercise of in-the-money warrants (1.8 million at 2.45, June 2011 expiration and 0.636 million at 3.22, August 2011 expiration) for proceeds of approximately $6 MM.
Risk Factors: As investors, we are ultimately interested in how management will increase shareholder value, and an honest assessment of the risks involved is necessary. Huntington's disease and NASH are extremely challenging indications and while there are scientific reasons to believe that Raptor's technology may improve patient's lives, this is extremely risky and many promising candidates have failed over the years in these indications. Most major pharmaceutical companies to date have attacked the NASH indication, with limited success. Also, using Raptor's own numbers, the market for cystinosis is quite small and even with high penetration this will not likely provide blockbuster potential.
Recently, Raptor announced it was re-opening the Phase 3 trial to enroll additional patients. While we believe Raptor's "mathematical error" in calculations for patient size for its ongoing Phase 3 study was indeed just an oversight/miscalculation, this does raise the specter of further possible delays due to additional oversights and improper statistical analysis. We believe this risk is mitigated due to the SAP (statistical analysis plan) developed with the FDA for the design of the trial, along with the SPA.
Financially, while exposed to the normal risks of drug development, Raptor is bound by licensing agreements with BioMarin for HepTide, NeuroTrans, and WnTide, and will owe significant milestone payments if clinical programs progress (source: SEC filings).
Analyst Opinion: 3 BUY Ratings, with JMP Securities most recently initiating coverage at BUY (3/15/11).
Conclusion and Future Directions: While we favorably view Raptor's near-term potential and believe that the Phase 3 trial results will be positive and ultimately result in successful approval given the discussions with the FDA and the unmet need in cystinosis patients, we believe there are potential uncertainties surrounding ultimately profitability based on market size for DR Cysteamine in cystinosis (even with orphan drug designation). Globally, however, we view RPTP's pipeline as highly speculative (given the challenges of treating Huntington's Disease, NASH, etc.) but potentially offering significant (blockbuster) rewards given promising early data and the significant unmet needs in these areas. We view as likely the approval of DR Cysteamine for cystinosis and we believe the revenue generated from operations will be able to fund most, if not all, of the speculative pipeline going forward. Additional upside catalysts include licensing agreements and/or partnerships to advance clinical programs and positive Phase 2 results from current trials. Further in the future, possible royalties from the tissue and organ targeting programs HepTide, WnTide, and NeuroTrans represent additional sources as well.


(Click to enlarge)
Disclosure: I have no positions in any stocks mentioned, and no plans to initiate any positions within the next 72 hours.