Yesterday we saw some follow through to Wednesday's timing signal turning bullish. While I realize that there are any number of reasons to doubt this rally (wars, natural disasters weighing on economy, window dressing, light volume)…I could probably keep going, we must remember that price is always king.
The Dow Jones Transports are confirming this move with with a new yearly high (barely…by about 1 point) and the VIX is an afterthought as volatility is nil. We'll most likely trade between Wednesday's low and the resistance level that I marked on the Nasdaq chart below (click on all charts to enlarge). We sure could use a couple of days of churn to digest recent gains.

Below, some of my favorite sectors right now, with a few individual names I like. Use your own market timing within these sectors, as some of these names are clearly overbought, but are still worth monitoring for a decent pullback entry: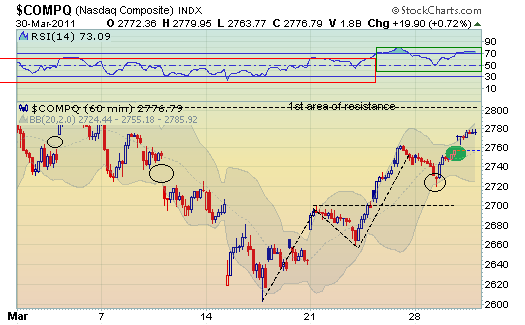 Deep down I still think precious metals are going to correct but I'm just going to stay away from that trade as every time I try to time the metals I get burned. All things Oil seem to be where it's at with a few other sectors that are really outperforming everything else.
Here is a simple question for you: which would you rather buy right now, gold or silver?
Gold has incredible amounts of emotional baggage attached to it, while silver is in a different league – at least for the moment. This video will show you two indicators that can help you capture either market when and if the upward trend decides to resume.
With all of the world's troubles, there are plenty of reasons why one would think that both of these markets should be much higher. The question is, why aren't they? I think that the video will help answer some of those questions.
Disclosure: None