About the Company
Church & Dwight (NYSE:CHD) is a consumer product manufacturer, with a lineup of famous brands such as Arm & Hammer. The firm's eight core brands--Arm & Hammer, Xtra, Trojan, OxiClean, First Response, Spinbrush, Nair, and Orajel--account for more than 80% of its annual sales and profits. Church & Dwight generates about 80% of its revenue from the United States.

Investment Thesis
Church and Dwight (CHD) is a relatively small player in the consumer product industry, about 30 times smaller than Procter & Gamble (NYSE:PG).
However, what it lacks in size, it makes up for in growth. Its 10-year average growth rate has amounted to 12.5% (vs. 7.1% for Procter & Gamble). Although product innovations and line extensions have contributed to the firm's sales growth during the past ten years, acquisitions have been more important to its bottom-line. CHD was mainly a household product company, but after a series of acquisitions the company has shifted to the point where nearly 30% of its sales now come from personal-care products, which commands a better margin profile. This has played a major role in improving CHD overall profitability (see Gross Profit Margins in the Financial Model Section).
images

CHD has plenty of room (total Debt to EBITDA stands at 0.6x) to execute an acquisition, and the company mentioned that it was closing in on several options at CAGNY Conference in late February. This should be a positive catalyst for the stock given the company's strong track record of creating shareholder value through M&A.
A good indication also is to see its debt/equity ratio and estimate what management feels comfortable bringing it to. We think management will probably bring the debt/equity to 1.0 meaning that they have about $800m in cash to use for acquisition. If they fund an acquisition 50% cash and 50% stock, this means CHD could go after a target around the size of $1.6bn.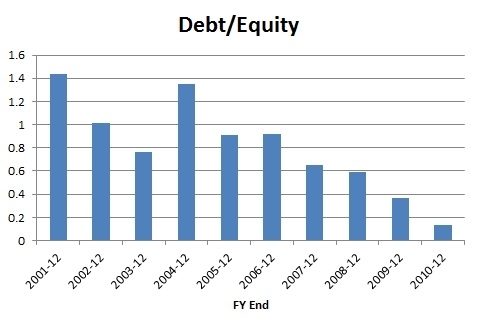 So who would they go after? I generally can't predict that but I would guess they could go after someone like Lifetime Brands (NASDAQ:LCUT). On the other hand, CHD seems to be underexposed to the emerging markets and an acquisition that would fill that gap would make sense to the firm. My only concern is the premium they would pay but again I will give management the benefit of the doubt.
In the meantime, the company has doubled its dividend payout ($0.17 to $0.34 per year). We expect the company to maintain its discipline in seeking margin enhancing acquisitions that are EPS accretive in year one. CHD expressed confidence that new product innovation and distribution gains position the company well to deliver on its 3-4% organic revenue growth target for 2011.
How can they attain such organic revenue growth?
Management has indicated that 2011 could show the biggest distribution wins ever based on its early look at the spring 2011 shelf re-sets. While Church deserves a premium to its peers, we do not see further significant upside to our numbers or valuation.
However, the company remains on the prowl for attractive assets. The announcement of an acquisition is typically a positive for the stock and such an event could warrant upside to our EPS and valuation.
Valuation

Based on the valuation table, CHD appears a bit overpriced compared to its peers but still cheap compared to its historical range. Obviously the market is very confident that CHD will outperform its peers. JNJ appears to be trading at a cheap historical forward P/E valuation, however, we know it has had some trouble in recent quarters. P&G appears to be trading close to the middle of its historical range.
How did we get to our aprox. trading range?
Price we would buy = (Historical 5-Yr P/E low) x (Consensus FY 2011E EPS): $70.0
Price we would sell = (Historical 5-Yr P/E high) x (Consensus FY 2011E EPS): $103.0
There is another component rarely discussed which is that CHD could be an acquisition target by either PG or CL. CHD would have no trouble integrating with either of those two companies. They would provide their international distribution and CHD would provide its large selection of brands, thus creating significant value.
Financial Model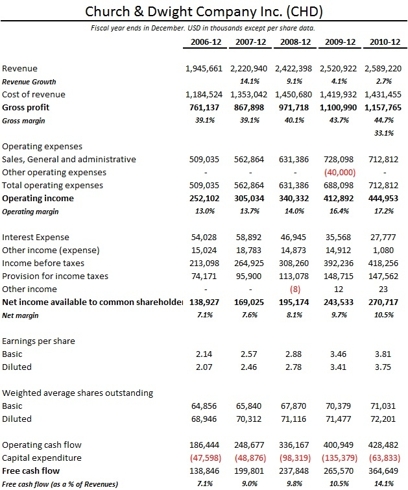 Summary
Why do we like CHD?
Valuation: In two year it will be trading close to its historical foward P/E valuation so there is room for appreciation.
It has firepower to acquire accretive assets, which is a catalyst for the stock price.
It is possibly itself a target for an acquisition.
The company will grow organic sales faster than the competition.
The more it grows, the more leverage it has against Wal-Mart (NYSE:WMT) (20% of revenues).
Risks to our target include:
The potential for CHD to miss its organic revenue growth targets.
Execute accretive acquisitions.
Generate significant negative EPS surprise.
Wal-Mart is a threat to its CHD's pricing power.
For me, the million dollar question is which company will CHD acquire?
Disclosure: I am long CHD.