As many investors are aware, the Chinese RTO sector has been heavily out of favor. Among this sector stands Gulf Resources (GFRE) which has been thrown down along with the whole sector. Many investors in Gulf Resources continue to be worried about the company being revealed as a fraud. Other investors continue to have faith that this company is, in fact, different. Among investors' worries has been the drastic movement in the stock price. The stocks drastic movement has been due to many different news releases and rumors about Gulf Resources. I hope to clarify below many of the events that have affected Gulf Resources and its shareholders. I trust this will give many shareholders a better background on the company to enable a more educated investment decision.

Company Description

Gulf Resources is the largest producer of Bromine in China. The Bromine element is quite intriguing since it has much more demand than supply in China. Due to the increased worldwide demand, the price of Bromine has been sky rocketing and has more than doubled since last year. Gulf Resources recorded prices of $3,800 per tonne in its fourth quarter, compared with approximately $2,100 per tonne in the corresponding quarter last year. Furthermore, in the business outlook section of its recent annual report it stated that market prices in March 2011 were recorded at approximately $4,500 per tonne. Other than Bromine, Gulf Resources manufactures crude salt and specialty chemical products which both have extremely high margins. For more in depth background on Gulf Resources and its industry click here .

Earnings Release - Year End Results

Gulf Resources announced its earnings on March 16th. Earnings were relatively very prosperous, with higher margins, as well as higher top and bottom line earnings. Cash balance was $68.5M as of December 31st, 2010 much more than is needed to meet its current liabilities of $14M.

The highlights are described below:
Revenue was $158.3 million, a year-over-year increase of 43.6%.
Gross profit was $78.1 million, an increase of 59.8%.
Gross margin was 49.3%, compared to 44.3% in 2009.
Net income was $51.3 million, or $1.48 per basic and diluted share, a year-over-year increase of 67.6% from $30.6 million, or $1.00 per basic and diluted share.
Although the results were very good, the price of bromine and crude salt was the largest contributing factor to the company's earnings. While some investors may be cautious of the price of a commodity having such a large impact on earnings, it is not a factor that is expected to cease existing any time soon. As shown earlier, earnings will continue to benefit from higher bromine prices in the future.

Many shareholders also cautioned that utilization and production rates had ceased to impress. The response I received from Gulf Resources' investment relations firm was that utilization rates had decreased due to the limitations of bromine resources in the Shandong province. They stated that the company was trying to control the production capacity to maximize the return of its access to bromine. Additionally, it was also mentioned that the production equipment the company used was older, which could have had a slight effect on utilization. Lastly, the Investment relations firm mentioned that the depletion of bromine in the Shandong area was a very minor reason for the drop in the utilization rate and should not be of concern to shareholders. There was also a mention that in the fourth quarter production was lower due to government restrictions.

Another concern of investors is the fright over the company's higher receivables in the last quarter. To my own knowledge of Gulf Resources, this is not something to be concerned about since most of its customers such as SINOPEC (NYSE:SHI) and PetroChina (NYSE:PTR) are very reputable. Furthermore, I have seen higher receivables in the company's previous quarters and have seen them come back down to a normalized level in the following quarters.

A last concern included that the company did not buy back any shares. As per the investment relations firm, Gulf Resources is hoping to do so in the future, at a time it believes is best. I believe there are reasons management has chosen to wait and it may have been strategic on their part. The many events that have occurred recently may also be part of a well orchestrated plan to increase the long term value of the firm by sacrificing short term value. In my opinion, Gulf Resources may have purposely allowed HAP to sell shares into the market in order to buyback at lower levels. This scenario could also explain why Gulf Resources did not host a question and answer session in its conference call.

Conference Call

Overshadowing the stellar results was the conference call the next morning. Most investors were shocked by the absence of a question and answer session. This appeared to be strange since it is usually a detrimental part of a conference call. Along with the lack of a question and answer session, Gulf Resources left investors with no guidance for the year ahead. The company said it would release the guidance for 2011 before the first quarter of 2011. Although no guidance was announced, the details on the new lease and future pricing provided good details for shareholders to make their own relevant estimates.

HAP Trading LLC.

One of the most talked about factors weighing on the stock was the company's situation with HAP Trading LLC. HAP Trading LLC is a hedge fund that intends on selling its large lot of 5.75M shares. Gulf Resources has launched a lawsuit against HAP because it was violating a lockup agreement that had previously been agreed upon. In brief, HAP's shares come from the company's original reverse merger and had been held by China Finance and Shenzhen Hua Yin. These holders were allowed to pledge the shares as part of a loan transaction to War Chest Capital, another hedge fund. HAP held an option (European Flex Option) on Gulf Resources shares, created by War Chest Capital. HAP then took ownership of the shares and started selling them before the lockup period had finished.
Investors should also note that the shares, as seen in the SEC filings, were not bought at $0.125. This transaction is simply to show the derivatives bought by HAP. More recently, HAP has been selling more actively. Recent filings from March 22nd show HAP now only owns 4.5M shares. Its decrease in ownership can explain some of the recent selling pressure. For the most part, it was not only HAP selling but investors themselves selling since they were afraid of HAP driving the share price down. It is quite evident that HAP has continued to sell shares and will eventually sell off all, or most of its shares-- which should help the stock return to a higher valuation.

Misstatement / Correction

Another concern investors have had was concerning the recent correction to the business outlook section of the earnings release. The correction was minor and simply showed that management had enough good faith to update shareholders about the company's future plans. It purely represented that the company did not want to project the production of the leased land until it had done all of the renovations and improvements. Although the company has corrected this statement, I still believe Gulf Resources felt 2,500-3,000 additional tonnes would be reasonable coming from 100 new brine water wells. Once all the necessary improvements are fully completed, this projection would equate to an additional $10M to $12M in revenue by using $4,000 per tonne of bromine.

Company 2011 Guidance

After all of the poor investor sentiment had set in on Gulf Resources' share price, the company announced its guidance. The guidance is as follows:
The company expects revenue to range from $195 million to $198 million and net income to range from $64 million and $66 million for the fiscal year 2011. This represents growth in revenue of between 23.2% to 25.1% and growth in net income of between 24.8% to 28.7% compared to the previous year.
New investors should note that Gulf Resource's management team has always guided conservatively. By taking this guidance as a conservative number we can easily extrapolate that EPS should be roughly $1.80 for 2011. Using a forward EPS of $1.80 and a current share price of $6.62, the company is trading at a 3.67 forward P/E. When taking out the $2 in cash per share, the forward P/E drops to $1.67. As portrayed by the dramatically low forward P/E ratio, the share price is astonishingly low. This is even more evident by seeing that the shares were trading at $14 at the beginning of 2010.

Brean Murray Carret & Co. Coverage - Buy Rating

Lastly, as seen on March 29th the main catalyst stimulating a rally was that Wayne Chung, an analyst at Brean Murray Carret & Co. initiated a Buy recommendation on Gulf Resources with a target price of $10. For some investors $10 may seem to be a low target based on valuation principles, but with such uncertainty in the Chinese RTO sector, $10 seems reasonable. A $10 target price seems even more appealing when Gulf Resources shares are discounted to a stock price of $6.62.

Final Thoughts

Although many investors remain cautious about the Chinese small cap sector and the perpetration of fraud, Gulf Resources seems to differentiate itself from this group. The company's near monopoly in the Chinese bromine market and its link to state owned assets makes it very hard for it to be fraudulent. Gulf Resources is also a class one supplier to world leading firms such as China Petroleum & Chemical Corporation (SINOPEC) and PetroChina Company Limited (CNPC).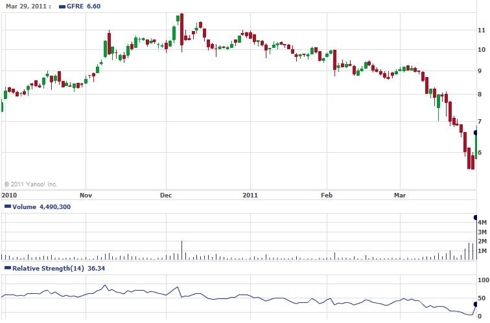 As for shareholders, one can hope that the share price has finally reversed from its decline. Shareholders also trust that Gulf Resources' management is strategically buying back shares at these depressed prices. This question will be uncovered as the next quarterly results cash flow statement gets released. For now, the bottom seems to have been set near 5.50 and the high volume reversal is bullish for the stock. It is also a good sign that the stock held up especially well after a 20% jump.


Disclosure: I have no positions in any stocks mentioned, but may initiate a long position in GFRE over the next 72 hours.

Additional disclosure: Please note that this is not a recommendation to buy or sell any stock and that any investment decision should be made with further due diligence regarding the stock, the company and the risks associated to it.