Joe's Jeans Inc. (NASDAQ:JOEZ), headquartered in Los Angeles, California, is an apparel company best known as a premium women's denim brand. Customers praise JOEZ's excellent fit, which is a result of offering multiple hip-to-waist ratios in different styles. However, the company is much more than a women's premium denim brand. JOEZ also has a growing men's denim business as well as non-denim bottoms, tops, and jackets for both men and women. In addition, JOEZ has license agreements in place for handbags and belts. JOEZ competes with all the major premium denim brands and the high-end casual apparel designers in the non-denim categories.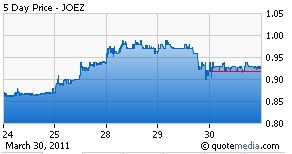 JOEZ sells through multiple distribution channels including department stores, specialty stores, and its own retail stores. As part of its direct-to-consumer strategy, JOEZ has opened 17 retail stores over the past few years and now has 4 full price stores and 13 outlet locations with 9 additional outlet stores planned for 2011.
When the company announced fourth quarter and fiscal year 2010 earnings on February 10th, the stock was punished, falling 25% on the day. Ultimately, the stock bottomed on March 23 at $0.85, or 43% below the pre-earnings level of $1.50 per share.
While 2010 revenue grew 23% versus 2009 and JOEZ has grown the top-line at an annual rate of over 20% since 2005, there were questions regarding fourth quarter 2010 revenue. At $23.6mm, Q4 2010 revenue fell 7% versus 2009. This decrease was due to weakness in the wholesale women's channel. Wholesale as a whole fell 17% in the quarter despite the men's wholesale business experiencing 44% growth. On the conference call, CEO Marc Crossman suggested that the female customer "looked to new fabrics as the catalyst for her next purchase" and JOEZ "did not capitalize on this trend with the right offerings of cords, pontes, and super-stretch fabrics."
While changes in trends are always a risk in the apparel industry, JOEZ has responded by re-vamping their summer and fall offerings. In addition, the women's wholesale business is becoming an increasingly smaller part of the overall revenue as the men's business grows, although it still made up 67% of 2010 revenue (down from 75% in 2009). It's worth noting here that the retail business in 2010 grew 173% as the number of stores increased from six to 17.
This stock reaction was extreme, and even with a slight rebound to $0.92 per share, JOEZ is trading at a depressed level that makes it a compelling investment. With a market capitalization of $59mm, JOEZ is trading at 0.9x book value. Although there is no perfect comparable company, the best comparison is probably to True Religion (NASDAQ:TRLG), which trades at a book value of 2.3x. Broadening the comparable universe note that The Gap (NYSE:GPS) trades at 3.3x, Abercrombie & Fitch (NYSE:ANF) at 2.6x, Volcom (NASDAQ:VLCM) at 2.0x, and VF Corp (NYSE:VFC) at 2.7x. This data supports the idea that JOEZ may be oversold.
Of course, book value is not the only parameter to consider. On an enterprise value to sales basis, JOEZ trades at 0.5x trailing revenue versus True Religion at 1.2x. Examining EBITDA or earnings multiples provide comparisons that are difficult to interpret given different cost structures and tax rates. It is difficult to point to any specific multiples to quantify the amount by which JOEZ is undervalued. Rather, one needs to examine the sequential gross margin trends and targets, understand the retail strategy and how it will positively impact sales and margins, and realize that the weakness in the women's wholesale channel is temporary. With nine additional retail outlets opening in 2011, an increasing focus on eCommerce as another direct-to-consumer channel, and the ability to adapt to fashion trend changes, JOEZ has many ways to grow.
While at a market capitalization of $59mm JOEZ is undervalued, there are no-near term catalysts. Rather, JOEZ needs to successfully execute its strategy and as it does, its valuation should increase materially. In the interim, as a small cap company with significant retail ownership, JOEZ stock will experience volatility. This may account for some of the downward price pressure post-earnings.
Additionally, there is no guarantee that JOEZ will successfully execute its strategy. The markets in which JOEZ operates are very competitive and changes in fashion trends are hard to predict and can materially impact sales. However, all these risks and more are currently factored into JOEZ's share price, resulting in a compelling risk/reward proposition for long-term investors with the patience to let management execute on their multi-faceted strategy.
Disclosure: I am long JOEZ.