On Tuesday, the House, dominated by Republicans, voted an end to the current program, known as HAMP (Home Affordable Modification Program). Yesterday, the NY Times lamented the fact that the government's attempts to solve the housing crisis have failed miserably. It isn't through want of trying.
Here are some of the programs listed under the government's MakingHomeAffordable.com site (888-995-HOPE):
And don't forget these programs:
The American Recovery and Reinvestment Act of 2009 supported the Low Income Housing Tax Credit market by creating an innovative Tax Credit Exchange Program ("TCEP") and providing gap financing through the HUD Tax Credit Assistance Program ("TCAP"). In combination these programs are estimated to provide over $5 billion in support for affordable rental housing. The Recovery Act also provided $2 billion in support for the Neighborhood Stabilization Program (NSP) in addition to $4 billion provided for the program in the Housing and Economic Recovery Act.
The Housing and Economic Recovery Act mentioned above is described as follows:
It authorizes the Federal Housing Administration to guarantee up to $300 billion in new 30-year fixed rate mortgages for subprime borrowers if lenders write-down principal loan balances to 90 percent of current appraisal value. It's intended to restore confidence in Fannie Mae and Freddie Mac by strengthening regulations and injecting capital into the two large U.S. suppliers of mortgage funding. ... Includes a first-time home buyer refundable tax credit for purchases on or after April 9, 2008 and before July 1, 2009 equal to 10 percent of the purchase price of a principal residence, up to $7,500 [raised to $8,000 and subsequently extended].
At the same time, the following Acts were passed: FHA Modernization Act of 2008, Federal Housing Finance Regulatory Reform Act of 2008, HOPE for Homeowners Act of 2008, Mortgage Disclosure Improvement Act of 2008, Secure and Fair Enforcement for Mortgage Licensing Act of 2008.
As I reported on Tuesday, the problem seems to be getting worse as home values continue to fall. Yet, these programs haven't made much of a dent into the problem (click to enlarge image):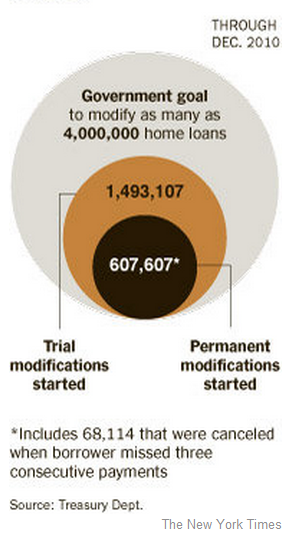 According to the Times article:
Congress set aside $50 billion for foreclosure prevention, amid administration projections that three million to four million homeowners would benefit from modifications. So far, the Treasury Department, which oversees the program, has spent slightly more than $1 billion, and just 607,000 homeowners have received permanent loan modifications(of those, 11 percent have defaulted).
The Times is sympathetic to the failures, noting that the Obama Administration was overwhelmed by the biggest crisis since the Great Depression, and, at least they are trying to do something, unlike that wimp Bush.
Yesterday, CoreLogic came out with more refined data on the "shadow housing inventory" which shows that homes that are seriously delinquent (90 days or more), in foreclosure, or real estate owned (REO) by lenders, declined from 2 million to 1.8 million in January. Of the 1.8-million unit current shadow inventory supply, 870,000 units are seriously delinquent (4.2 months' supply), 445,000 are in some stage of foreclosure (2.1 months' supply), and 470,000 are already in REO (2.2 months' supply). [Note that the data published yesterday from CoreLogic was a more inclusive, lower threshold, base of data, and doesn't conflict with yesterday's report.] Another loan servicer, Lender Processing Services, says the total U.S. loan delinquency rate stands at 8.8%, while the foreclosure inventory rate sits at 4.15%.
Banks are struggling to keep up with the problem even though many are trying to renegotiate mortgages. But, foreclosures have gone down not because lenders are nicer or that the government has worked wonders, but because lenders and servicers were overwhelmed by the sheer volume of work involved, and are just catching up.
The more they try, the worse the problem becomes. Every program to forestall a quick economic readjustment has only served to prolong the problem. Let's assume for the moment that the governments (state and federal) had done nothing to assist homeowners. Yes, you are correct in concluding that more homeowners would have lost their homes.
Would they be homeless, as the Times article and the government seems to suggest? Well, if they can afford some kind of mortgage, they can afford some kind of rent. If they can't afford either, then that means they are unemployed and, either receiving transfer payments from the government, are bunking with relatives, or are living in some kind of charity facility. Yes, some are probably homeless, but I believe if they sought the right assistance, they could find a place to stay. I'm not trying to be heartless here, but I'm trying to make a point.
As the data show, these programs have done nothing to aid the housing market, have failed to help homeowners.
The real issue is: how do you solve the problem in the quickest way so people get back to work.
By keeping alive the housing corpses from the boom, you are prolonging peoples' agony because valuable capital that could be used to fund or start businesses or clean up balance sheets, is tied up in a declining housing market. Banks who hold these mortgages are still trying to repair their balance sheets; freezing them into badly collateralized loans doesn't help that problem.
It amazes me that our politicians think they can actually control things, especially the economy. History has shown that they don't do a very good job of solving problems. Instead, more often than not, they create new problems, which comes under the broad rubric of the Law of Unintended Consequences. The jumble of acronyms that have been tried to solve the housing problem is just another example of the problem. They don't understand how the economy works.
I wonder, for example, how the folks who rushed out and bought homes under the first time home buyer tax credit are faring now that they have seen the values of their homes decline beyond the worth of the tax benefits. More good intentions and political expediency gone awry.
This article originally appeared in The Daily Capitalist.
Disclosure: I have no positions in any stocks mentioned, and no plans to initiate any positions within the next 72 hours.